Dark Chocolate Macadamia Nut Bark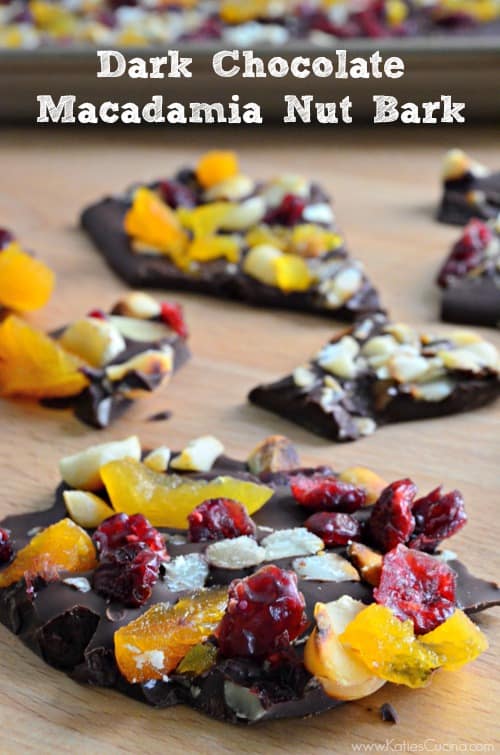 I've been a little absent lately. I've definitely been in a food blogging slump. I expressed it the other week–when I cook I need to cook quick because I'm starving. I don't have time to wait the extra 5 minutes to take photos of my food. I need food NOW! I recently made a batch of dark chocolate macadamia nut bark to hand out to family and friends during the holidays and I figured this would be the perfect recipe to share with my loyal readers. I promise I will get out of this slump and start sharing more recipes (frequently) again. Until then… hang in there with me. Please!!??!?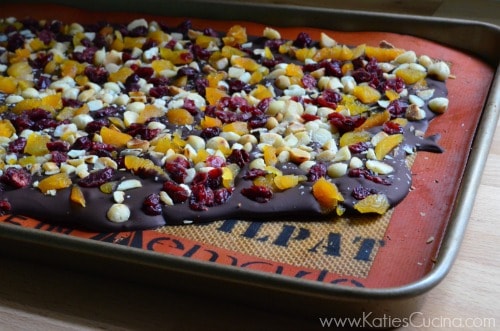 This dark chocolate macadamia nut bark is super easy to make, but looks way fancy and will impress just about everyone you know! That's why I love making this bark. Plus, who doesn't love macadamia nuts? I toasted them to really let the flavor come out and used some of the best chocolate I know… SCHARFFEN BERGER Chocolate. I always have a little stash on hand especially during the holidays so I can make delectable barks to hand out. I also always have dried fruit on hand. I recently purchased a Costco size bag of dried apricots. I eat a handful nightly to keep the calf cramps away. It seems to be working, and I've actually started to love them.
Oh and because I like no-mess I used a SILPAT mat to pour my warm chocolate on to. If you don't have one, no worries–just line you're baking sheet with parchment paper. I popped the tray into the refrigerator for 30 minutes and voila… it was ready to be broken up and distributed. Of course, you have to have room in your refrigerator to be able to store the cookie sheet. Luckily, I had the room since any more I can't keep our refrigerator full enough thanks to my raging teenage-boy like appetite!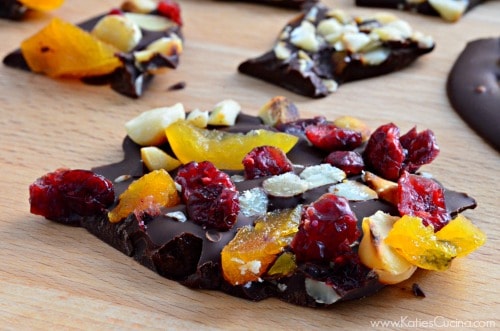 So if you are looking for a quick and easy holiday gift to give your friends and family this holiday season, give my recipe for dark chocolate macadamia nut bark a try! Don't worry–if you don't have dried apricots and pomegranates on hand you can use other dried fruit. The sky is the limit!
Katie Original Recipe
Dark Chocolate Macadamia Nut Bark
Ingredients
9.7 oz Bittersweet Dark Chocolate, chopped
1 6 oz package of Semi-Sweet Chocolate
1 cup Macadamia Nuts, chopped
1/2 cup Dried Pomegranates, chopped
1/2 cup Dried Apricots, chopped
Directions
In a frying pan, toast macadamia nuts until golden brown 3-5 minutes on medium-high (tossing frequently). Remove from the pan, and rough chop.
While the nuts are roasting, begin to melt the bittersweet dark chocolate. *I use a microwave on the melt setting in 30 second intervals. Mix every 30 seconds then add in the semi-sweet chocolate. Mix until just melted.
Pour on a lined cookie sheet, top with chopped macadamia nuts, dried pomegranates, and dried apricots.
Refrigerate for at least 30 minutes or until hard. Break apart and package. Store in sealed container for 3-5 days.
https://www.katiescucina.com/dark-chocolate-macadamia-nut-bark/
This recipe is brought to you by Katie Jasiewicz of Katies Cucina
Warning
: Use of undefined constant rand - assumed 'rand' (this will throw an Error in a future version of PHP) in
/home/kjasiewicz21/webapps/katiescucina/wp-content/themes/katiescucina/single.php
on line
74
22 Responses to "Dark Chocolate Macadamia Nut Bark"
Leave a Comment