Today, we have Erin from The Law Student's Wife sharing her recipe for Dark Chocolate Vanilla Bean Pudding. I stumbled across Erin's blog a year ago and have enjoyed it ever since. I mean who wouldn't love baked pistachio pudding donuts or a 20-minute healthy ricotta pasta? She has a wide variety of recipes on her blog, and although we haven't met in person I feel like we've been friends for years.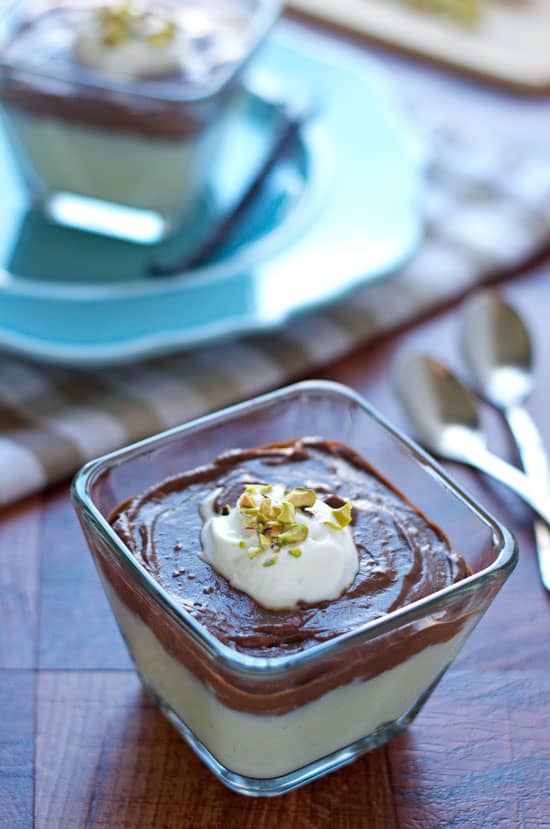 Hey there! This is Erin Clarke from The Law Student's Wife, and I'm honored to be guest posting for our favorite new momma, Katie. I discovered Katie's blog when this outrageous stuffed French toast entered my life, and I've been a fan since!
Today, we're going to my happy place: pudding. Pudding and my illustrious love affair begin with Snack Packs in the second grade. Back then, the fact that Snack Packs do not need to be refrigerated in the grocery store did not disturb me as it does today. All my sweet 7-year-old self cared to know was that pudding is creamy, dreamy, and deeply chocolaty. I had my priorities straight.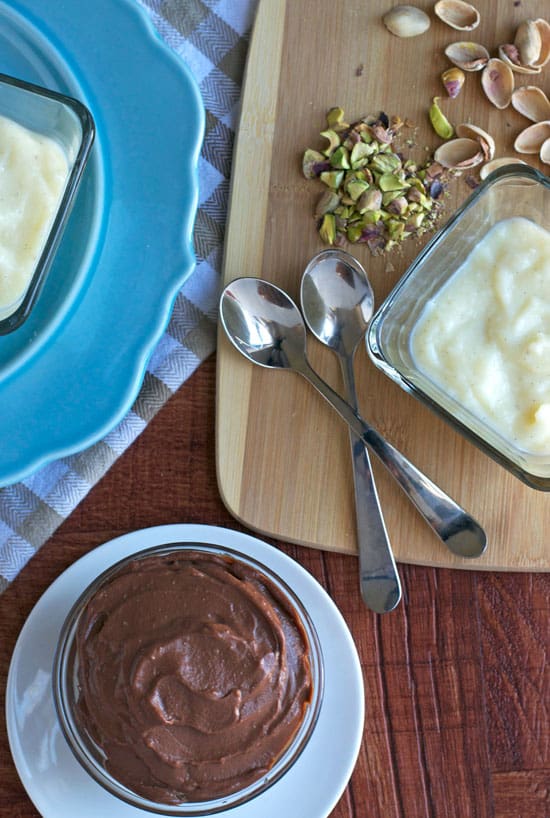 Fast forward to college graduation. I moved into my first "grown up" apartment and was consequently responsible for feeding myself. Despite the most fervent of wishes, I couldn't live on Snack Packs alone, and thus I took to the kitchen. I fell in love with cooking (and started a food blog in the process), but to this day the recipes that energize me the most are ones like today's Lightened Up Dark Chocolate Vanilla Bean Pudding: a grown-up twist on a childhood favorite.
Making pudding from scratch demands only a few bowls and some elbow grease. I love this Lightened Up Dark Chocolate Vanilla Bean Pudding recipe because requires few ingredients, uses an egg to thicken the milk instead of heavy cream (which keeps it reasonably healthy), and tastes totally decadent. It's also no-fuss. Rather than making two separate pudding recipes, we simply make a vanilla pudding base, save a little at the end, then stir in a copious amount of chopped dark chocolate + espresso to intensify the espresso flavor. Voila! Perfectly balanced, luscious dark chocolate pudding, for a fraction of the effort.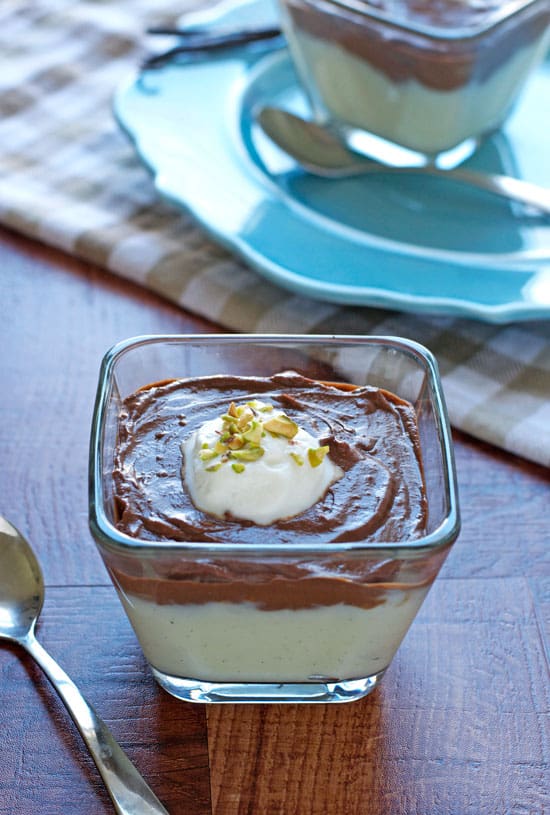 Although this Dark Chocolate Vanilla Bean Pudding was inspired by childhood, a few of my grown-up tastes make an appearance: velvety dark bittersweet chocolate, espresso, and speckly sweet vanilla bean. (I purchase my vanilla beans online here for a steal of a deal, but you can always swap extra vanilla extract instead.) If you care to stir in a bit of rum as well, I certainly won't deter you.
My final adult flourish: chopped pistachios for texture and crunch. Salty-sweet desserts have my heart forever and always, and the pistachios are the ideal counterpoint to the sweet vanilla and rich chocolate pudding layers. The good-as-obligatory dollop of whipped cream is just because life is short, and I can already tell that we are going to be friends.
Dark Chocolate Vanilla Bean Pudding is my inner-second grader in perfect harmony with my late 20-something adult self. No therapy or yoga for this girl—pudding is my gateway to inner peace!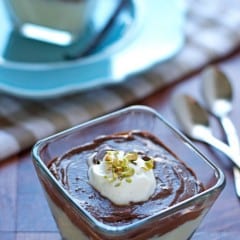 Dark Chocolate Vanilla Bean Pudding
Print
Pin
Rate
Prep Time:
2
hours
5
minutes
Total Time:
2
hours
20
minutes
Ingredients
3

cups

non-fat milk

or the milk of your choice

1/2

cup

granulated sugar

1/4

cup

cornstarch

1/4

teaspoon

kosher salt

1

vanilla bean

or 1 tablespoon vanilla extract

1

large egg

2

ounces

bittersweet chocolate

chopped

1/4

teaspoon

espresso powder

Chopped pistachios

walnuts, or pecans for serving

Whipped cream

for serving
Instructions
Place a sieve over a large measuring cup or bowl; set aside

In a medium saucepan, bring 2 1/4 cups of the milk to a boil. Meanwhile, in a large heat-proof bowl, combine sugar, cornstarch, and salt. Scrape vanilla bean seeds into the sugar mixture. Place the empty vanilla pod into the saucepan with the heating milk. (If you're replacing the vanilla bean with extract, do not add it yet.) Very gradually, whisk the remaining 3/4 cup milk into the sugar-cornstarch mixture. Add the milk a little at a time and stir constantly so that lumps do not form. Whisk in the egg.

Once the milk has boiled, slowly add it to egg-mixture a little bit at a time, stirring constantly (using a ladle can be helpful). Be sure to work gradually so that the egg does not scramble. Once all of the heated milk had been added, pour all of the mixture back into the saucepan. Stir constantly with a rubber spatula or wooden spoon and bring the mixture to a simmer (at this point, do not let it boil.) Simmer for 1 minute, stirring the whole time. If using vanilla extract, stir it in now.

Pour all of the vanilla pudding mixture through the sieve into the bowl or measuring cup (this ensure the pudding will be very smooth). Return 1/3 of the strained mixture to the saucepan (this will become the chocolate pudding). Cover the remaining 2/3 with plastic wrap so that the plastic touches the surface and refrigerate until fully set, about 2 hours.

To the remaining pudding on the stove, add the chopped chocolate and espresso powder, stirring until the chocolate melts. Pour the chocolate mixture into a separate bowl, cover with plastic wrap so that the plastic touches the surface and refrigerate until fully set, about 2 hours.

To serve: Spoon the vanilla pudding into the bottom of individual serving dishes. Top with chocolate pudding. Serve sprinkled with nuts and dollop with whipped cream.
Nutrition
Calories:
291
kcal
|
Carbohydrates:
49
g
|
Protein:
8
g
|
Fat:
7
g
|
Saturated Fat:
4
g
|
Cholesterol:
45
mg
|
Sodium:
241
mg
|
Potassium:
382
mg
|
Fiber:
1
g
|
Sugar:
40
g
|
Vitamin A:
434
IU
|
Calcium:
239
mg
|
Iron:
1
mg
Disclaimer: There are affiliate links in this post.