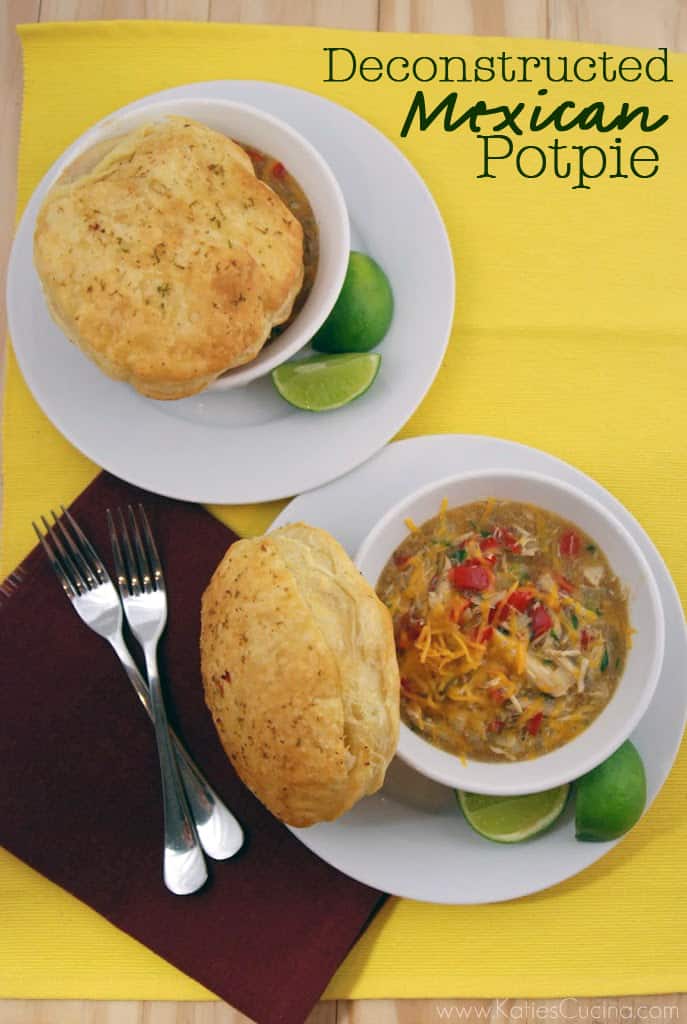 Cinco de Mayo is right around the corner–as in Saturday. I'm a huge fan of Mexican food and I'm always looking for new recipes to try. While flipping through the May issue of EveryDay with Rachael Ray I saw this tantilizing recipe for Deconstructed Tex-Mex Potpies. The idea of a quick and easy and spiced up version of the traditional potpie enticed me and so I flagged the recipe. I purposely made extra chicken last week so that I could try out this recipe. Plus, who doesn't love puff pastry?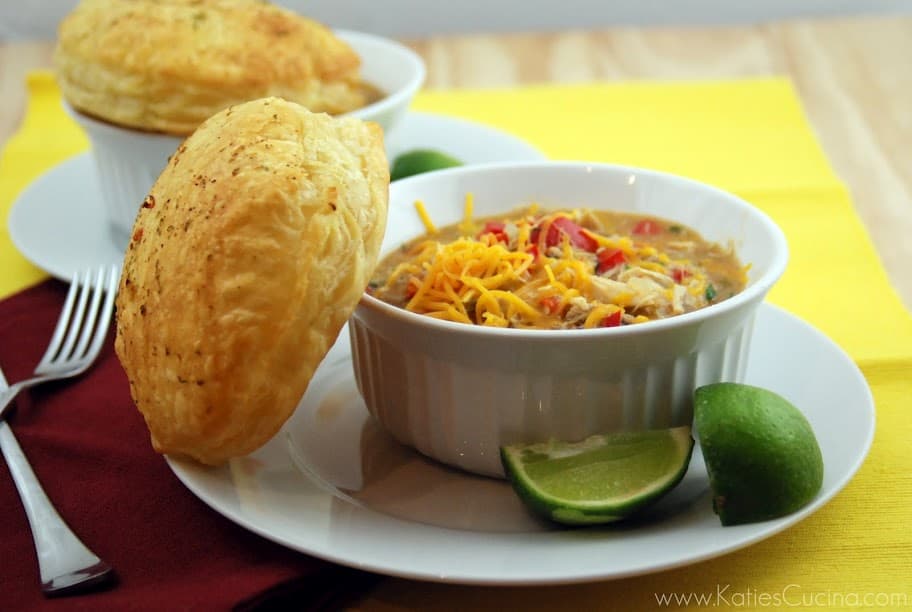 I can't deny it–we ate 2 servings each. It was that good! The creaminess from the rue and the cheese on top set the tone. The cilantro gave it a burst of additional flavoring at the end. I think next time I would add a potato or jicama to the meal to make it a bit heartier. The original recipe called for an egg wash on the puff pastry and it just so happened that the day I made this I was completely out of eggs. So I decided to add a tablespoon extra of oil to the pan so that I could take the seasoned oil/butter mixture and brush that on to the pastry rounds. It worked out beautifully. I also grated a little lime zest for additional color and flavor.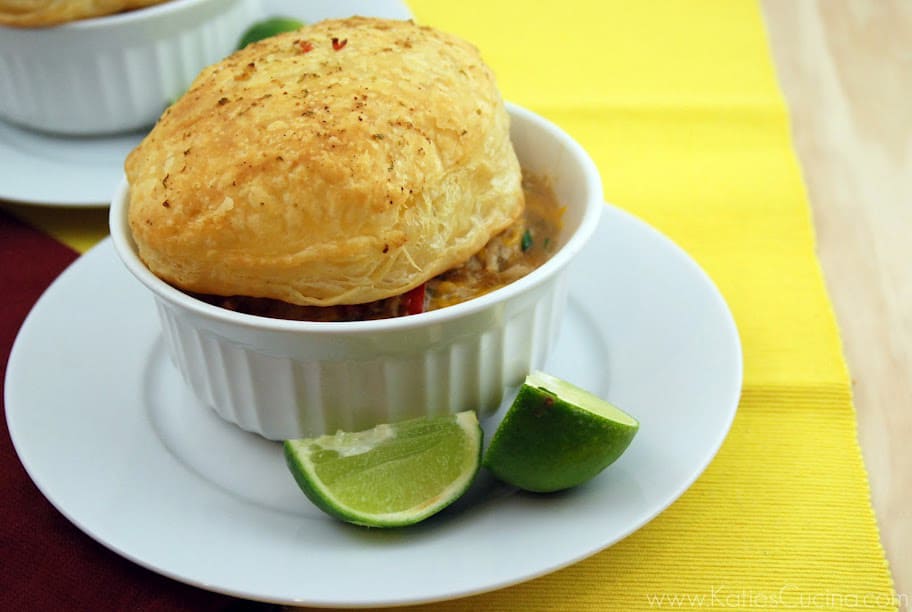 This is a simple meal that you could easily entertain a large hungry group with. I could even imagine these as a "shooter" like appetizer for a Cinco de Mayo party or placing smaller rounds of puff pastry in a muffin tin and baking to have a pastry cup and then topping with the mexican style chicken pot pie. Which ever way you decided to serve it I know you'll enjoy it. It's such a refreshing twist on a classic!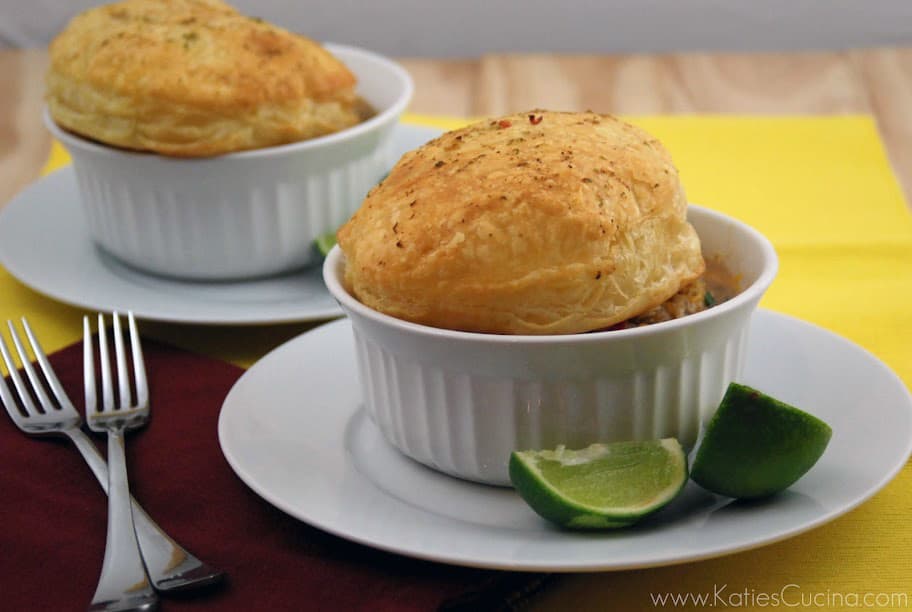 Adapted from: EveryDay with Rachael Ray May 2012
| | | |
| --- | --- | --- |
| Deconstructed Mexican Potpies | | |
Author:
Ingredients
1 sheet frozen puff pastry, thawed
2 tablespoon vegetable oil
3 tbsp. butter
1 small onion, chopped
1 small red bell pepper, seeded and chopped
2 small ribs celery, chopped
2–3 cloves garlic, finely chopped
½ jalapeño chile pepper, seeded and chopped
1 teaspoon ground cumin
1 teaspoon ground coriander
Salt and pepper to taste
Lime zest *for puff pastry
3 tbsp. flour
2 cups chicken stock
3 cups chopped or shredded rotisserie chicken meat
1 tablespoon Worcestershire sauce
1 teaspoon hot sauce *to taste
2 tablespoon cilantro, minced
4 tablespoon (divided) shredded cheddar cheese
Instructions
Preheat the oven to 425 degrees.
In a dutch oven, heat the two tablespoons oil over medium-high heat; add the butter to melt. Stir in the onion, bell pepper, celery, garlic and jalapeño; season with the cumin, coriander, salt and pepper. Partially cover and cook, stirring occasionally, until softened, 5 to 6 minutes.
While the vegetable mixture is cooking begin the puff pastry rounds: on a lightly floured surface, roll out the puff pastry. Using a large mouthed glass invert mug on top of puff pastry. Using a sharp knife, cut around the edge of the glass; repeat 3 times to get 4 pastry rounds.
Arrange the pastry rounds on a parchment-lined baking sheet and brush with 1 teaspoon each of the oil/butter mixture from the vegetable pot. Sprinkle with salt and add a pinch of lime zest. Bake until deep golden, about 15 minutes.
Going back to the vegetable pot stir in the flour for 1 minute, followed by the chicken stock until thickened (constantly mixing). Stir in the chicken and lower the heat and season with the worcestershire, hot sauce, and cilantro.
Spoon the chicken filling into shallow bowls and top with 1 tablespoon of shredded cheddar cheese and the puff pastry rounds.