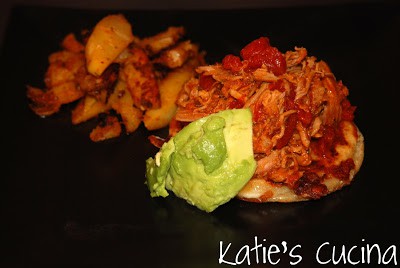 I ran into my local grocery store the other day just to grab a few items, and of course the "apron's man" was cooking up a storm and was handing out samples. How could I not give his recipe a try? I tried it and immediately grabbed the recipe card and began filling my basket with all the items I needed to make this recipe. If you aren't familiar with arepas–you need to be! An arepa is a flat corn patty stuffed with a mild white cheese (normally mozzarella). I always get them when we go to craft shows, and whenever we visit the fair! Arepas are my guilty pleasure, for sure! As the apron's man carefully crafted my sample I read through the recipe card. It looked easy, but something caught me off guard. They were using a packaged fully cooked pork roast in au jus. Now, I'm not going to lie. I don't think I've ever purchased any of these fully cooked meats just heat it up in minutes and you have a hot meal on the table. I was a little hesitant until I tasted the dish. I was amazed that the pork came from a package and that it was already cooked!
I
ngredients for the Deconstructed Tamales:
1/2 cup frozen sofrito (Spanish cooking sauce)

1 (17-oz) package fully cooked pork roast au jus

1 can diced tomatoes with garlic/onion (undrained)

Cooking spray

1 (11.2-oz) box frozen arepas (fried corn and cheese patties)

1/2 cup shredded Mexican-blend cheese

(totally forgot to top our food with this)

1/2 lime (for juice), optional

Slice of avocado, optional
1.
Thaw sofrito under cool running water, (if needed).
Remove pork from packaging. Drain au jus and discard; place pork roast in large saucepan.
Stir in sofrito and tomatoes; bring to a boil on medium-high, stirring to break up meat.
2. Reduce heat to medium; cook and stir 7–8 minutes or until thoroughly heated. Meanwhile, preheat medium sauté pan on medium 2–3 minutes. Remove pan from heat and coat with cooking spray. Add arepas; cook 2–3 minutes on each side or until thoroughly heated.
3. Transfer arepas to serving platter. Top with pork mixture and sprinkle with cheese. Squeeze a little lime juice over the tamale mixture to add a touch of fresh flavor, if desired. Serve.
I
ngredients for the Grilled Potatoes:
2 tbsp frozen sofrito (Spanish cooking sauce)

3 large potatoes

2 tbsp extra-virgin olive oil

1/2 teaspoon Complete seasoning

1/2 lime (for juice), optional
1.
Slice potatoes lengthwise into 1/4-inch-thick slices; place in microwave-safe bowl.
Stir in oil and sofrito until evenly coated and cover; microwave on high 8–10 minutes or until potatoes begin to soften.
2. Preheat tabletop grill pan. Place potato slices in single layer on grill and close lid; grill 3–4 minutes or until tender when pierced with a fork. Repeat as needed with remaining slices.
3. Remove from grill and sprinkle evenly with complete seasoning. Serve with a squeeze of fresh lime juice, if desired.