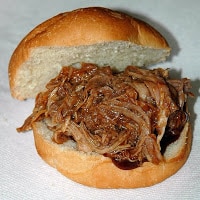 Here is yet another dish I've been intimidated to make for year's now! But after I was selected to host a Bull's Eye Bold Sauce House Pary I knew I wanted to make some pulled pork. So I searched, and searched on the internet for the perfect pulled pork recipe and to be honest I never found one… so I started talking around with friends and family members whove made pulled pork in the past. I knew I wanted to make it in the crock pot so that I didn't have to babysit it all day. After talking around I kind of came up with my own recipe and it turned out AMAZING! It was beyond simple to the point that I've debated whether or not to post it. But quite a few people who ate it at the BBQ convinced me to post it. This has got to be one of the most easiest recipes I've ever posted!!!
Prep:
5 minutes
Cook:
20 minutes
Serves:

12 (small sandwiches plus extra)
Ingredients:
1 5lb Boston Butt; Pork
1 onion, sliced
3 cloves garlic, smashed
Water
Favorite BBQ Sauce
Salt & Pepper to taste
Directions
1. Slice an onion and smash 3 garlic cloves. Place on the bottom of the crockpot. Rinse the Boston Butt with cold water and place ontop of the onion and garlic. Sprinkle salt and pepper over it. Add enough water to cover the Boston Butt (I think I had about an inch or two exposed without water). Cover and cook on high for 7 hours.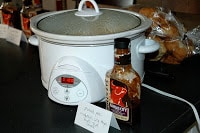 2. Once the "butt" is done cooking carefully remove it from the crockpot onto a large plate. Skim out onions and garlic and add to plate as well. Carefully drain the hot water from the slow cooker and return pot to slow cooker. Add a quarter cup of your favorite BBQ sauce to the slow cooker. Remove the string from the "butt" and start pulling apart chunks; place in crockpot. Be carefull not to add the fat. Once you've placed all the prok in the slow cooker then add the onions and garlic that cooked all day with the pork. start shredding the pork and add another half to full cup of BBQ sauce.
3. Cook on high for an additional 30 minutes or up to 2 hours to really let the pork marry with the BBQ sauce. Serve with buns or eat it as is! Remember to add more sauce if desired!
*I used the Bull's Eye Kansas City sauce for this recipe–it complimented it wonderfully!