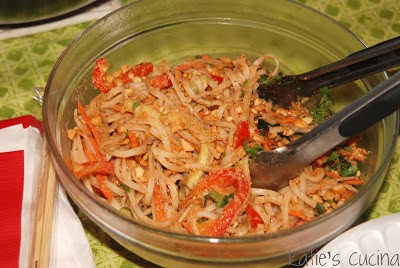 Super easy peanut noodles to please even the biggest carnivores! This super easy and simple recipe was found on the Thai Kitchen website in honor of Thai week on Katie's Cucina.
Prep:
10
minutes
Cook: 5 minutes
1 package (7 ounces) Thai Kitchen Stir-Fry Noodles

1 jar (8oz) Thai Kitchen Peanut Satay Sauce

1 red bell pepper, cut into short thin strips

1 cucumber, peeled and cut into short thin strips

1 large carrot, grated

1 teaspoon sugar

½ teaspoon salt

fresh cilantro & crushed unsalted peanuts

4 cups boiling water

½ cup sweetened condensed milk

3 tablespoon sugar

ice
1.
Bring a
large pot of water to boil. Add rice noodles; cook 3 to 5 minutes or until noodles are tender but firm. Rinse under cold water; drain well. Set aside.
2. Mix
peanut satay sauce, bell pepper, cucumber, carrot, sugar and salt in large bowl. Add noodles; toss to coat well. Garnish with cilantro and chopped peanuts, if desired.
Linked to: