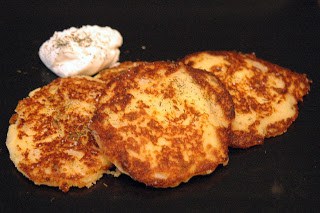 I created this super fast version of Potato Pancakes one day when I was craving for some and all I had was left over mashed potatoes. It's a great alternative to breakfast potatoes on the weekend or can make a nice side dish at dinner. My husband and I absolutely love them and only splurge on these a few times each year!
Ingredients:
Oil, for frying

2 cups left over mashed potatoes

1 tbsp minced onion

1 egg

1 tbsp flour

1 tbsp bread crumbs

salt & pepper to taste
Directions
Preheat a deep frying pan with about an inch of oil.

While the oil is heating up on medium-high. Microwave the 2 cups of left over mashed potatoes so that they get a little more workable.

In a seperate bowl scramble the egg and add it to the warmed mashed potatoes. Add the minced onion, egg, flour, and bread crumbs. Mix well until its well incorporated. Add salt & pepper to taste.

With an ice cream scooper; scoop some potato mixture and carefully place into the frying pan. Repeat until the frying pan can't handle any more potato pancakes. Don't over fill though because you will need to smoosh the scoops down. With a spatula carefully press the scoops down; making sure that they don't touch. I typically can get 4 potato pancakes in a large frying pan at a time. Cook on each side until golden brown (about 2-4 minutes on each side). If you notice that your pancakes are getting to dark to quickly lower your heat! When the pancakes are done, carefully, remove them to a plate with paper towels so that the oil drips onto the paper towel. Sprinkle with salt.

Repeat step four until all of your mixture has been used.

Serve potatoe pancakes with sour cream and applesauce. Enjoy!