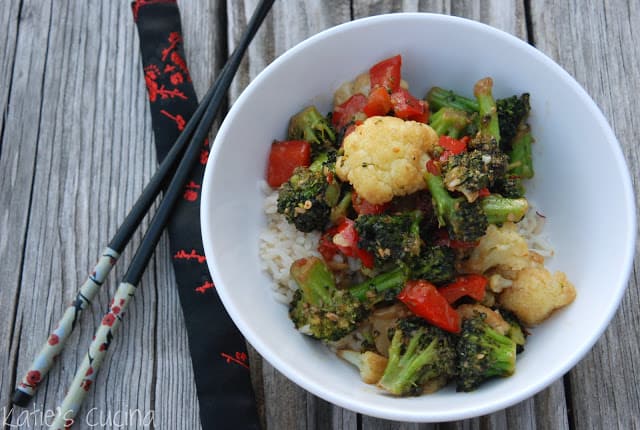 As many of you know, I have a deep love for the Everyday Food magazine on the iPad app. I can't get enough of this interactive magazine! When I saw this unique vegetarian dish I knew I wanted to make it. What I didn't realize was that I would make it on a whim only because I had no idea what to make and because I happened to have all the ingredients on hand.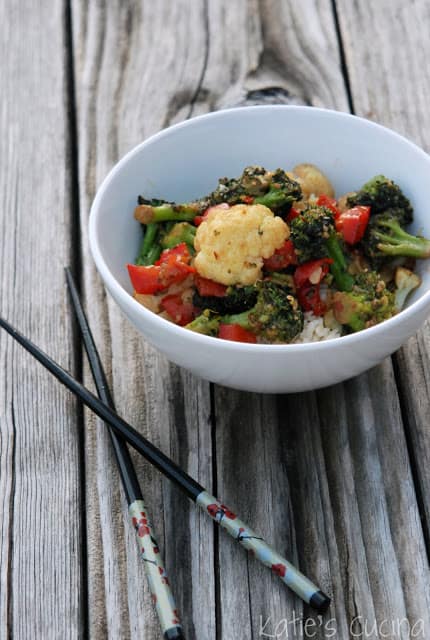 I was afraid that this would not be filling enough for my husband and in fact to be honest I wasn't sure if this would even be good. Can I just tell you how amazing this was. The flavors were bold, and the veggies were filling. My husband LOVED it and was asking for a second serving of it! I will definitely be adding this into my vegetarian meal rotation.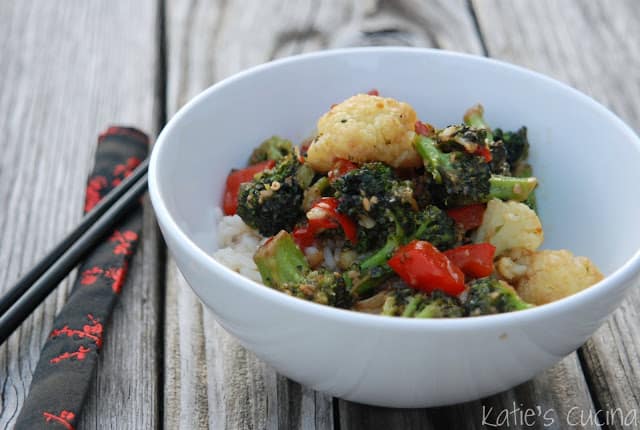 Source: Everyday Food, January 2011
Prep Time: 5 minutes
Cook Time: 15 minutes
Serves: 4


Ingredients:
1 cup long-grain white rice
2 tablespoon vegetable oil
2 tablespoon minced garlic
¾ lbs broccoli, cut into bite-size florets
¾ lbs cauliflower, cut into bite-size florets
½ red bell pepper, diced
red-peper flakes
½ cup low-sodium chicken broth
¼ cup oyster sauce


Directions:
1. Cook rice according to package instructions (I like to cook mine in a rice cooker). Meanwhile, in a wok or large skillet, heat oil over high. Add garlic and cook until fragrant, 10 seconds. Add broccoli, cauliflower, bell pepper, and pinch of red-pepper flakes and cook, stirring, about 4 minutes.
2. Add broth and stir to combine. Cook, stirring constantly, until vegetables are crisp-tender, about 3 minutes. Add oyster sauce and cook, stirring to combine, 1 minute. Spoon over rice and serve immediately.