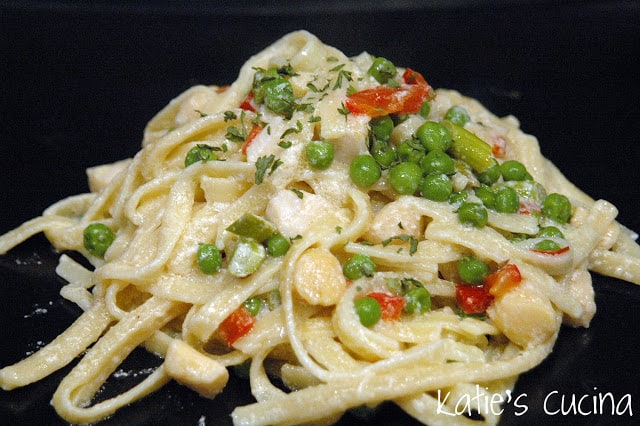 This recipe was recently featured on a Kraft foods eNewsletter, and came at the most appropriate time–scallop season! We both love scallops and have recently started to love Alfredo sauce, so I figured this would be a match made in heaven! It was!!! Super delicious and yet very easy! If your using frozen scallops makes sure you thaw them before cooking in the hot oil or they will splatter everywhere!


Prep:

15 minutes




Total:

25

minutes
Serves:

4
Ingredients:
1 tablespoon Olive Oil

½ lb bay scallops

1 cup Peas, cooked

¼ cup butter

½ cup Light cream

¼ cup Grated Parmesan Cheese

½ teaspoon Salt

¼ tsp Ground black pepper

1 box fettuccine
Directions:
1. Cook pasta according to package. Set aside for later use.
2.
Heat oil in large skillet on medium-high heat. Add scallops; cook and stir 2 to 3 min. or until scallops are opaque. Remove from heat; place in large serving bowl. Gently stir in peas.
3. Melt butter in small saucepan on low heat. Gradually add cream, stirring until well blended. Add Parmesan cheese; cook until completely melted, stirring constantly. Season with salt and pepper.
4. Place pasta in large bowl. Add scallops, peas and sauce; mix lightly.
Side suggestions: Salad & Garlic Bread