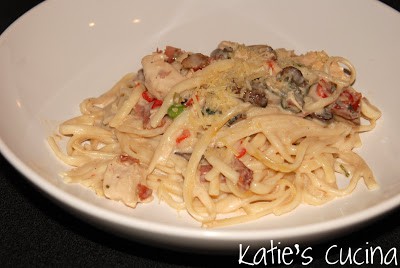 For those of you who don't live in the south and don't have the pleasure of frequenting a Publix Grocery store I feel very sad for you (disclaimer: I'm writing this on my behalf and not on the grocery stores nor was I compensated to write that about them. It's truly how I feel). Anyone who visits Florida falls in love with Publix! I can honestly say I cook at least one to two of there recipes a month. They have food demonstrations in store and have end cap refrigerator/freezers full of all the ingredients you need for a meal! It's genius, and smart promoting for them. Especially for the people who aren't that big into cooking. They make it look easy and almost all their recipes taste great! This recipe was super easy to make, tasty, and made for great leftovers the next day!
4 slices prosciutto (about 2 oz), thinly sliced

10 sage leaves

⅔ cup roasted red peppers, finely chopped

8 oz fettuccine pasta

2 tablespoons olive oil

12 oz fresh pre-sliced mushrooms

2 (6-oz) packages fully cooked chicken strips

(*I used 2 baked boneless skinless chicken breast)

1 ¾ cups reduced-sodium chicken broth

1 cup Alfredo sauce

¼ teaspoon black pepper

¼ cup shredded Parmesan/Romano cheese blend
Directions:
1.
Bring water to a boil for pasta. While the water is boiling c
ut across prosciutto to form thin strips. Then c
ut sage leaves into thin strips (3 tablespoons), and c
hop red peppers.
2. Once the water has come to a boil, cook pasta following package instructions.
3. Preheat large sauté pan on medium-high 2–3 minutes. Place oil in pan, then add mushrooms; cook 2–3 minutes or until browned. Add chopped red peppers and chicken strips; cook 1–2 minutes to heat.
4. Reduce heat to medium-low. Stir in broth and Alfredo sauce; simmer 3–4 minutes or until mixture has thickened. Stir in pasta, prosciutto, sage, and pepper. Top with Parmesan cheese and serve.