Fire-Roasted Tomato & Spicy Italian Sausage Pasta Bake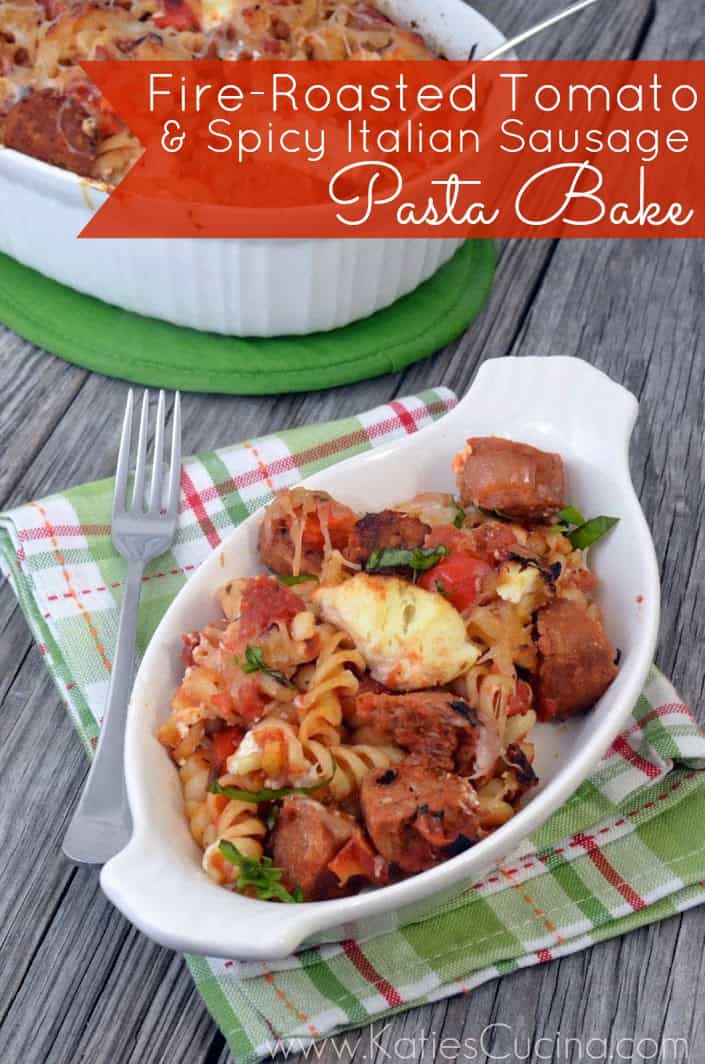 I love a meal where I can use up leftovers. Transform them into something new. That is exactly what this recipe is today. Back in January, I shared how to make Spicy Italian Sausage Subs with Fire-Roasted Tomato Sauce in the Slow Cooker. Super simple meal that allows your slow cooker to do all the work for you. Then a few weeks later I showed you how to Roast Red Bell Peppers. Well, I don't know about you but when I have lots of leftovers I like to transform them. And thus this beautiful Fire-Roasted Tomato & Spicy Italian Sausage Pasta Bake came to life.
Not only did I utilize some of the leftovers I had on hand, but I used a few more pantry staples include Dreamfields Pasta, some fresh herbs from my garden, and cheese in the refrigerator. After boiling up my pasta, I toss all the ingredients together and voila a beautiful pasta bake ready in less than an hour. Typically, most pasta bakes are loaded with cheese. This pasta bake just so happened to not be loaded with cheese. I chose to place a few dollops of ricotta in the bake. Every now and then we don't need our pasta loaded with cheese, right? Ok, maybe I'm wrong, but I loved it just the way I made it. If you love cheese feel free to load it up! Either way–its a great way to use up leftovers!
Katie Original Recipe
Fire-Roasted Tomato & Spicy Italian Sausage Pasta Bake
Ingredients
Directions
Preheat oven to 350 degrees.
Spray a large casserole dish with non-stick cooking spray. Then add in pasta, chopped roasted red bell peppers, spicy Italian sausage, and sauce. Toss well them add 8 dollops (tablespoons) of ricotta, sprinkle with caramelized onions and grated cheese.
Bake for 30 minutes or until the inside of the pasta is hot and the cheese is melted.
https://www.katiescucina.com/fire-roasted-tomato-spicy-italian-sausage-pasta-bake/
This recipe is brought to you by Katie Jasiewicz of Katies Cucina
Disclaimer: I received pasta from Dreamfields pasta; however, I was not compensated nor required to write about them. This is a brand I buy on a regular basis and enjoy eating. As always, all opinions are my own. 
Warning
: Use of undefined constant rand - assumed 'rand' (this will throw an Error in a future version of PHP) in
/home/kjasiewicz21/webapps/katiescucina/wp-content/themes/katiescucina/single.php
on line
74
12 Responses to "Fire-Roasted Tomato & Spicy Italian Sausage Pasta Bake"
Trackbacks/Pingbacks

Leave a Comment