I'm back and boy do I feel better than ever. When your life is getting stressful go take a vacation. It really does a body good, and if you can make it work take a really long vacation… like 17 days long! The only thing that I worried about was missing our cruise ship from port to port and what I was going to eat each day. Over the course of the next month or two I plan to share all my foodie travels.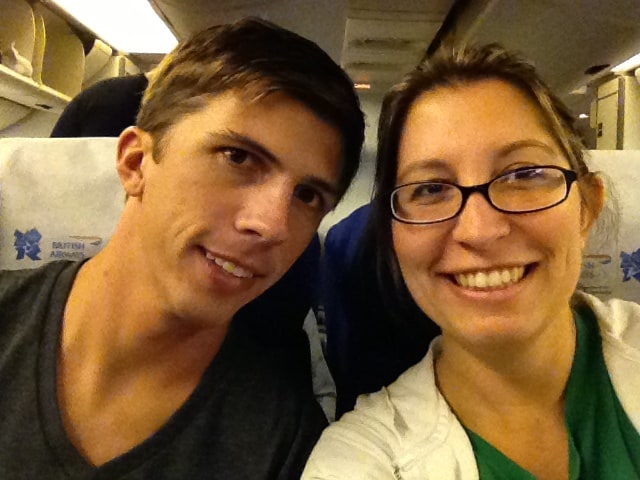 Today I'm talking about airplane food.
People either love it or hate it. Since stepping foot on the airplane at the end of September I mentally debated about posting about airplane food in general. But since I'm a lover of it, I figured why not share what I ate on my flights to and from the United States.
For those who are not aware… my husband and I just spent 17 days in Europe. We got back this past weekend. We spent 3 nights and (what was supposed to be) 4 days in Barcelona, Spain followed by a 12 day Mediterranean cruise. Our cruise basically spent most of the ports in Italy (which was my main point of interest). So now that you are up to speed on where we went let's talk about the flights.
This was my first European flight. I've done Caribbean flights, but those on average are 4-5 hours at most. Not, 6 to 9 hours. We had MAJOR flight challenges. We could not get out of Orlando thanks to the "silent" American Airlines strike. So we missed our flight from Miami to Barcelona. Then after spending 2.5 hours waiting in line at the ticket counter and also on the phone with the airline we finally got rebooked on to a later flight (which at the time we thought we would make). Well, our plane was delayed further and I'm sure at this point you can predict the story… we missed our second rebooked flight. So upon landing at Miami International we ran as fast as we could to the gate in hopes that the flight was delayed by a few minutes. Instead we arrived to an empty gate. So I begged and pleated with the amazing staff of British Airways and they put us on their last flight of the evening. I was expecting to still get dinner, but we did!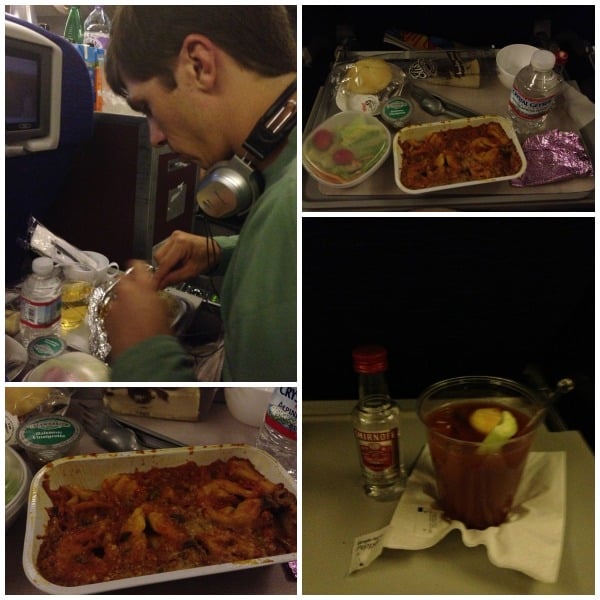 Me being the smooth person I am packed my own mini bottles of vodka for bloody mary's. I also may or may not have packed celery sticks in my purse for this very same drink. What I was not expecting was complimentary liquor on our international flight. So I indulged in a few bloody mary's before dinner. Then the moment I was waiting for… we learned of our dinner choice; chicken curry or cheese tortellini. I went with the cheese tortellini and my husband went with the chicken curry. Both choices were awesome. Our meals also came with a side salad, dinner roll, and a slice of cheesecake! I was very happy with our meal and so was my husband. I know… some of you maybe gagging right now. I also recognize that these are not my prettiest photos. Remember, I was in a plane 33,000+ feet high, and using my iPhone. Bare with me here.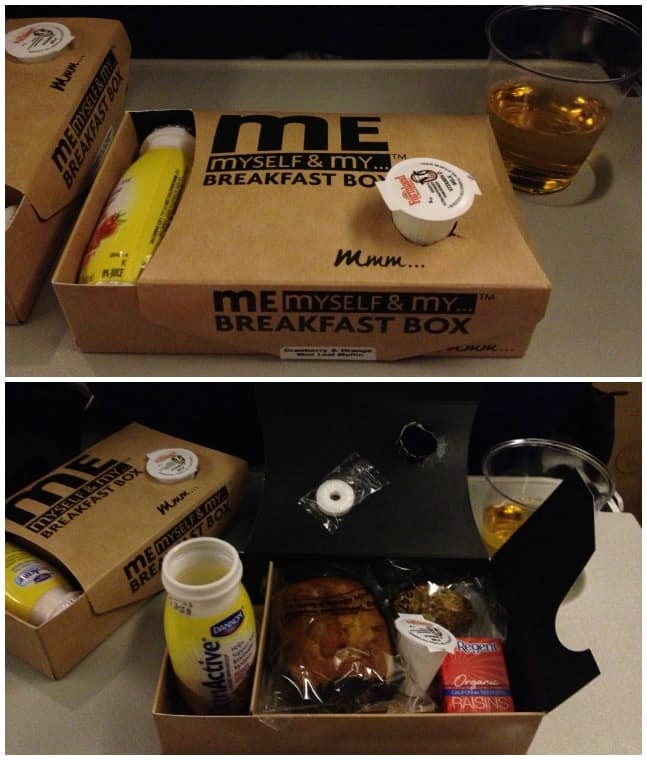 After a sleepless night, I was happy to learn that we were getting a "breakfast box". If we would have made our first flight we were only getting dinner. So I guess one could say it was another perk to missing our flight (maybe one of the only perks). The flight attendants graciously offered coffee, tea, and juice as well at the box. In the box were yogurt "drinks", a cranberry orange bread, a granola cluster, and raisins! Perfect light breakfast before we landed in London. (I'll post about our detour in London next time).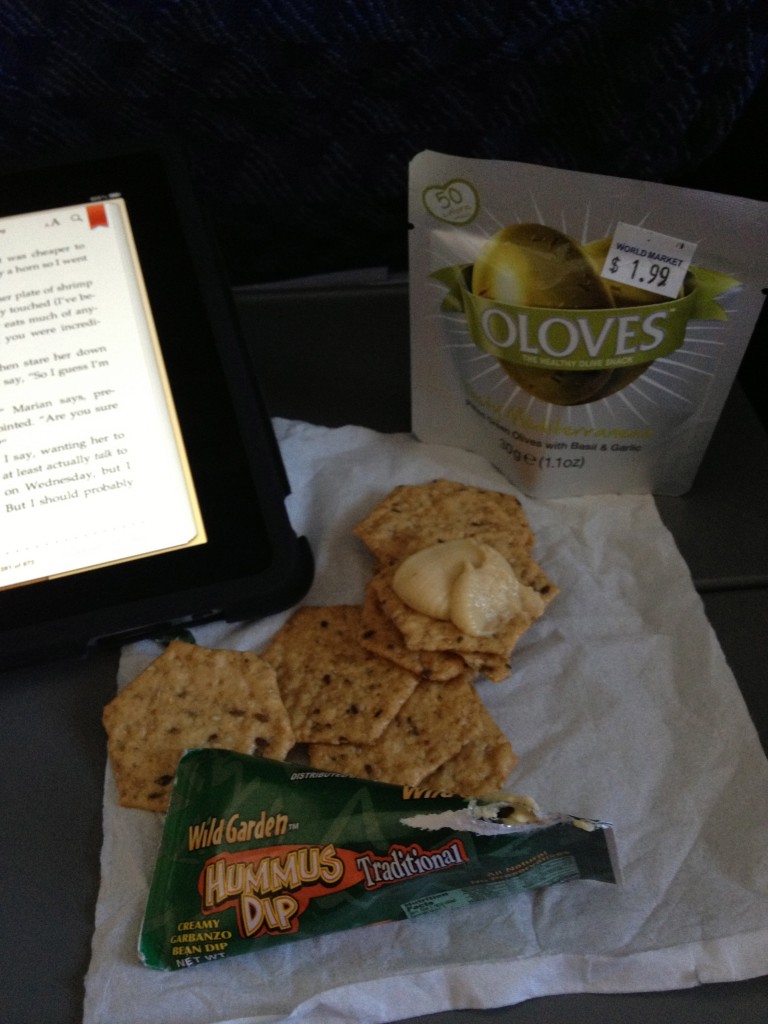 Flying home was a totally different story. First off, I had just been eating for 16 days straight so I knew I was going to be hungry during our 9 hour non-stop flight from Barcelona to Miami. Thankfully, my mom gave us a bag full of snacks before we left. Ironically, we didn't eat any of them until our flight home. As soon as the plane took off and we received our first round of drinks I cracked open the hummus, crackers, and oloves! Mixed in with lots of reading… and before I knew it–it was time for lunch!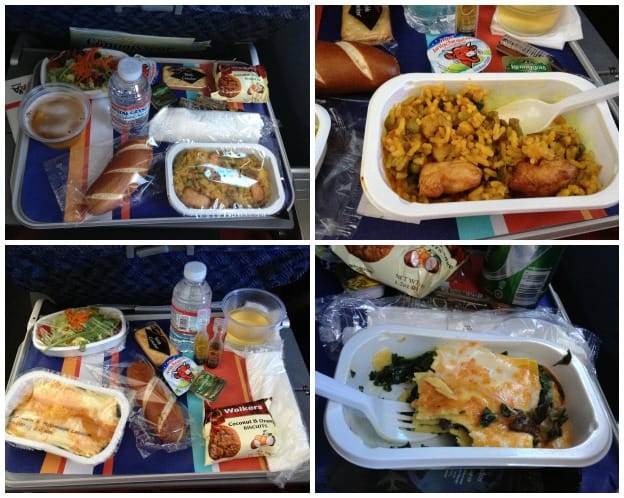 I was tossed on what to order. They had Chicken Paella or Spinach and Mushroom Lasagana. I should have known better, but I went with the spinach and mushroom lasagna hoping that it wouldn't be a lot of mushrooms. Well, it was chocked full and I hated my meal. Thankfully, my loving husband switched with me! Our meal also came with a side salad, pretzel roll with Kerrygold butter, crackers with laughing cow cheese, and a coconut orange biscuit". I was full after lunch and attempted to take a nap. A few hours later my belly was growling and the rest of our food was packed up above us. I decided to read instead of snack. I waited around for our "snack" to come by (which isn't pictured). We got cheese crackers, shortbread cookies, and chocolate. Worked for me.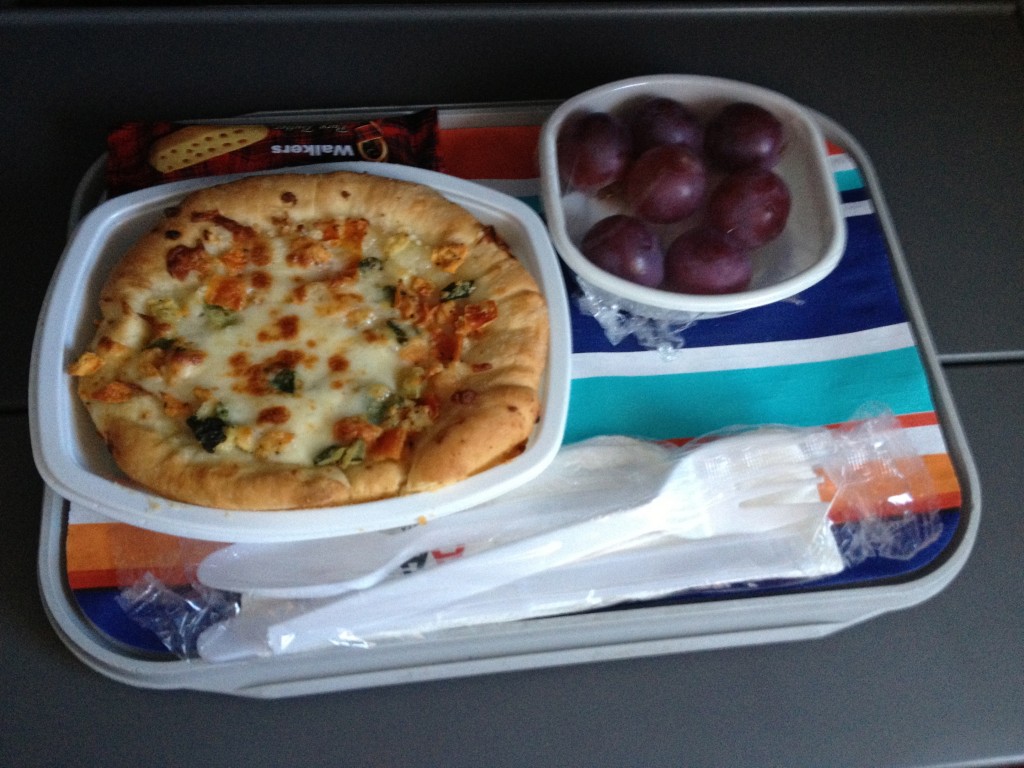 With less than two hours left of our flight we received a hot snack of vegetable pizza, grapes, and shortbread cookies. I was surprised at how good the pizza was. Now, let's get this straight it was no pizza from Napoli, but it tasted good, it wasn't rubbery, and the cheese seemed real!
So what's the best meal you've ever had on a plane? Do you like airplane food?
Disclaimer: All of my photos were taken using my iPhone. This is not the normal way I chose to photograph food.