Today is day 5 of the virtual vacation on Katie's Cucina, and I've saved the best for last!
During our day trip in St. Lucia we had the chance to spend the day at
Almond Morgan Bay Resort
in St. Lucia. An all-inclusive resort nestled in a private cove about 15 minute drive from the capitol, Castries.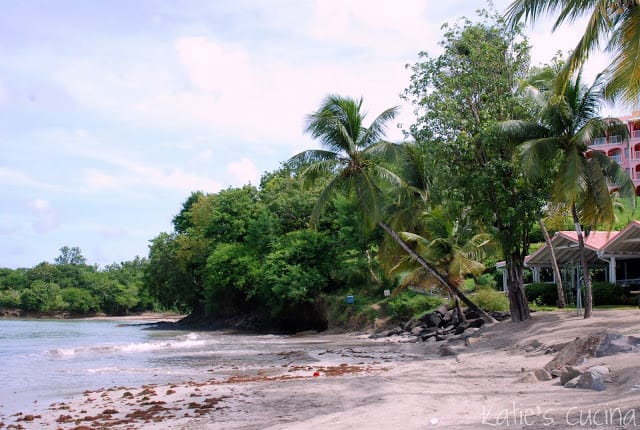 Take a look at this picturesque beach.
*Due to Hurricane Irene quite a bit of seaweed had washed ashore, but the staff was quick to start cleaning up the beach!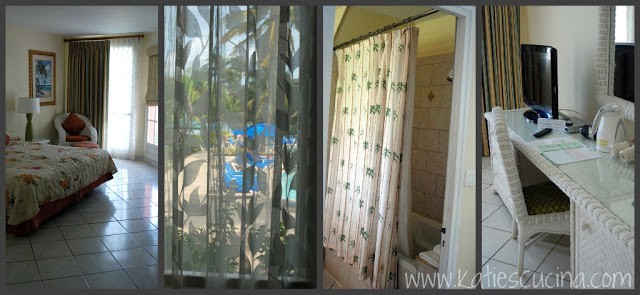 Upon arriving to Almond Moragn Bay Resort we were given a courtesy room for the day. Our room was clean, large, and comfortable! Although I didn't use it– I loved the deep bath tub in the bathroom! After we dropped our bag off at the room we headed down to the beach.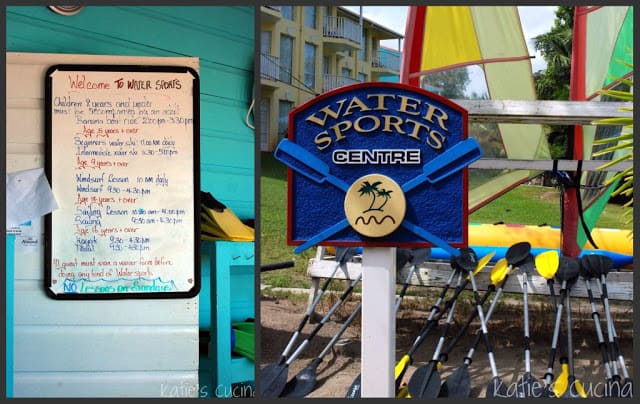 We stopped at the Water Sports centre where we took a look at the wide variety of water sports activities they had to offer.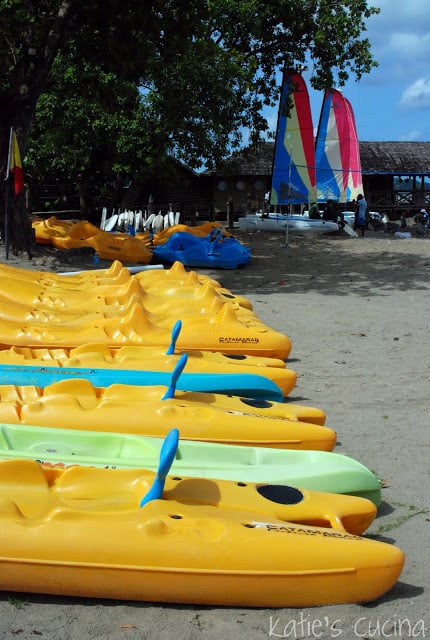 All water sports are included with your stay at Almond Morgan Bay Resort!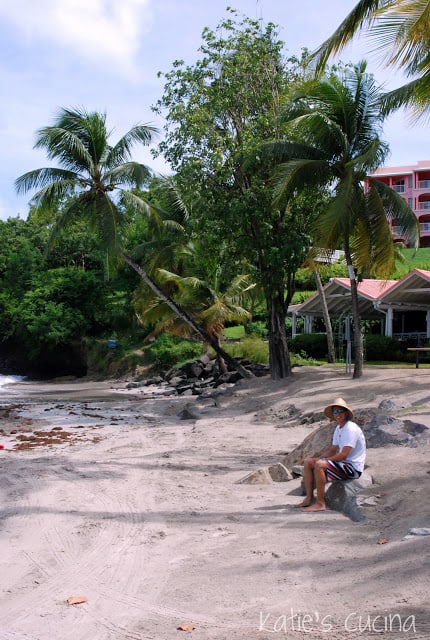 My husband decided he was going to go wakeboard. He use to compete when he was younger, and won the collegiate nationals championships in 2006. I found him sitting on the rocks waiting for his turn to go wakeboarding!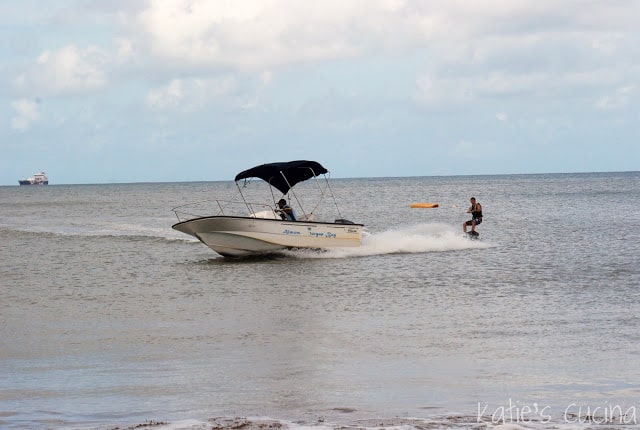 Here is my hubby… shredding it up like the "good old days"… and just as I warned him was sore for days after!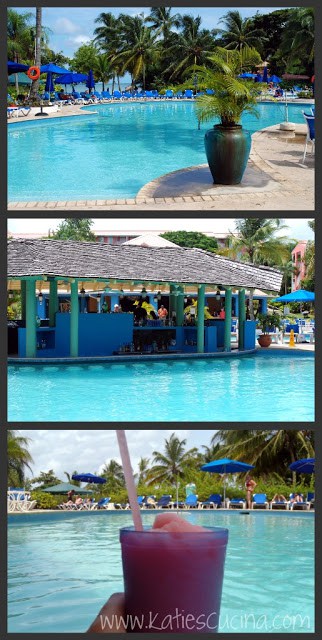 After an early morning full of water sports we decided to spend a few hours by the pool soaking up the little sun that kept peaking through the clouds. My favorite thing at the pool was the swim up bar where you could get a beverage of your choice! I've always wanted to go to a resort with a swim up bar, so this totally made my day (month, week, year, and life) complete!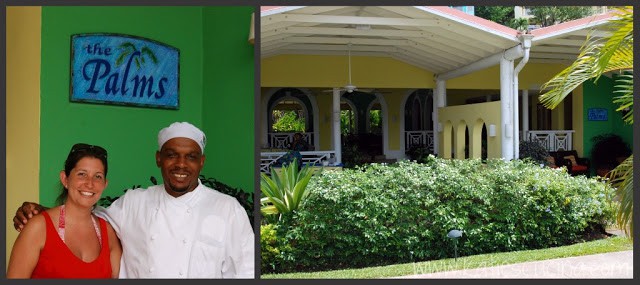 We walked over to the Palms Restaurant where we chose to eat lunch. I also had the opportunity to meet Executive Chef Michael Harrison.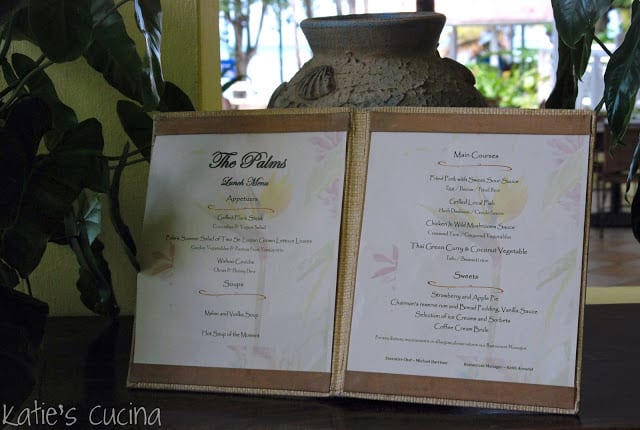 The menu at The Palms Restaurant looked spectacular!

My husband started with the Grilled Flank Steak which was accompanied with a cucumber yogurt sauce that complimented the flank steak well. He tried the chilled mellon and vodka soup for his second course and although he's not a big fan of chilled soups he absolutely LOVED this soup. For his main course he chose the King Fish with dasheen. The fish was grilled to perfection and the sauce was the star of the meal! *Dasheen is a starchy root vegetable native to St. Lucia. You can find it at almost every meal.

I had the Wahoo Ceviche. It was flavorful and I enjoyed the honeydew melon that accompanied it. I would have never thought to eat fish with mellon. It was delicious!!! My second course was a flavorful pureed zucchini soup. Although it was hot out I could always eat a bowl of soup. For my main course I chose the Thai Green Curry and Coconut Vegetables with Basmati rice. The curry was out of this world amazing, and although by my main course I was full, I couldn't stop eating this dish.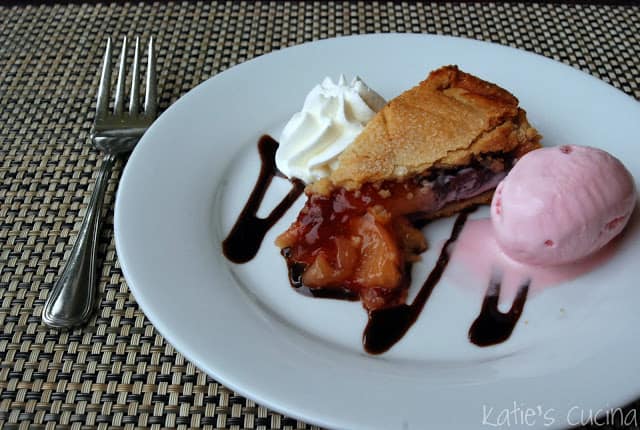 For dessert we indulged in the Strawberry & Apple Pie with a scoop of Strawberry Ice Cream.
After lunch we had the chance to meet the Executive Chef of Almond Morgan Bay Resort, Chef Michael Harrison. I had the chance to sit down and interview him.
I asked him about local ingredients, recipe development, and what dining options the resort has to offer.
*I apologize in advance for the poor sound quality. We were in the tropics and on vacation… the last thing I was thinking of is sound quality!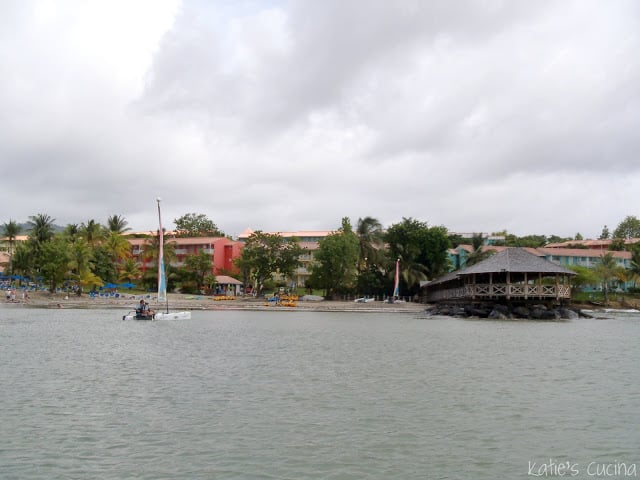 After my interview with the chef and the tour of the kitchen including the onsite bakery (yep that's right they have their own bakery where they start preparing over 30 danishes for breakfast at 4 am)! My husband and I decided to end our visit with a catamaran sail. Here is a view from the catamaran of part of the resort.

I hope if you are ever visiting St. Lucia you'll stay with Almond Morgan Bay or at least visit it for the day like we did! I hope you enjoyed my week long virtual vacation series! I encourage you to follow them on Facebook and Twitter, too!
Disclaimer: I was provided two day passes to review Almond Morgan Bay Resort while visiting St.Lucia. However they did not pay me for my opinions… they are my own and do not reflect the company in any shape or form.