Today we are going to travel to Epcot in Orlando, Florida for the 16th annual Epcot International Food &Wine Festival. Because I live in Florida I have the pleasure of going every year. To be exact this was my 14th year attending the annual food and wine fest. It's something I look forward to attending every fall. For me it's the best of both worlds… eating and drinking around the world. It mixes my pleasure of food with travel! Typically I go once or twice through the almost 2-month long festival. This year, I had the opportunity to go three times; however, on my second time to the festival it was raining, so I didn't bring my camera in fear that it would get damaged!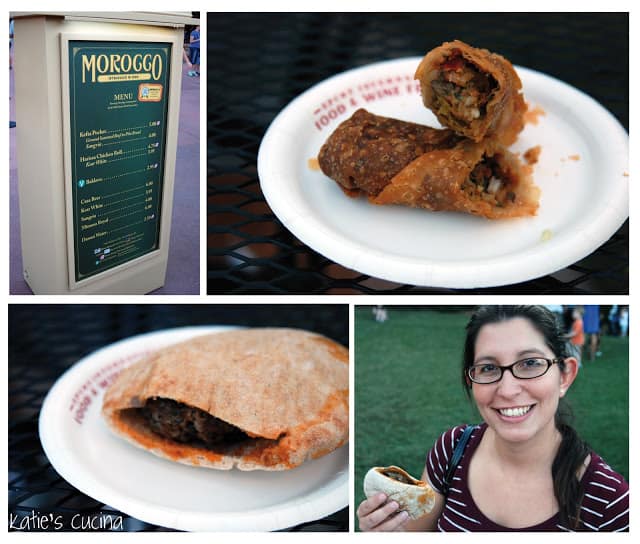 I love Moroccan food! Specifically vegetable couscous, but when I can't have that I always get a Kefta which is essentially a beef patty in a pitta pocket with a red sauce. Typically you'll find some shredded cabbage or lettuce at the bottom of the pocket! I get one every year! Something new to Food and Wine this year was the Harisa Chicken Roll (top left corner). I gave it a try and ended up getting one each time there after! The best way to describe it… a Moroccan style egg roll! The intense flavors used in Moroccan cooking could be found throughout the egg roll.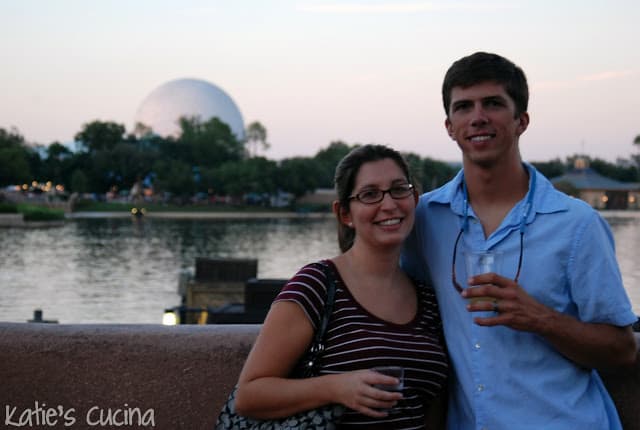 This picture was taken (by my mom–hence why its a little blurry) of my husband and I during our first trip to Food and Wine 2011.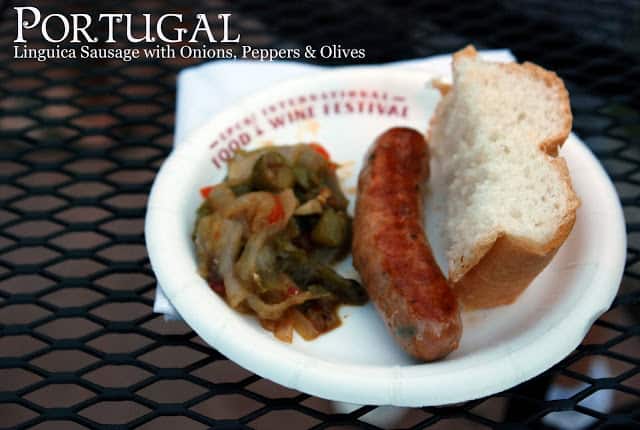 My husband loved the sausage with onions, peppers, & olives this year! He would definitely get it again if they have it next year!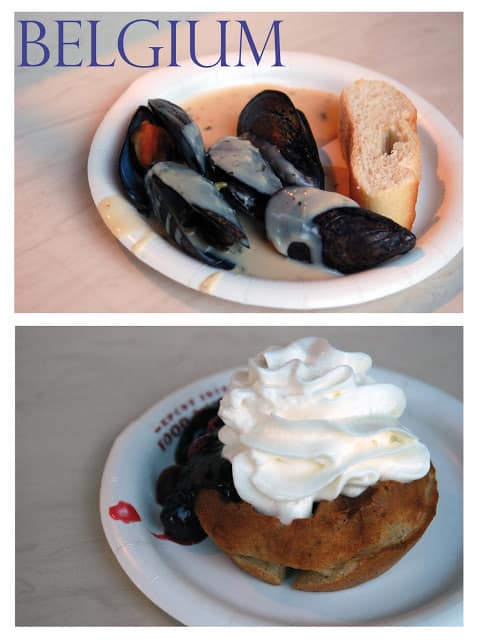 My mom ordered the Steamed Mussels with Roasted Garlic Cream and Baguette on our first visit together. She enjoyed them and was pleased with the portion. On all three visits I indulged in the Belgium Waffle with Berry Compote and Whipped Cream. The waffles were made to order and most importantly light and fluffy. I honestly could have consumed at least 5 on each of my visits. I am still dreaming about them and hope that Epcot will bring them back again next year!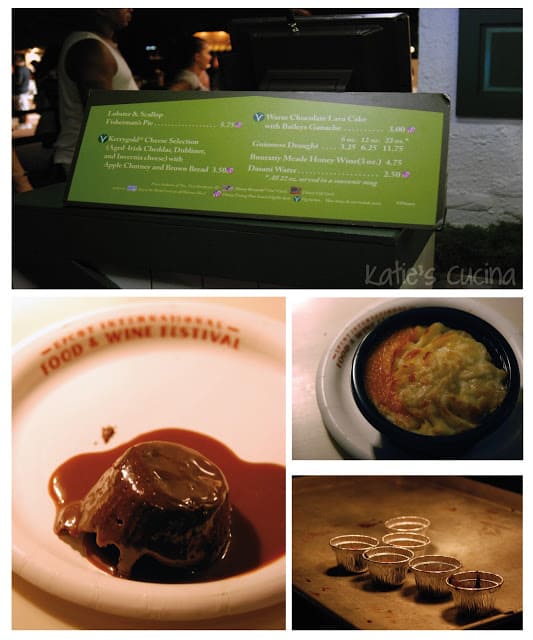 Ireland has always been a favorite of mine. For the past few years they've kept the Lobster and Scallop Fisherman's Pie. A rich mix of thick pieces of lobster along with bay scallops in a cream sauce topped with mashed potatoes and baked with cheddar cheese. I got the recipe for this pie last year in the newspaper and have yet to make it at home. I see it in my future in 2012! No visit is complete to Ireland without indulging on the Warm Chocolate Lava Cake with Baileys Ganache. These are tiny little gems, but worth every penny. I will admit. I had both the Fisherman's Pie and Lava Cake on each of my visits. I can't resist! They are too good to pass up!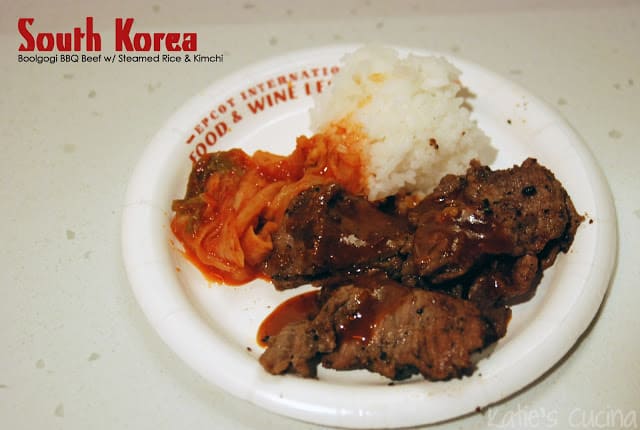 My dad convinced us to stop at South Korea, and I'm so happy he did! My husband and I shared a plate of the Boolgogi BBQ Beef with Steamed Rice and Kimchi. I could have just had a plate of the rice and kimchi!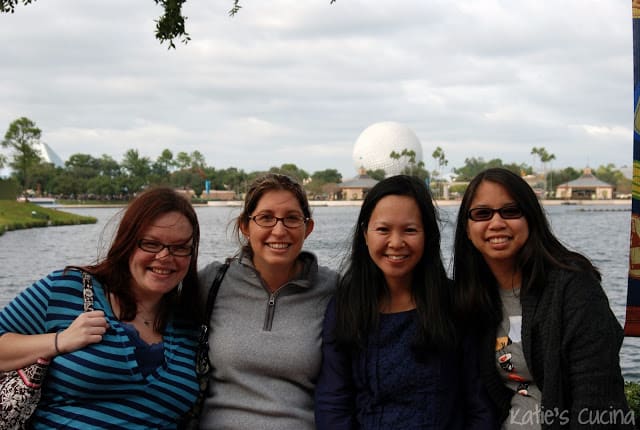 On my third visit I met up with a few of my food blogger friends to eat around the world. I specifically saved a few of the countries, so I could try them with the girls!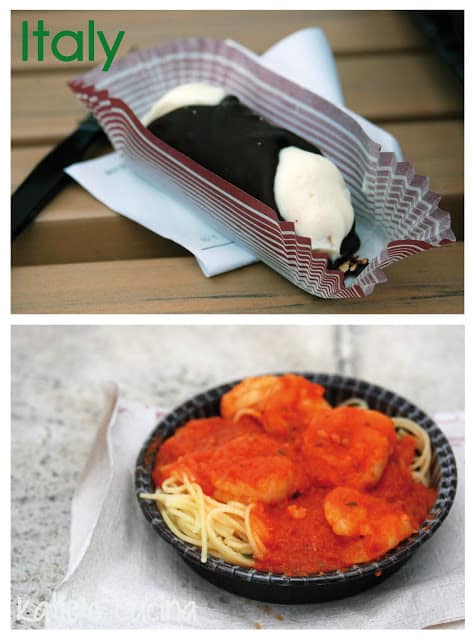 The girls and I indulged in Italy. Pictured above is the
cannoli al cioccolato (chocolate-covered cannoli shell filled with sweet ricotta cheese, chocolate and candied fruit). I could have just eaten the cream out of this cannoli. Pictured below:
cappellini con gamberi piccanti (cappellini pasta with spicy shrimp), The sauce was rich and flavorful with a nice kick to it!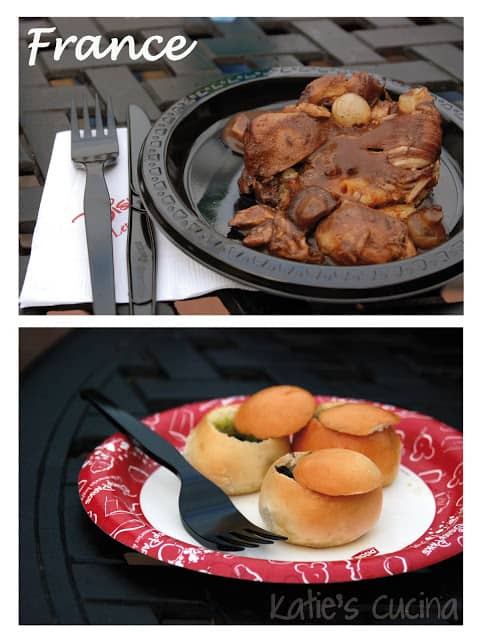 My last stop of the day with the girls was to France. Julie and I had the C
oq Au Vin sur gratin de macaroni. It was a red wine-braised chicken, mushroom, pearl onions on a bed of macaroni gratin. The chicken was good–but remember I'm not a meat lover, so I could have skipped that and just ate a plate of the macaroni! Lenore and Suzanne both feasted on
Escargots persillade en brioche. The garlic and parsley snails were nestled in individual brioche mini bowls. I'm not a fan of Escargots–its a texture thing for me… but my husband and parents love it as well! Everyone always indulges in these every year (except me)!
I hope you enjoyed my foodie travels to the Epcot International Food & Wine Festival, and if your ever planning a trip to Disney make sure its between mid-September to mid-October. That's when you can indulge in foods like these!