I'm taking my readers on a virtual vacation this week, and sharing the food and experiences from my vacation last month. Hope everyone will enjoy!
Last month my husband and I went on a 7-day Southern Caribbean cruise out of San Juan, Puerto Rico. Since the cruise left on a Sunday we decided to fly in Saturday morning and spend an extra evening in San Juan. We visited San Juan about 4-½ years ago on a cruise and only had but a few hours to explore. We wanted more than just a few hours to explore this time around. We were both really looking forward to the food and the beaches!
It was lunch time by the time we arrived in San Juan via plane. We checked into our hotel, dropped our bags off, and changed into our swimsuit. Our plans were to grab a bite to eat and then hit the beach! Our taxi driver recommended we try a restaurant that was a block from the hotel (heading towards the beach) called, Mi Casita. We took her recommendations and were not disappointed!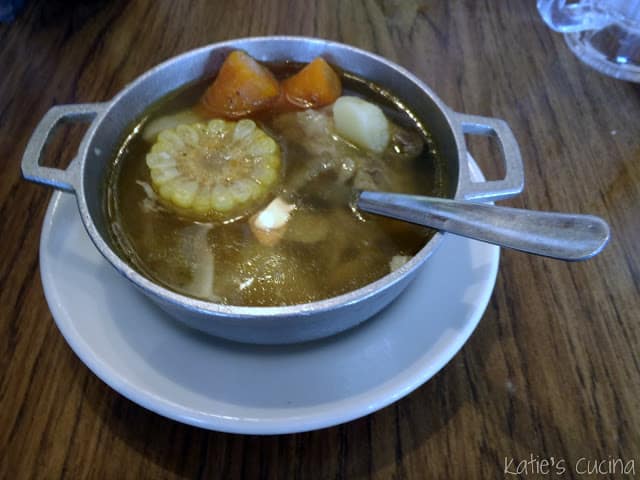 I started with a bowl of chicken soup. I could tell it had been slow simmering all morning. The broth was full of flavor and there was a generous amount of chicken in the soup. I let my husband have a taste and then I found myself having to fight him off from eating the whole bowl!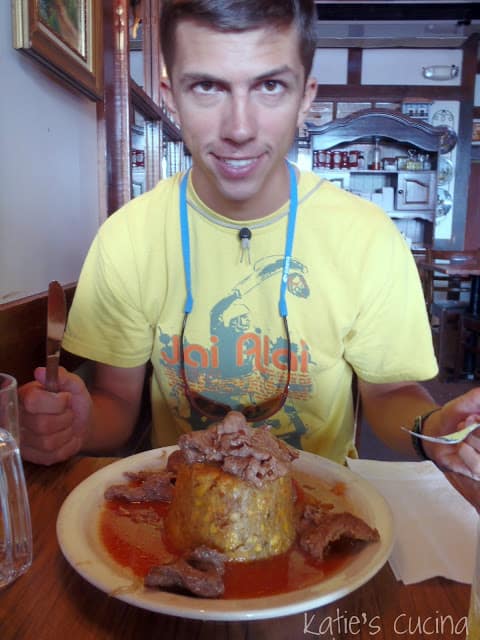 Jon (my husband) had the beef mofongo. This was our first mofongo experience, and we soon realized this would not be our last! The flavors from the sauce of the beef were out of this world. Words cannot express how tantalizing this dish was.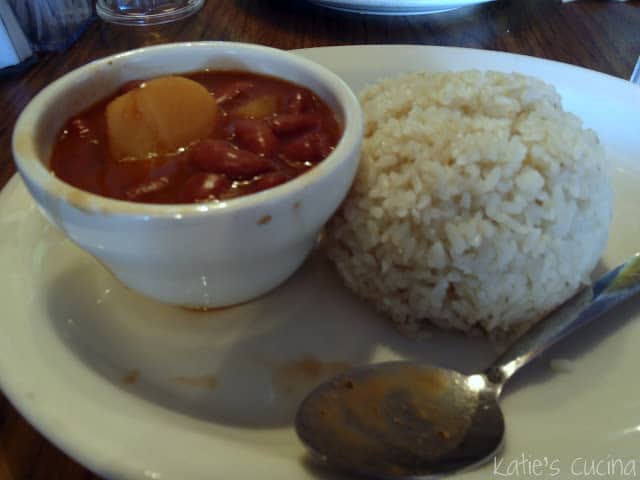 I wasn't really in the mood for meat, so I opted for a side of rice and Puerto Rican style red beans. OMG! These were amazing. I was practically licking the bowl. I will say that I ate Puerto Rican style red beans 3 times on our vacation and these were by far my favorite.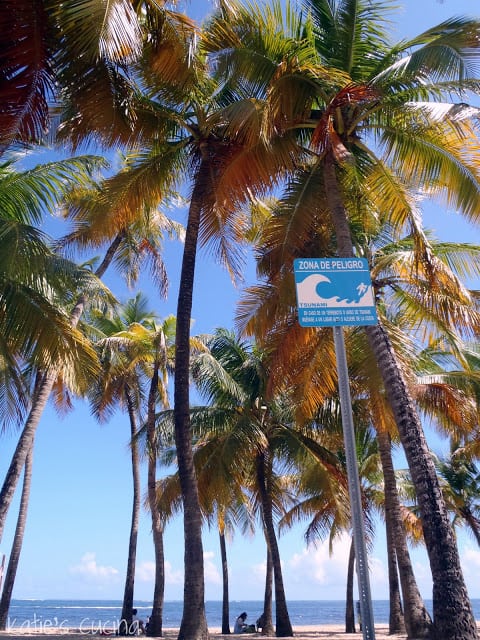 We rolled ourselves out of the restaurant and walked a block to the beach. Where we saw this tsunami sign… WHAT?!? I had no idea. I was a little taken off guard by this sign and of course had a moment of sheer panic. But my worries were washed away upon arriving to the beach. Our hotel gave complimentary beach chairs so we picked our spots and "hunkered" down for the afternoon. We both dozed on and off while just enjoying our first day of vacation.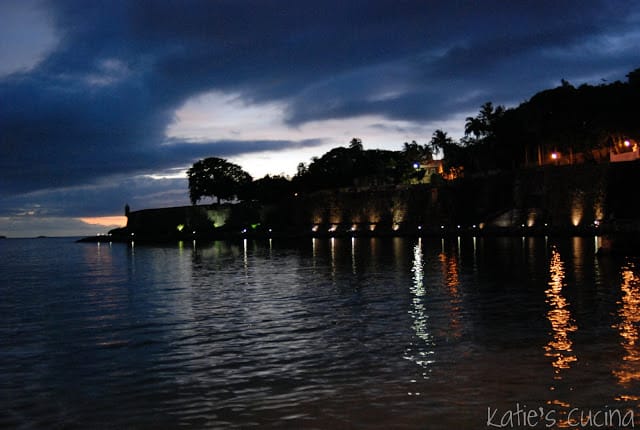 That evening prior to the sun setting we took a stroll around Old San Juan. By the time we made it near the fort the sun was almost gone… but I was able to capture this beautiful photo of the fort at sunset (without a tripod might I add).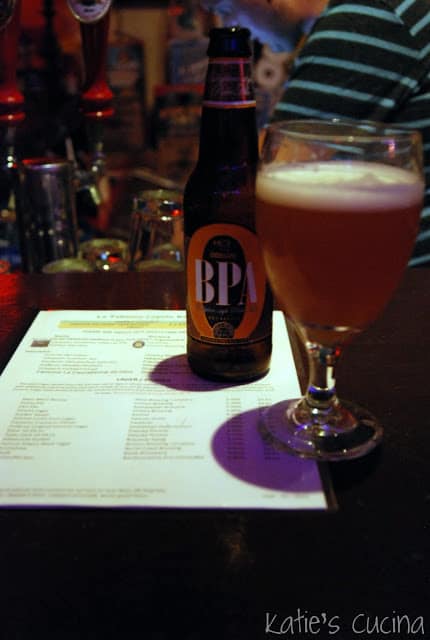 After our walk around the outskirts of the fort we wondered around the city until we found San Juan's only beer bar; La Taberna Lupulo. My husband is a beer connoisseur of sorts so this was a must during our visit to Puerto Rico. The bar is small and dark and serves up a healthy variety of craft beers. To our surprise we were greeted by American's who had moved to the island 5+ years ago. We chatted with them for a few hours, and then made our way down to the city center were we dined roadside (great for people watching) and enjoyed some more Puerto Rican dishes (pictures not available).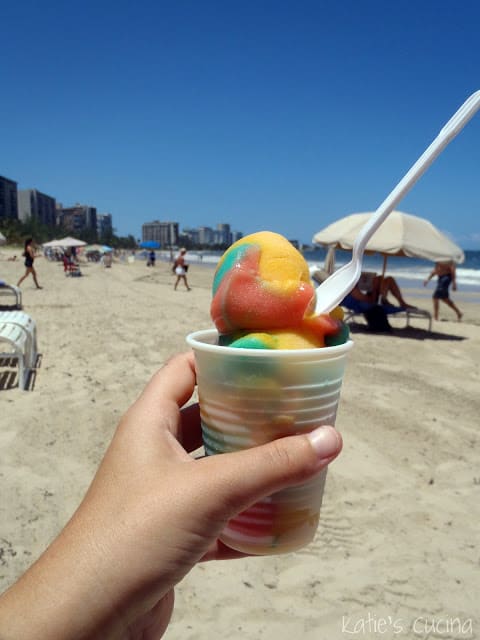 The next day we took advantage of our hotel's free continental breakfast and then hurried over to the beach for a few more hours before we had to leave for the cruise ship. Around noon-time while on the beach I indulged in a rainbow sorbet (cherry, raspberry, and mango). I had seen the gentlemen the day prior and knew I wanted to give his sorbets a try. It was delicious and refreshing all at the same time.
Fast forward a week later…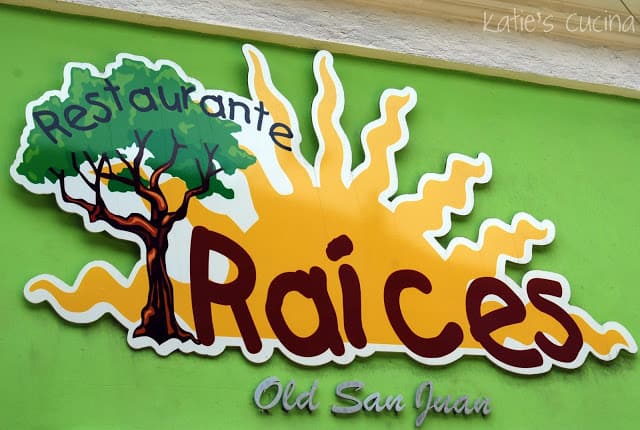 After departing our cruise ship we had a late lunch at a well known (and some-what touristy restaurant) Restaurante Raices. We had 4 (long) hours to kill before heading to the airport. We figured we could spend 2 hours eating a long drawn out lunch with luggage in tow!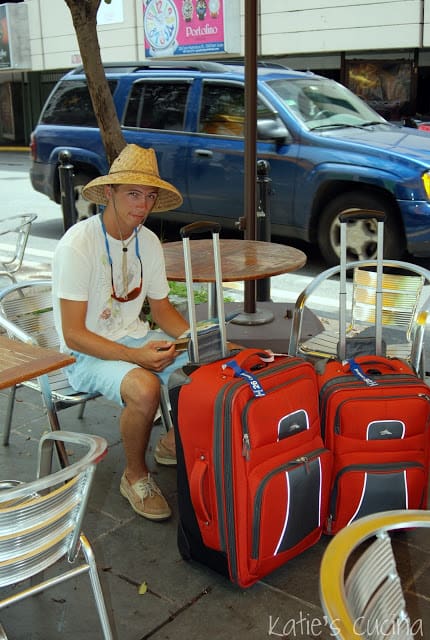 Dragging your luggage around is not always ideal, but we didn't want to spend $80+ to have the cruise line bring it to the airport for us. I'd rather spend that in food! lol.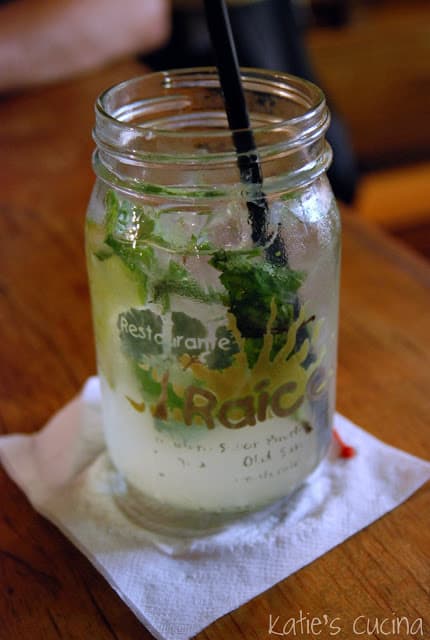 We started with a classic mojito served in mason jars. By far the most powerful mojito I've ever consumed in my life. I can take them or leave them, but my husband is in love with the mojito. Friends and family have dubbed him as "Mr. Mojito man". Needless to say Mr. Mojito Man had to finish my mojito for me.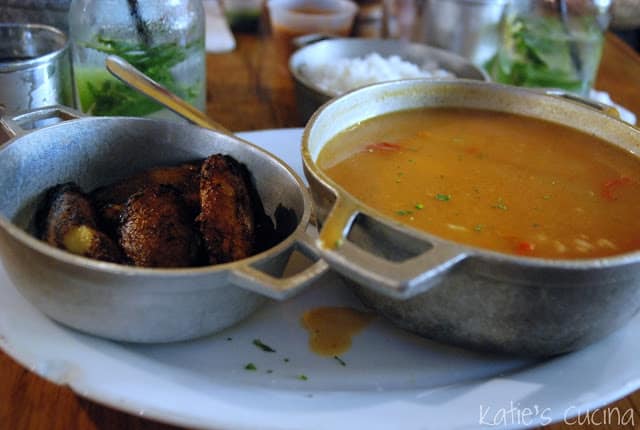 I had yet again more chicken soup that was unbelievably creamy and full of chicken, rice, and vegetables. Accompanied with fried plantains and in the background a side of red beans and rice. Because for some reason this massive bowl of soup would not be enough! lol.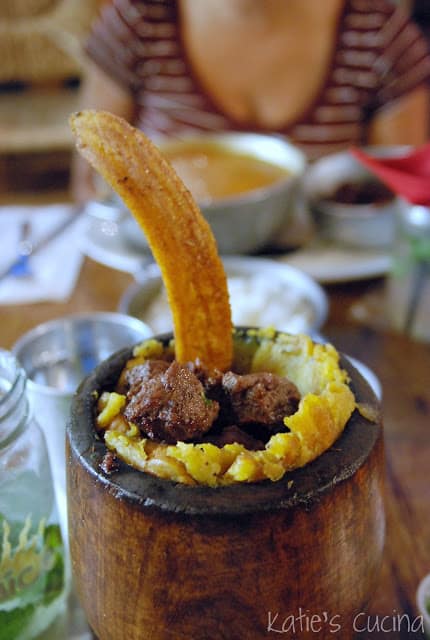 Mr. Mojito Man had more mofongo. He had the Mofongo Relleno de Churrasco al Chimichurri (Beef with chimichurri sauce). He was beyond pleased with his meal and even seemed to like the mofongo here better than the first restaurant.
If you ever travel to Puerto Rico I hope you'll indulge on red beans & rice, sweet fried plantains, and mofongo!