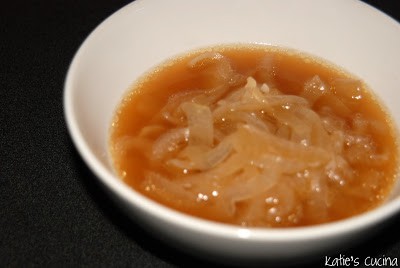 This is one of the easiest soup recipes you'll find! I learned how to make this classic soup from my mother in-law, but have tweaked the recipe throughout the past years to my own liking. I eat it just as an onion soup, and if I have a thick crusty bread I'll toast it and place it on my soup, but if not I think it's still as good without. I've never been a fan of the melted cheese on top, so I don't make it like that; however, you can purchase slices of gruyere cheese and finish bowls of the soup off in the stove (under the broiler for a few minutes) with bread and cheese.
2 large spanish onions, thinly sliced

4 tablespoon butter

4 cup beef broth

salt & pepper to taste

splash of worchestire sauce
1. In a large sauce pan place the 4 tablespoon of butter into the pan. While the butter is beginning to melt p

eel and cut onions, so that you have small thin slices. Place the onions in the sauce pan and cover with a lid. Let them cook and sweat for a few minutes. Stir the onions around and add 1 cup of broth. Place the lid back on the pot and let the onions sweat for another 5 minutes. By this point the onions should be translucent. You'll want to add salt and pepper and a splash or two of worchestire sauce. Stir well then add the remaining beef broth. Let the soup simmer for 10 minutes, and then serve!