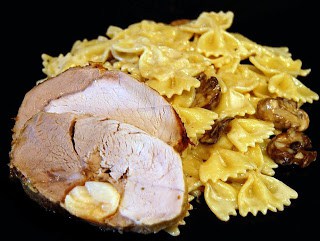 I've been cooking this recipe for a while, and have modified it slightly. Once again here is another amazing Publix's Apron's Recipe! I had my mom and brother over for dinner the other week, and made this for them. They absolutely loved it. Hence the reason why this is a great recipe to entertain with, and a pork roast that you can definitely make on a busy week night!
Prep:
15 minutes
Total:
30 minutes

Serves:
4
Ingredients:
1 pork tenderloin (about 1 lb)
3 whole cloves of garlic
1 1/4 tsp kosher salt, divided
3/4 tsp pepper, divided
1 tbsp canola oil
2 tbsp unsalted butter
16 ounces pre-sliced baby portabella mushrooms (rinsed)
4 ounces gourmet mushrooms blend (rinsed)
2 tbsp minced garlic
8 ounces bowtie pasta
2/3 cup Marsala wine
1 cup heavy cream
Directions:
Preheat oven to 375°F. Preheat large sauté pan on medium-high 2–3 minutes. Season all sides of pork with 1/4 teaspoon each of the salt and pepper. Cut three "x" like slits into the roast, and push garlic cloves into each slit (wash hands).
Place oil in pan; swirl to coat. Add pork (wash hands); cook 2–3 minutes on each side or until browned. Transfer pork to baking sheet (set pan aside for later use). Bake 25–30 minutes or until internal temperature of pork reaches 160°F (for medium). Use a meat thermometer to accurately ensure doneness.
Fill large saucepan half full of water. Cover and bring to a boil on high for pasta. Return pan used for pork to medium-high heat. Place butter in pan; swirl to coat.
Add mushrooms and garlic; cook 5–6 minutes, stirring occasionally, or until mushrooms soften and begin to release their juices. Stir pasta into boiling water. Boil 9–10 minutes, stirring occasionally, or until tender.
Season mushrooms with remaining 1 teaspoon salt and 1/2 teaspoon pepper. Pour wine over mushrooms; cook 2–3 minutes, stirring occasionally, or until wine has almost evaporated and mushrooms have released all their juices.
Stir in cream; cook 3–4 minutes, stirring occasionally, or until sauce has reduced by about one-third. Drain pasta; stir into sauce.
Let pork stand 5 minutes before slicing. Serve pasta and sauce with pork.
Side Suggestions: Golden Green Bean Casserole