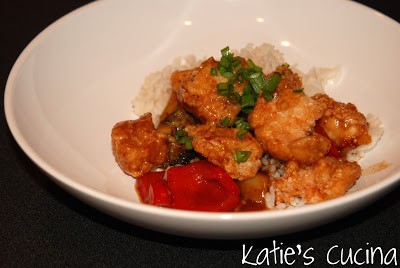 I think I've been eating chinese food since I was an infant. Honestly, I love chinese food, and need to eat it a few times each month or my life does not seem fulfilled! I can remember back when I was 4 eating Chinese food often, so maybe that's really when it started. Throughout the years I've had my favorites… chicken & broccoli, fried rice, egg drop soup, and for the past (oh I don't know maybe) 10 years its been vegetable chow mein (in white sauce not brown). But I will still glady accept and eat other dishes… they just aren't my favorite. My husband on the other hand… for as long as we've been together (8+ years) has always loved General Tso's Chicken. I will typically eat maybe one piece of chicken, but that's about it. When I saw this recipe on Joelen's blog I new I needed to try this. OMG–was this the most amazing (and oh-so-close to the real thing) General Tso's I've tasted! I ate not one but 8 pieces of chicken!!! That's honestly, a record for me… for any meal. I pretty much eat a vegetarian diet. So for me to eat that much chicken; you know this is a winner. I also added red bell pepper and broccoli to the sauce since that's what we typically find in our take-out chinese food container… a few vegetables to balance all the meat. I can't wait to make this recipe again, and again, and again, and even entertain with this recipe. It's that good! If you like General Tso's chicken.. you will love this recipe! Now, what are you waiting for??? Go make it!
I
ngredients for marinade:
½ cup hoisin sauce

¼ cup white vinegar

3 tablespoons soy sauce

3 tablespoons sugar

2 tablespoons cornstarch

1 ½ cups water

4 boneless, skinless chicken breasts (about 1 ½ pounds)

1 tablespoon vegetable oil

4 garlic cloves, minced

2 tablespoons grated fresh ginger

½ teaspoons red pepper flakes

*1 bell pepper chopped

*1 cup of broccoli florets
I
ngredients for coating & frying:
3 large egg whites

1 ½ cups cornstarch

½ cup unbleached all purpose flour

½ teaspoon baking soda

4 cups vegetable oil

1-2 green onions, thinly sliced on a bias for garnish
1.
Prep the chicken breasts by cutting them into 1 inch pieces.

2. To make the marinade & sauce, whisk the hoisin, vinegar, soy sauce, sugar, cornstarch, and water in a bowl. Of this mixture, place 6 tablespoons into a zip lock storage bag and add the chicken; seal and refrigerate for 30 minutes. Set aside the remaining marinade in the bowl.

3. While the chicken is chilling in the marinade, heat the oil in a large skillet over medium heat until shimmering. Sauté the garlic, ginger and red pepper flakes until fragrant. Add 2 cups of the hoisin marinade to the skillet and simmer, whisking constantly, until the mixture is dark brown and thickened. *This is where I added the red bell pepper and broccoli to the skillet. I let the sauce simmer with a lid on it, and steaming the vegetables. Once the vegetables are cooked to your desired liking I removed the pan from heat, covered and kept the sauce warm.

4. To prepare the chicken coating and frying, whisk the egg whites in a shallow dish until foamy; set aside. Combine the cornstarch, flour, baking soda, and remaining hoisin marinade in a second shallow dish; mix until it resembles coarse meal.

5. Remove the chicken from the refrigerator and from the marinade. Pat the marinated chicken dry with paper towels. Toss half the chicken into the foamy egg whites until well coated, then dredge the chicken in the cornstarch mmixture, pressing to adhere. Transfer the coated chicken to a plate and repeat with the remaining chicken.

6. Heat the oil in a Dutch oven over medium high heat until the oil registers 350 degrees. Fry half the chicken until golden brown, about 3 minutes, turning each piece halfway through cooking. **I used my deep fryer. It was much easier and gave an all around crispness to the chicken (if you don't have a deep fryer then follow the crossed out method). Cook your chicken in a deep fryer for 5 minutes or until golden brown and internal temperature is 165 degrees. Transfer the cooked chicken onto a paper towel lined plate to drain. (Return the oil to 350 degrees before frying again. Repeat with the remaining chicken if needed.)

7. Warm the sauce over medium heat until simmering. Place the sauce in a large bowl and add the fried chicken pieces. Toss to coat and serve.