Lemon Pepper Panko Sea Scallops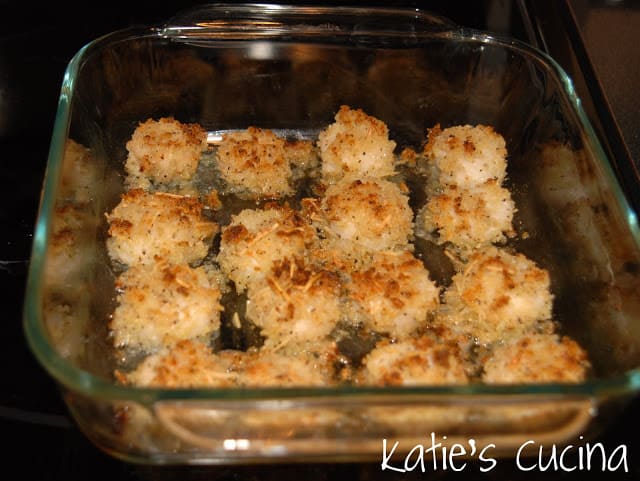 After looking all over the Progresso site, browsing websites, reading the lemon pepper panko box I decided to come up with my version of Lemon Pepper Panko Sea Scallops. Partly decided at the grocery store as a stood inline in front of the seafood counter. I noticed sea scallops were on sale. I was tempted to bake a fish, but decided for scallops instead (later to find out after 8 years of being together that my husband hates sea scallops?). I knew I didn't want to fry them that I wanted to bake them… so a little of this and that… they cooked up exactly how I had imagined in my head and were delicious (even mister I-hate-sea-scallops liked them)!
16 or ½lb Sea Scallops

2 tablespoon butter

½ cup lemon pepper panko

¼ cup parmesan cheese

salt & pepper
1. Pre-heat oven to 350 degrees.
2. Melt butter in microwave. Add one tablespoon of butter to a glass dish. With a paper towel rub the butter around the bottom of the dish.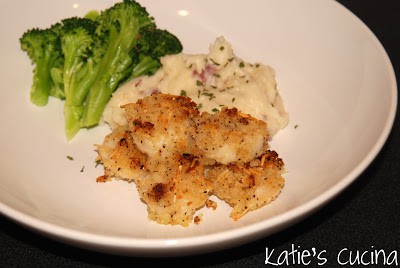 3. In a shallow bowl combine panko, parmesan cheese, and remaining butter (add salt and pepper to taste if desired). Mix well until the butter has incorporated throughout the panko mixture.
4. Rinse sea scallops, then individually place a sea scallop in the panko mixture patting on the panko. Once the sea scallop has been evenly coated place it in the baking dish. Repeat this step until all the sea scallops have been coated. *If you have any remaining panko leftover you can sprinkle some on top of the scallops in the baking dish.
5. Place the baking dish in the oven; cook for 15 minutes. After the 15 minutes have passed then place your broiler on low (if applicable if not just place the broiler on), and cook for 5 minute or until golden brown (make sure you don't burn them).