Last week, I began dreaming up Mexican recipes. Thinking about classics and how I could re-invent them with a twist. That's when it hit me… why not turn classic chicken fajitas into a kabob… and grill it?
Genius. right?
My husband, is a fajita lover. Anytime we go to a Mexican or Tex-Mex restaurant its almost certain he will order fajitas. When I told him what we were having for dinner he loved the idea! I simply placed the chicken and veggies into separate bowls and sprinkled my own Fajita Seasoning over the food and let them marinate for a few minutes; however, you could prepare this a day a head of time and let the veggies and chicken marinate over night.
I used sweet mini peppers and kept them whole since we love eating them grilled. I added whole mushrooms since he loves mushrooms and I simply had them on hand. This classic dish with a twist is sure to get your family and friends excited for Cinco de Mayo!
Source: Katie Original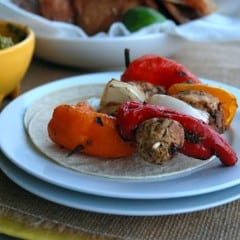 Ingredients
1

lb

boneless skinless chicken breast

16

mini sweet peppers

1

large white onion

12

whole white mushrooms

¼

cup

Fajita Seasoning

1 packet or 1 batch of Katie's Cucina recipe

4

Tortillas

Optional: Sour Cream and Guacamole
Instructions
Clean skinless boneless chicken breast and cut into 1-2 inch size pieces. Place in a bowl and set to the side. Quarter white onion, and wipe off white mushrooms and place in another bowl. Rinse mini sweet peppers and place in a third bowl then divide fajita seasoning among the 3 bowls. Mix well and marinate for at least 15 minutes or up to 1 day.

Preheat the grill to medium heat.

Once veggies and chicken are done marinating begin skewering. For the purpose of the pictures I used 6-inch skewers but you can easily use 12-inch skewers.

Place the skewers on the grill and cook for 10 minutes on each side or until internal temperature of chicken reaches 165.

Once the skewers are done serve with tortillas, sour cream, and guacamole.
Nutrition
Calories:
192
kcal
|
Carbohydrates:
13
g
|
Protein:
27
g
|
Fat:
4
g
|
Saturated Fat:
1
g
|
Cholesterol:
73
mg
|
Sodium:
317
mg
|
Potassium:
887
mg
|
Fiber:
4
g
|
Sugar:
7
g
|
Vitamin A:
3746
IU
|
Vitamin C:
149
mg
|
Calcium:
20
mg
|
Iron:
1
mg
Pictured above:
{Salt & Lime} Homemade Corn Tortilla Chips
"Grillin' Bold this Memorial Day? Bush's has the beans for it. Come join the cookout with Cookin' Canuck and Hoosier Homemade sponsored by Bush's Grillin' Beans"