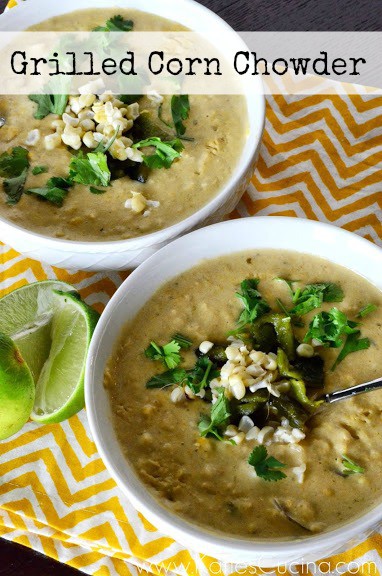 Grilled Corn. I can't get enough of it in the summer months. It wasn't until last year that I started enjoying grilled corn. Earlier this month, while cruising the Caribbean I got caught up on some of my magazines on one of our sea days. As I flipped through the magazine this recipe for Grilled Corn Chowder popped out at me. I read through the recipe and flagged it to make when I got back home. And that I did…
I also reached out to OXO to try out their corn stripper tool. If there is one thing I hate in life it is cutting corn of the cob. The kernels go everywhere and before I know it my kitchen is a mess. My husband was not happy to see yet another "kitchen gadget" arrive at our home, but I promised him this would be one gadget that would get great use–especially in the summer! I used it and we were both in awe… awe at how clean the kitchen was and how quickly I was able to cut off the corn off the cob in no time! Seriously, if y'all make lots of corn recipes or have a picky eater who refuses to eat the corn off the cob (or like me lacked front teeth for multiple summers in a row growing up), you will want to invest in the corn stripper.
I know some of you may be thinking that I'm out of my mind to be making soup in the summer… I'm not… well ok, maybe. But for those who know me in real life I'm a soup connoisseur and love to eat soup all year round. This grilled variety hits the spot and even better its vegetarian friendly!
Adapted from Better Homes and Garden July 2013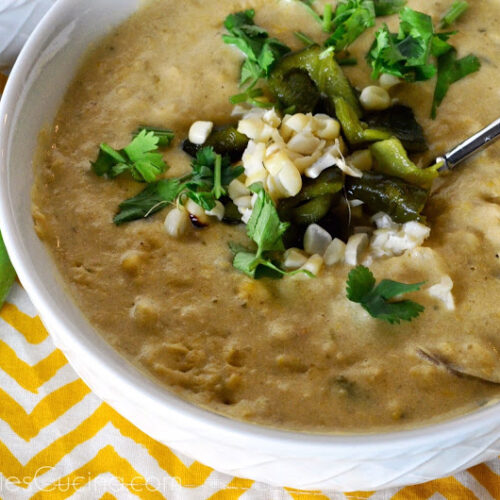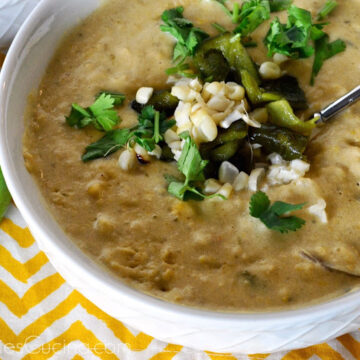 Ingredients
4

ears of fresh sweet corn

husked and silks removed

1

poblano pepper

1

tablespoon

olive oil

1

tablespoon

butter

1

medium onion

chopped

1

tablespoon

garlic

minced

1

teaspoon

cumin

1 14oz can vegetable stock

1

medium potato

peeled and cubed

2

tablespoon

all-purpose flour

½

teaspoon

salt

¼

teaspoon

pepper

1-½

cups

whole milk

Cilantro and Lime for garnish
Instructions
Preheat your grill to medium heat. Grill the corn and poblano pepper for 15 minutes. The pepper should be charred and the corn should be tender with some grill marks. Remove from the grill and let the corn and pepper cool to room temperature. When the corn is cool enough to handle, using the corn stripper, remove the kernels off the cob. You'll also want to remove the skin off the poblano pepper, slice it in half, and remove the seeds. Set both corn and poblano pepper to the side.

In a large soup pot, heat oil and butter over medium heat. Add onion and garlic. Cook until tender, about 5 minutes. Add the cumin and cook until fragrant about 1 minute. Stir in 1-½ cups of grilled corn kernels, vegetable stock, and peeled and chopped potato. Mix well and bring to a boil then reduce heat. Simmer, covered, for 10-15 minutes until the potato is cooked (stir occasionally).

In a bowl add the flour, salt, and pepper and mix. Then stir in the whole milk into the flour mixture. Stir until smooth.

Gradually stir the whole milk mixture into the soup as well as half of the poblano pepper. Cook for five minutes, stirring until slightly thick and bubbly. Using an immersion blender, puree the mixture to desired consistency. Ladle soup into bowls, top with remaining grilled corn kernels, chopped poblano pepper, and cilantro.