Grilled Spiced Fig Chicken Skewers
Thank you Litehouse for sponsoring today's recipe. As always, all opinions are my own.
Switch up your grilling routine and embrace the seasonal fig with these easy Grilled Spiced Fig Chicken Skewers. Perfect recipe for entertaining!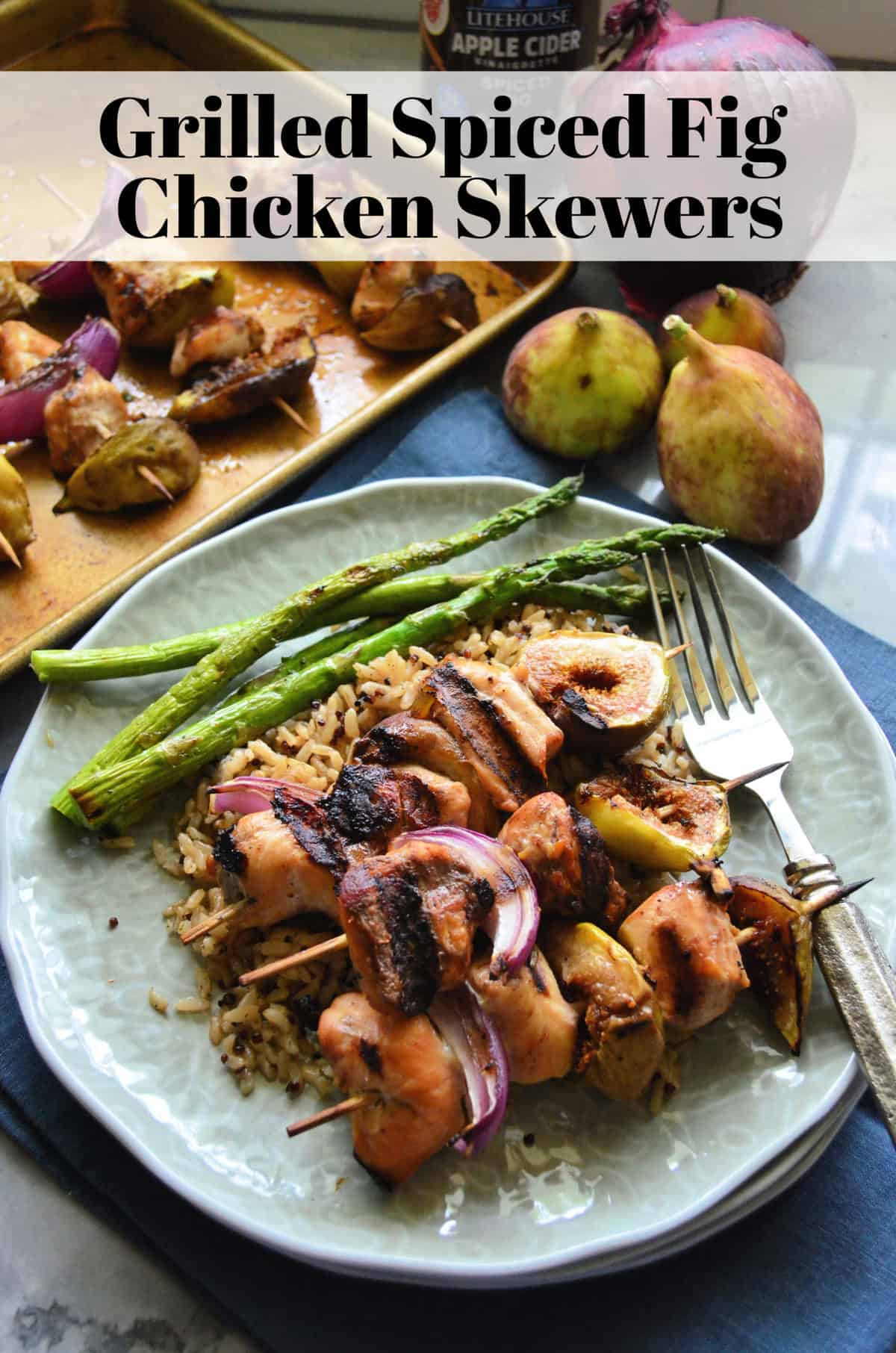 Although it's mid-September most of the country is officially starting to cool down. Believe it or not we are getting little tiny breaks in our hot Florida weather here. We love to grill in our home, and are fortunate to be able to grill year round. Every now and then we get crazy and switch it up and make grilled chicken skewers. I mean, you can't go wrong with meat on a stick!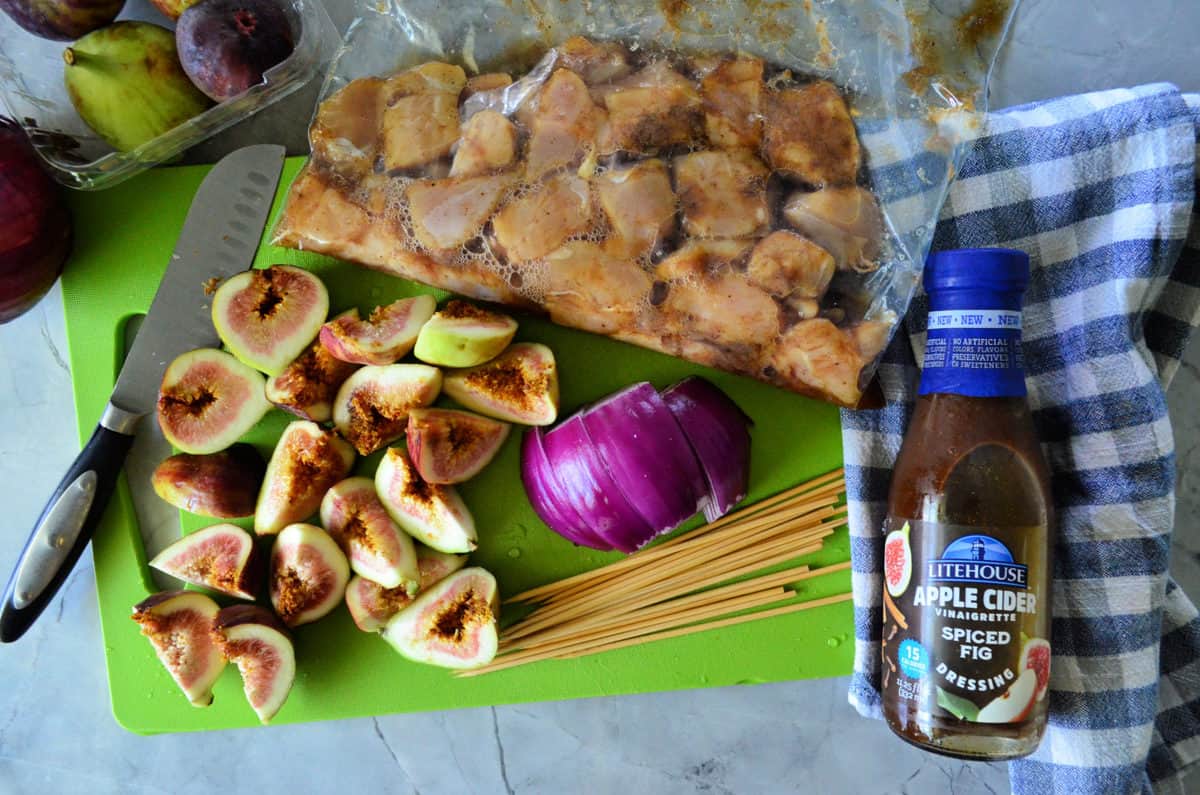 I always love to experiment and come up with new flavor creations to keep my families palate energized. Fresh figs are a fruit that I do not normally cook with, but I was recently challenged to come up with a grilled chicken recipe using Litehouse® Spiced Fig Apple Cider Vinaigrette Dressing. I was excited to see what I could create. That's when I brainstormed these Grilled Spiced Fig Chicken Skewers.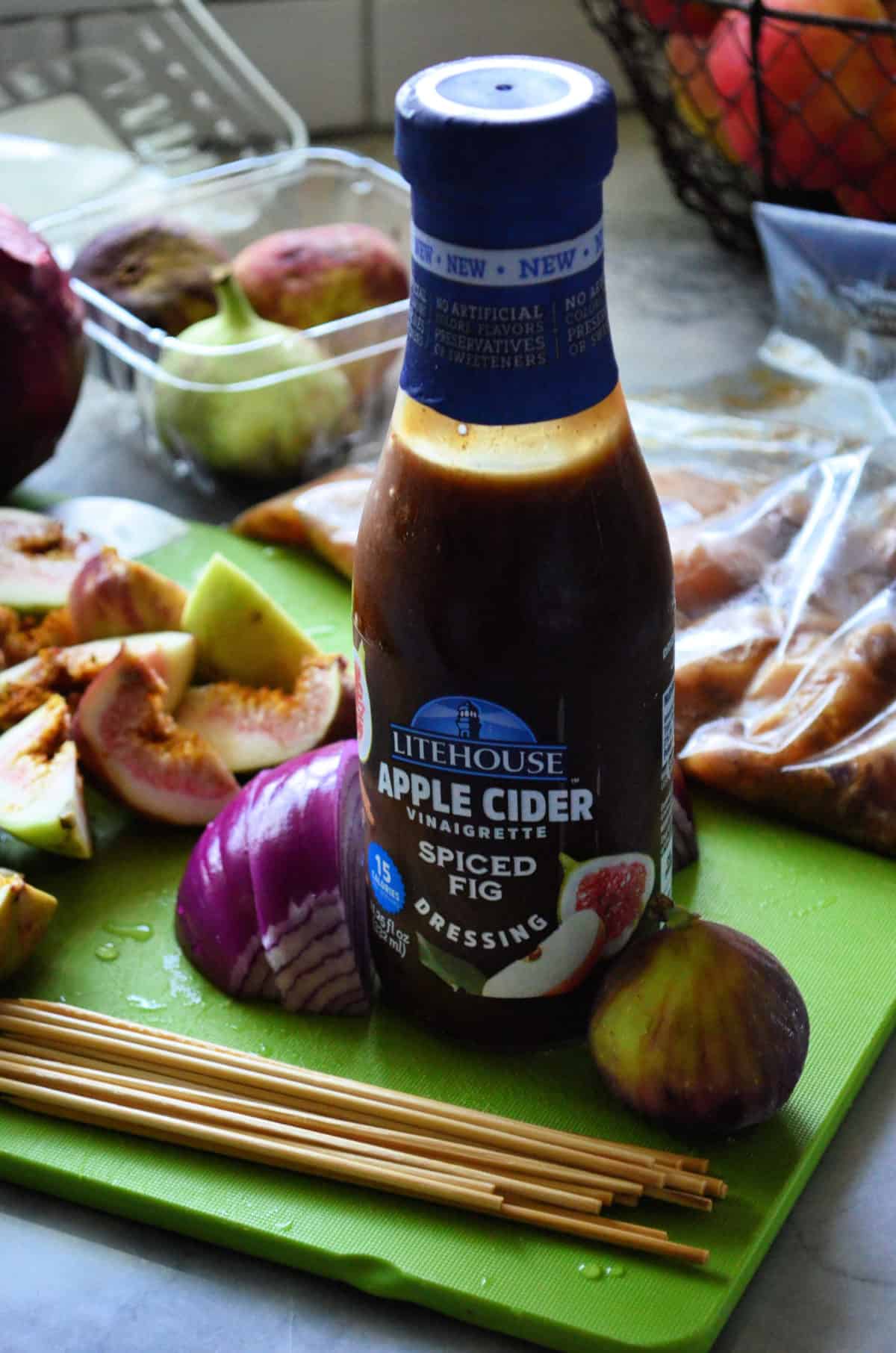 What supplies do you need to make grilled chicken skewers?
Making chicken skewers is extremely simple to make. Here are a few of the kitchen tools you will find you need to make skewers.
Wood or metal skewers: If you opt for the bamboo wooden skewers that you can find at your local grocery store or online you will need to soak them in water to prevent your protein and vegetables from sticking and burning to the skewer. Wood burns! But when it's wet it will burn much less which helps prevent the food from sticking to the skewer.
Cooking spray: This is key when grilling any type of food. It wasn't until a few years ago that I realized how essential cooking spray is when grilling. You can fine cooking spray made for the grill at any local grocery store now.
Tongs: You'll want to set of tongs when handling skewers on the grill. This is especially true if you're handling the metal skewers.
Spatula: I found that using a spatula plus one pair of tongs to remove the skewers off the grill will keep the cooked meat and vegetable intact.
Baking sheet: Whenever I'm grilling I love to transport my food from the grill onto a baking sheet to transport the food inside. It's the largest platter I have on hand which means I only have one dish to dirty instead of multiple small plates.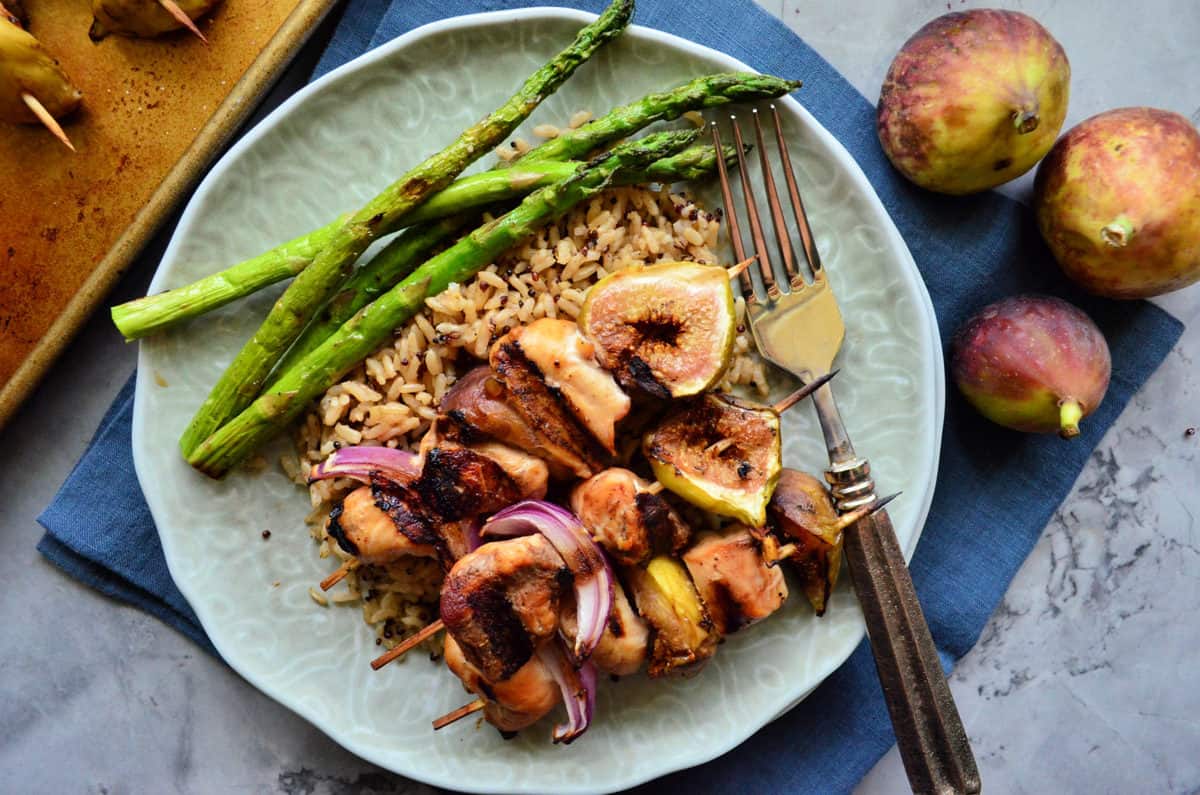 What do figs taste like?
For those who have never consumed grilled figs you might be wondering what they taste like. When cooked, figs have a similar texture to grilled squash. They have a thin layer of skin and a soft fleshy body just like squash have. Depending on the variety will depend how sweet your fig is.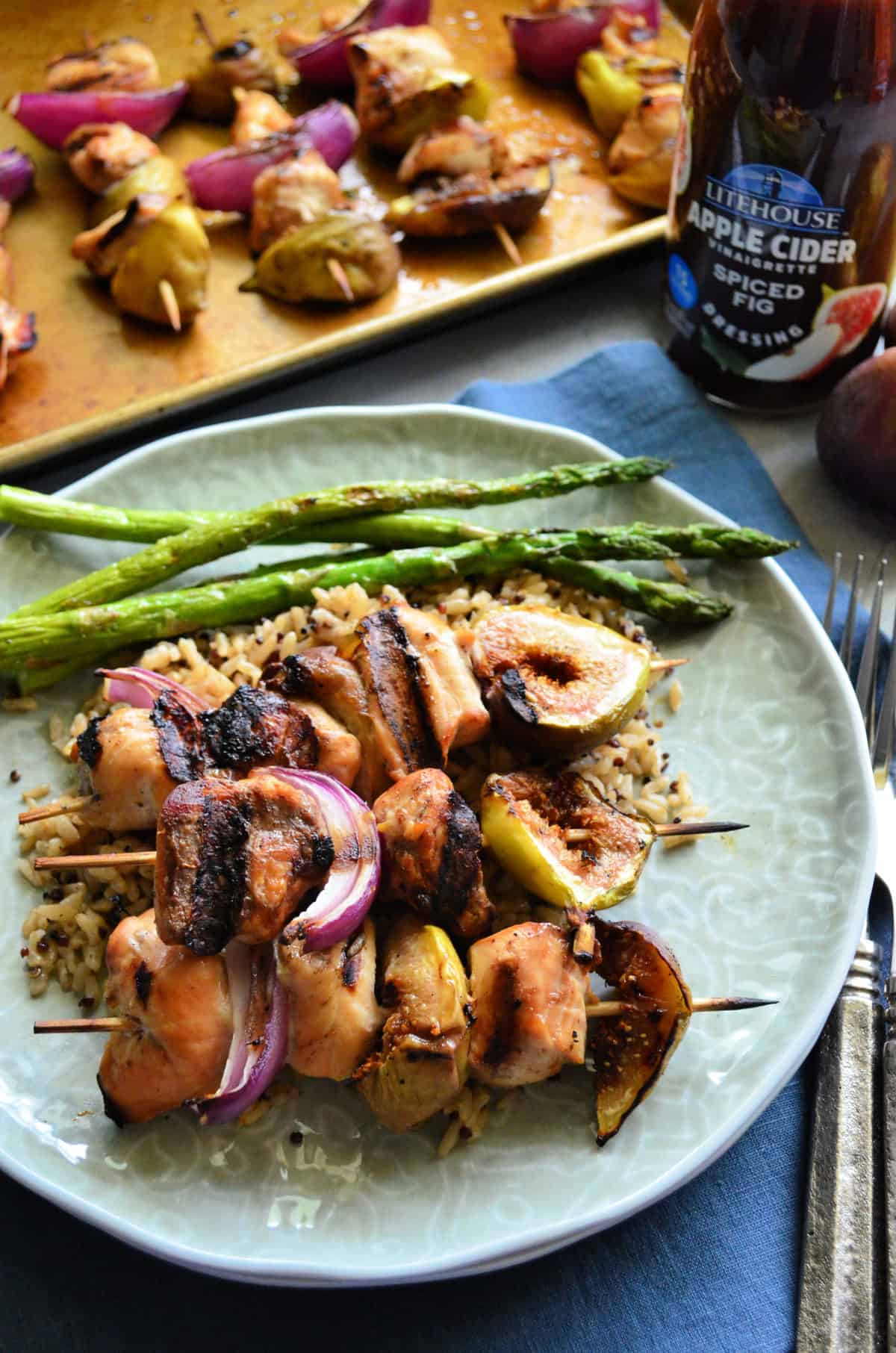 Figs are currently in season. If you want to try something new or maybe your a connoisseur of fresh figs I hope you'll give my recipe for Grilled Spiced Fig Chicken Skewers a try.

Yield: 10
Prep Time: 15 minutes
Cook Time: 12 minutes
Total Time: 27 minutes
Ingredients:
1 lb. boneless skinless chicken tenders, cut 1-inch pieces
1/3 cup Litehouse Spiced Fig Apple Cider Vinaigrette Dressing, divided
4 figs, cut in quarters
1/2 red onion, quartered
10 6-inch bamboo skewers
Grill Cooking Spray
Directions:
Disclaimer: There are affiliate links in this post. That means if you click on the link to purchase I will receive a small percentage of the sale at no additional cost to you.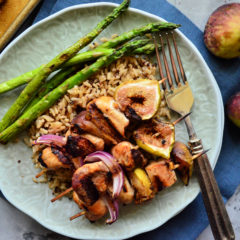 1

lb.

boneless skinless chicken tenders

cut 1-inch pieces

1/3

cup

Litehouse Spiced Fig Apple Cider Vinaigrette Dressing

divided

4

figs

cut in quarters

1/2

red onion

quartered

10 6-

inch

bamboo skewers

Grill Cooking Spray