This recipe is brought to you by Laura's Lean Beef. As always, all opinions are my own.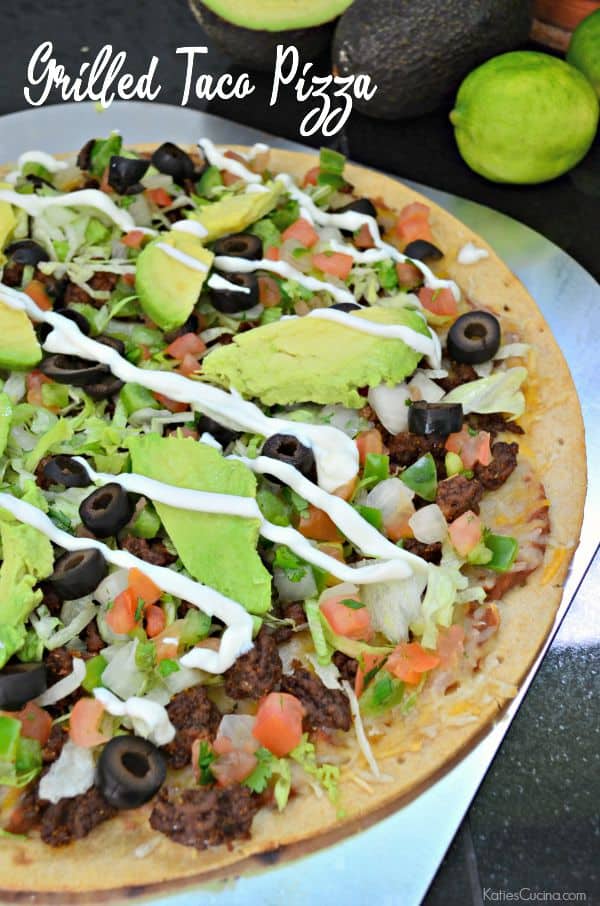 I think by now, it's safe to say that anyone who regularly reads Katie's Cucina knows that I love Mexican food. I also love making flatbreads. So when my friend's at Laura's Lean Beef asked me to create a few recipes for them grilled taco pizza came to mind! Why not marry the two things I love… tacos plus pizza equals pure genius.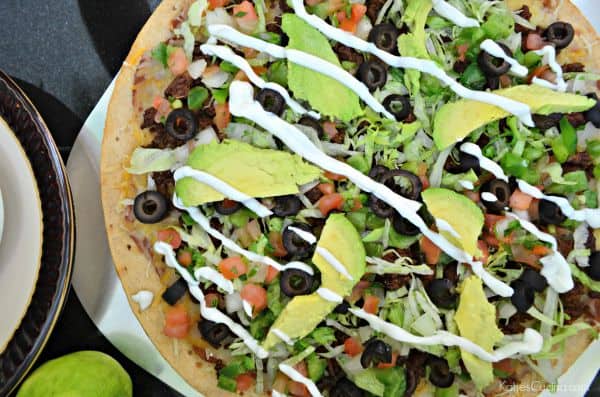 I first had a "taco pizza" many years ago at a popular pizza kitchen. I loved the idea of taco toppings on a pizza. However, I felt that it was extremely messy. Way messier than any typical pizza you would eat. I've been making taco pizza for years, especially when I have leftover ground taco beef. I find that by limiting the toppings on top makes it for way less of a mess. And then of course I have additional toppings on the table if anyone wants to add more to their pizza. Regardless, this is a messy pizza. Make sure you put extra napkins on the table when you serve the grilled taco pizza.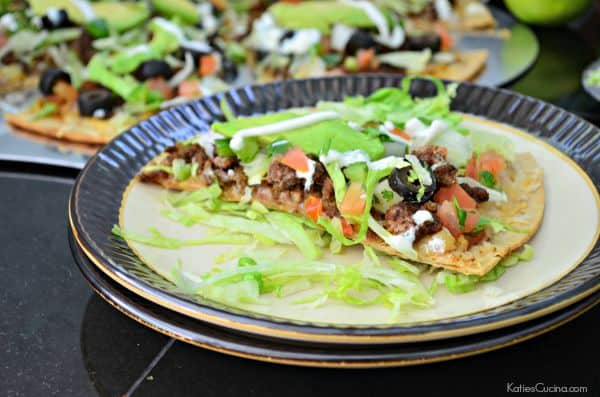 And because it's summer and I boycott turning on my oven during the summer months I grilled this pizza. I love to grill pizza. Super easy to do and the trick to perfectly grilled pizza with melty cheese is grilling the pizza in indirect heat.
I'm sharing this recipe for Grilled Taco Pizza on Laura's Lean Beef Blog.
Check out other recipes I've created for Laura's Lean Beef:
Save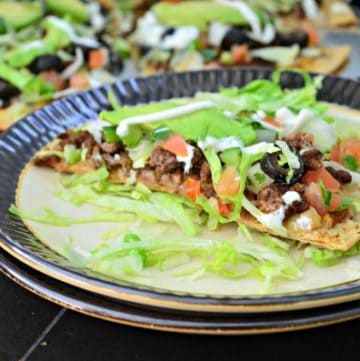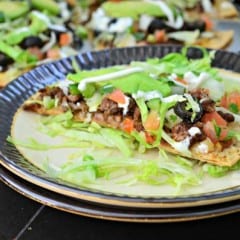 Grilled Taco Pizza
Super easy to do and the trick to perfectly grilled pizza with melty cheese is grilling the pizza in indirect heat.
Print
Pin
Rate
Ingredients
.5 lb. Laura's Lean Ground Beef 92% fat

2

teaspoons

taco seasoning

1

Whole Wheat Thin Pizza Crust

1

cup

low-fat refried beans

2

cups

shredded Mexican Cheese

½

cup

pico de gallo

½

cup

shredded lettuce

¼

cup

sliced black olives

1

avocado

sliced

2

tablespoons

reduced-fat sour cream
Instructions
In a skillet, cook ground beef on high until completely cooked through, breaking up along the way. Cook for 5 minutes. Then, add the taco seasoning. Mix well and set to the side.

Preheat one side of the grill on high heat.

Begin to layer the pizza. Start with smearing the refried beans on the pizza crust, sprinkle the shredded cheese on top followed by the ground beef. Cook in indirect low heat for 10 minutes until cheese is melted and crust is crispy. During the last 30 seconds of cooking I slide the pizza on to the heated side to crisp up the pizza.

Remove from the grill and top with pico de gallo, shredded lettuce, sliced black olives, avocado slices, and drizzle with reduced-fat sour cream. Cut into 8 slices and enjoy immediately.