Grilled Tandoori Beer Can Chicken & Vegetables
Thank you STOK Grills for sponsoring today's recipe. As always, all opinions are my own.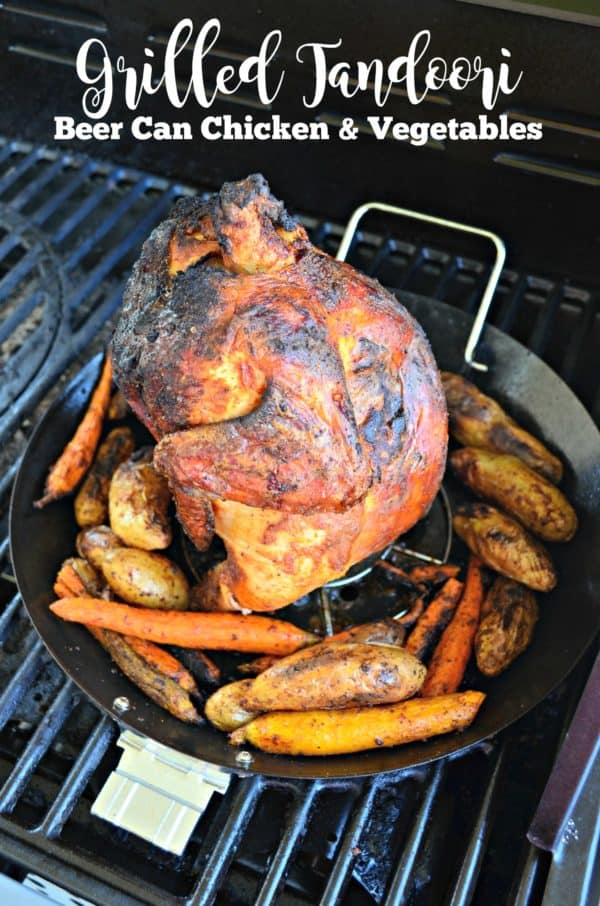 Yay for grilling season! My favorite time of year. Of course, I'm one of the lucky few who can actually grill year round, but for most of my friends I recognize you have a short window of grilling time during the year. The temps are officially raising which means it's time to fire up the grill. I've partnered with my friends at STOK to not only share a delicious recipe for Grilled Tandoori Beer Can Chicken & Vegetables but to share a little bit about their grill systems! I've had my STOK grill for 3 years now and I honestly can't imagine cooking on any other grill. I love my grill. And anyone who crosses my path and ask my about grill recommendations gets an earful from me on why they should own a STOK. It's true. I know, I might officially be crazy. But one thing I can say is how passionate I am about their grills!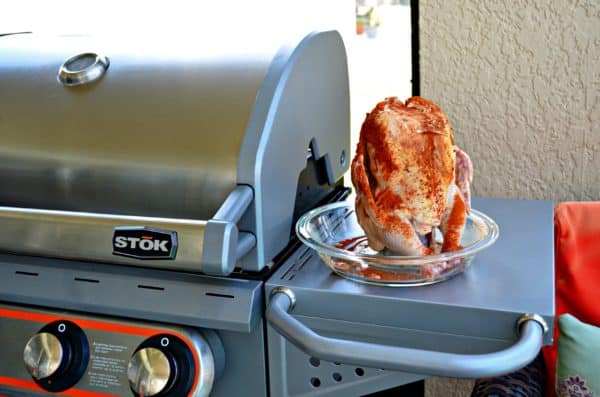 Have you ever cooked a beer can chicken? It's actually super simple and makes the whole chicken so moist! Don't worry the chicken will not taste like beer. I promise. And if beer isn't your thing you could use chicken broth in a can. You'll want to marinate the chicken for at least 4 hours although up to 24 hours is really preferred to ensure the flavors of the rub saturate into the meat. You'll want to place the chicken on the can before you put it on the grill.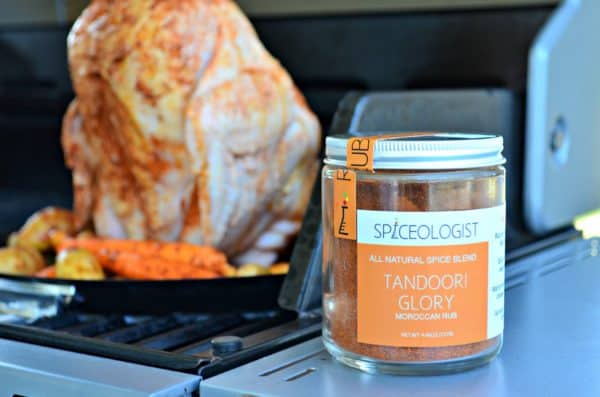 Preheat the grill on high then reduce down to low heat. Spray the STOK Chicken Roaster Grilling Insert System with coconut oil spray this will help the vegetables and chicken not stick. Let's talk about the seasoning on the chicken and veggies for a minute. My friend Heather created a company called Spiceologist. She has a wide variety of rubs and seasonings. I found some of her spices at my local World Market, and of course I had to buy it! I used Spiceologist Tandoori Glory Moroccan Rub  verse making my own! Why reinvent the wheel when a friend has already done the work for you?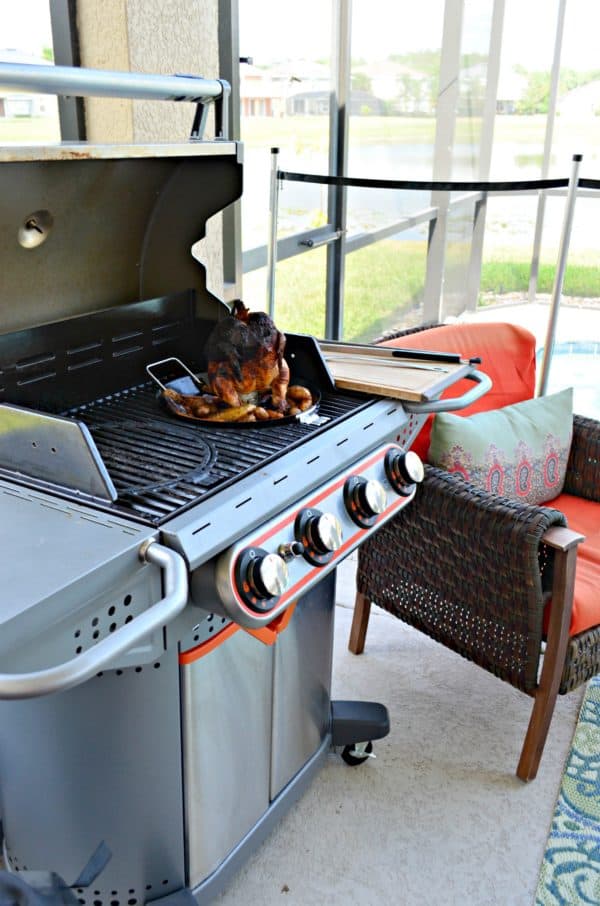 This is what my beer can chicken looked like when it was done. I highly suggest if you can rotate your chicken with tongs during the cooking process you'll have less of a charred side. I rotated it a little but not a lot–doesn't bother me but some might not want half a charred chicken! Pictured is the STOK® QUATTRO™ 4-Burner grill. It is the largest of the grills and I love that it's gas. It truly will change the way you cook out. The optional inserts allow you to change the grates into a Pizza Stone, Griddle, Vegetable Tray or any other STOK® Grill Insert.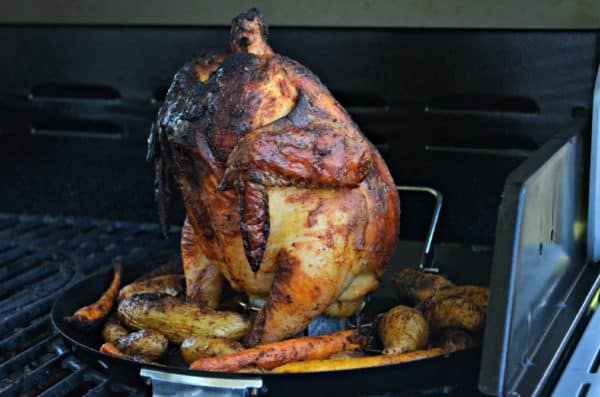 I love how my potatoes and carrots were perfectly cooked and so was my chicken! This is for sure my ideal summer meal and STOK makes it so easy to cook.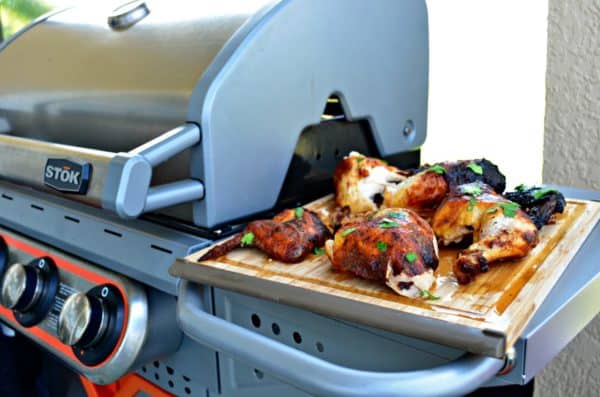 I carefully removed the chicken and beer can first and brought that into my house. I then cut the chicken into 6 pieces. I like to sprinkle a little fresh cilantro on darker grilled food to give it a pop of color. After all, we eat with our eyes!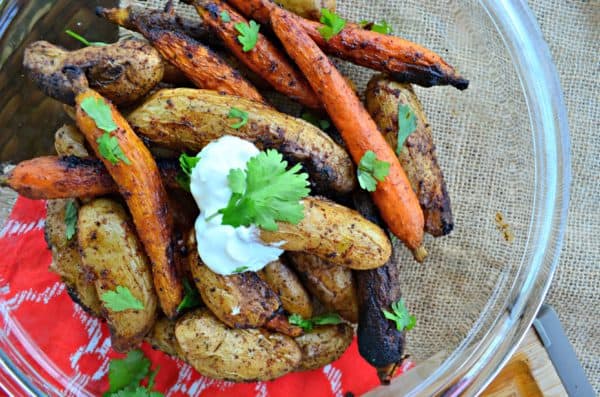 I placed a nice dollop of Greek yogurt on the potatoes and carrots. It complimented the spices on the vegetables. Of course I also tossed in some cilantro too.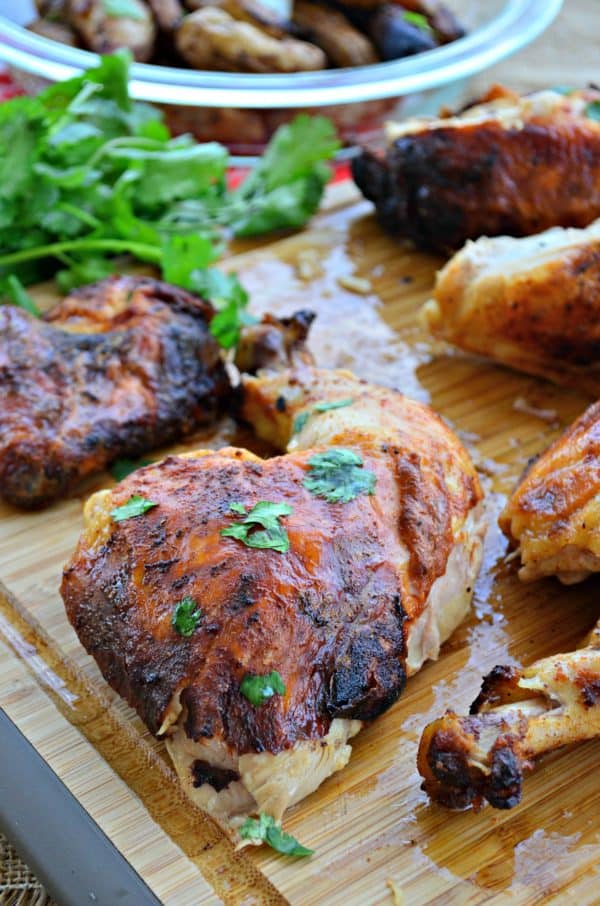 Juicy beer can chicken plus vegetables equals the perfect summer meal. My family loved this recipe for Grilled Tandoori Beer Can Chicken & Vegetables and I'm sure your family will love it too!

Grilled Tandori Beer Can Chicken & Vegetables
Yield: 4
Prep Time: 4 hours + 15 minutes
Cook Time: 1 hour 30 minutes
Total Time: 5 hours, 45 minutes
Ingredients:
5 lb. whole chicken
3 tablespoons Spiceologist Tandoori Seasoning, divided
1 cup Stonyfield Organic Greek yogurt, divided
12 tri-color whole mini carrots
2.5 lbs. fingerling potatoes
1 tablespoon grapeseed oil
1/2 teaspoon salt
coconut oil cooking spray
Directions:
In a gallon-size ziplock bag, mix together 1/2 cup of Greek yogurt with 1 tablespoon Tandoori seasoning. Rinse and pat dry the chicken (make sure to remove the kidneys and liver). Place the chicken in the bag. Close it tight and massage the marinade around the chicken. Once the chicken is covered in the marinade, place the bag in the refrigerator and refrigerate for at least 4 hours and no longer than 24 hours.
Add the STOK Chicken Roaster Grilling Insert System to your STOK grill. Preheat the grill on high heat (with all four burners on high). While the grill pre-heats, rinse the fingerling potatoes and tri-color carrots. Add the grape seed oil, salt, and 1 tablespoon of the tandoori seasoning. Mix well and set to the side.
Bring the chicken out of the refrigerator. Open a can of light beer, (drink) or dispose of half the liquid in the can, and place on a large baking sheet or glass dish. Then carefully place chicken on top of the beer can. Sprinkle 1 additional tablespoon of tandoori glory seasoning all over the chicken. This will help in transferring on to the the STOK Chicken Roaster Grilling Insert System.
Spray the STOK Chicken Roaster Grilling Insert System with coconut oil spray. Carefully place the whole chicken with beer can on the STOK Chicken Roaster Grilling Insert System. Scatter the potatoes and carrots on the bottom of the insert. Reduce heat to low and cook for 1.5 hours until internal temperature taken via the thigh is 165 degrees Fahrenheit. *Make sure you turn the vegetables every 30 minutes, and carefully try to rotate the chicken using tongs to prevent one side from burning/over cooking.
Once the chicken is done, using oven mits and tongs carefully remove the chicken and beer can. The beer can will most likely be stuck to the chicken, be very careful to not spill the beer it is extremely hot! Cut the chicken into 6 pieces and serve with the grilled potatoes and carrots. Top with a dollop of Greek yogurt. Enjoy immediately.
Warning
: Use of undefined constant rand - assumed 'rand' (this will throw an Error in a future version of PHP) in
/home/kjasiewicz21/webapps/katiescucina/wp-content/themes/katiescucina/single.php
on line
74
2 Responses to "Grilled Tandoori Beer Can Chicken & Vegetables"
Leave a Comment