One of my all-time favorite comfort food pairings is savory red beans with white rice. My mom used to make these beans as a side for a family of four, so the serving size is a little large. I can't hope to make this dish exactly like my mother, but I can manage a pretty faithful recreation. My inner potato fiend put two potatoes in the photo, and I've used two small potatoes before, but one potato works well enough for this recipe. A small squash can be substituted for the potato for a seasonal touch.
I served the beans over simple Mahatma white rice cooked on the stove with a pinch of salt and two tablespoons of vegetable oil. Me being the silly goose that I am, I remembered how to make tostones (fried green plantains) backwards — figure that one out — but they eventually made their thin and crunchy appearance. Remember to slice, fry, smoosh flat, and fry again!


Puerto Rican Red Beans (Habichuelas Rojas)
Source: Family Recipe
Prep Time: 5 Minutes
Cook Time: 12 – 15 Minutes
Servings: 4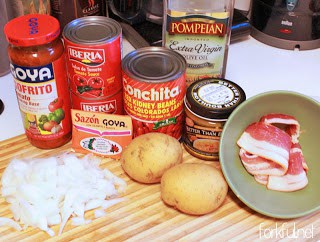 Ingredients:
2 (8 oz.) Cans of Tomato Sauce
1 (15.5 oz) Can of Red Kidney Beans
1 Packet of Goya Sazón con Culantro y Achiote
2 tablespoon Goya Sofrito (Tomato Cooking Base)
1 tablespoon Extra Virgin Olive Oil
½ Cube Chicken Bouillon
¼ Large White Onion, Chopped
1 Small Gold Potato, Cut into Small Cubes
1 Strip of Bacon
Directions:
1.) In a non-stick pot on low to medium heat, mix tomato sauce, sofrito, Sazón, chicken bouillon, and olive oil until the sauce is smooth. Continue to stir the mixture until the sauce starts to simmer.
2.) Now, add potato cubes, chopped onions, bacon, and beans. Cover the pot and cook the beans on medium heat for 12 to 15 minutes or until all the vegetables are tender. Stir the beans occasionally to prevent sticking.
3.) Serve the beans over white rice with a side of tostones.
Note: Small cubes of cooking ham may be used instead of bacon, but be cautious due of the ham's high salt content.
Forkful is an Orlando-based resource to help locals and visitors alike navigate Central Florida restaurants through food reviews to satiate a craving, mark an occasion, or share a pint.