Today, I'm excited to have Julia from Live Pretty on the blog today. Julia and I met at the first Orlando Food Blog Forum back in 2011. We also had the honor to attend the Southeast Produce Conference last spring.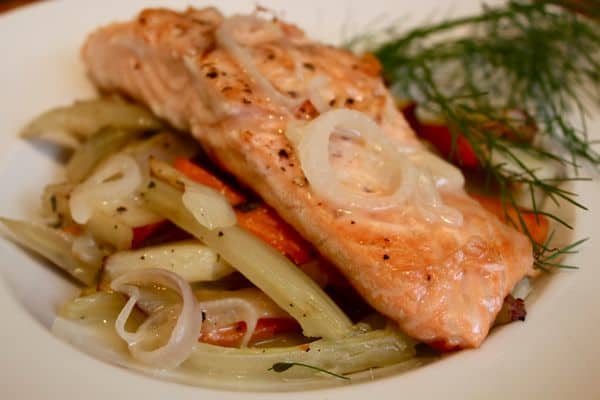 Seared Salmon with Shallot Sauce and Thyme-Roasted Vegetables
A Recipe of Love Developed Over the Years
Since my blog, Live Pretty, is developed and curated by my family, one thing that we cherish is heirloom recipes that have been lovingly developed over decades. And while this one may be a newer heirloom, it is one that I will share with family and friends for years to come.
Over the years I have developed recipes that are my go-to when I want to make something special for my husband — and this one is number one, he even recently said "I think this is my favorite meal of all time." Now, it is a simple dish in that there are no fancy ingredients (all can be found at your local grocery store) and the flavor is not overpowering, but it is a layered and very special dish.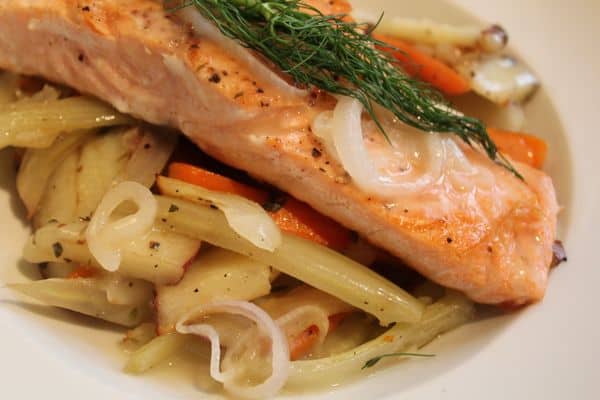 I was inspired to develop this recipe after my husband and I (then dating) joined my sister and her husband in Hermosa Beach, California for a special night out while on vacation years ago. The now, sadly, defunct restaurant Jackson's in Hermosa (which I see has reopened as Jackson's Village Bistro in El Segundo, California) served this wonderful white fish over roasted fennel with a light buttery sauce. It was beyond perfect and amazing in its simplicity and buttery, but light, finish. After that trip I was determined to come up with my own version in which I combined the best sauce I ever learned to make, Shallot Sauce, with my husband's favorite fish, Salmon, and some more root vegetables to give the dish some dimension.
Seared Salmon with Shallot Sauce and Thyme-Roasted Vegetables is a delicately-flavored dish that is perfect for a dinner party, sharing with your loved one(s) for a special dinner, or even on a weeknight when you are just looking for a beautiful and filling meal. Please enjoy!
Original Recipe from LivePretty.com. Find the Live Pretty team and me over at livepretty.com, on Facebook, Twitter and Pinterest.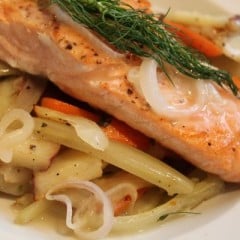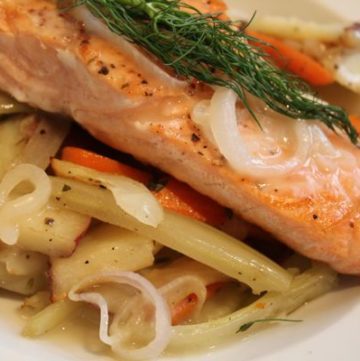 Seared Salmon with Shallot Sauce and Thyme-Roasted Vegetables
This simple dish uses common ingredients, but is layered with love. It's a perfect heirloom recipe to make for gatherings and pass on for generations.
Print
Pin
Rate
Ingredients
1 ½

lb

fresh salmon

skin removed

1

large shallot

1

cup

chicken broth

low sodium is best

1

tablespoon

flour

3

tablespoons

unsalted butter

1

fennel bulb

1 ½

cup

baby carrots

2

medium

or one large sweet onion

4

medium/large red potatoes

4

tablespoons

fresh thyme

roughly chopped

extra virgin olive oil

kosher salt

or your favorite course salt

freshly ground pepper
Instructions
For the Thyme Roasted Vegetables:
Heat oven to 400 degrees F. Line a rimmed baking sheet (a jelly roll pan will work) with parchment paper for roasting your vegetables.

Cut the top off of fennel bulb, then cut the bulb in half and remove the hard core at the bottom of each bulb half with your knife using a triangular cut. Cut the fennel in long vertical strips. Clean your red potatoes, cut them in shoestring-like strips. Clean and cut the onions in half, and then each half into vertical strips. Cut the baby carrots in half.

Toss all of the vegetables in a large bowl (or on your pan) with olive oil (about 3-4 tablespoons), thyme, and salt and pepper to taste. Roast vegetables on your lined baking sheet for approximately 40 minutes in the oven until cooked through — you are not looking for the vegetables to be crispy, just cooked thoroughly and smelling of thyme.
For the Shallot Sauce:
While roasting the vegetables, make your shallot sauce by first removing the shallot skin and cutting the shallot horizontally so you have shallot rings. Put a small sauce pan on the stove and melt 1 tablespoon of butter on medium/low heat. Once the butter is melted, add your shallots and sauté them until translucent, but not crispy. Then stir in the flour and cook and stir this "shallot roux" until it turns a light yellow and bubbles (a few minutes at the most). Then whisk in your chicken broth, turn the burner to low, stirring every few minutes for about 15 minutes total or until the sauce thickens slightly – it should not be a thick as a pudding, but just think enough to coat a spoon temporarily. Once the sauce has thickened a bit, remove it from the heat and stir in the remaining 2 tablespoons of butter and season with salt to taste. This is a delicate sauce, so be careful not to over-salt.
For the Seared Salmon:
Heat your favorite searing/sautéing pan to medium heat, add 1-2 tablespoons of olive oil once hot. Cut your salmon into 4 even pieces (about 6 oz. a piece) and season both sides with salt and pepper. Sear each side in the pan for about 2-3 minutes each side or until it is cooked to your desired done-ness. (I prefer medium with a slight bit of pink in the middle).
To serve:
Put about a cup and a half of the roasted vegetables in the center of your plate or in a nice pasta bowl. Place the a piece of salmon over the vegetables and top with about a ¼ cup of shallot sauce. Serve, savor and enjoy!
Notes
Original Recipe from LivePretty.com
Nutrition
Calories:
640
kcal
|
Carbohydrates:
72
g
|
Protein:
44
g
|
Fat:
21
g
|
Saturated Fat:
7
g
|
Polyunsaturated Fat:
5
g
|
Monounsaturated Fat:
6
g
|
Trans Fat:
0.3
g
|
Cholesterol:
116
mg
|
Sodium:
229
mg
|
Potassium:
2988
mg
|
Fiber:
11
g
|
Sugar:
10
g
|
Vitamin A:
7387
IU
|
Vitamin C:
52
mg
|
Calcium:
137
mg
|
Iron:
6
mg