This is a sponsored post on behalf of La Crema. As always all opinions are my own.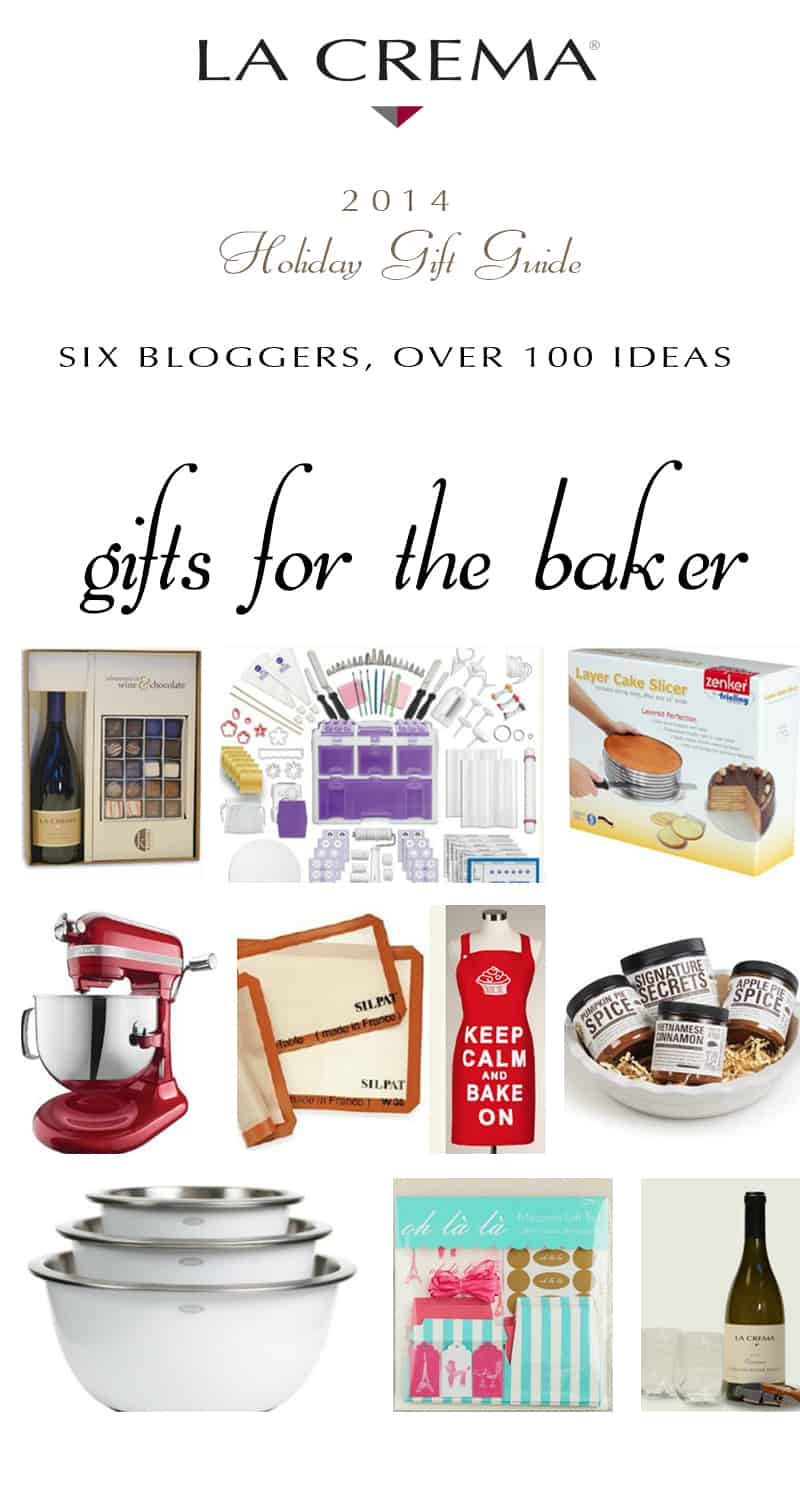 Do you know a baker in your life? Racking your brain on what to get them? Check out over 25 gift ideas for the baker in your life (gift ideas as little as $10 and upwards of $200). This gift guide is perfect for every budget. Whether an experienced baker or just getting interested in baking you'll be sure to find the perfect gift for the friend and family member in your life.
Chocolate lover's gift set – A perfect gift for the wine and chocolate lover in your life. 20 mouth-watering artisan chocolates designed to pair perfectly with our Monterey Pinot Noir. La Crema 2012 Monterey Pinot Noir: This outstanding vintage gave us a complex nose that offers up both savory and sweet tones; ripe plum and forest floor aromas are highlighted by notes of violet and cocoa powder. On the palate, pomegranate and blackberry take center stage, highlighted by notes of anise and mocha. (Price for the set: $75 / Wine Club $60)
Easy As Pie Gift Set from King Arthur Flour – This is perfect for the pie baker in your life. It helps stock their pantry and gives them a nice new pie plate too! The set includes: Apple Pie Spice, Pumpkin Pie Spice, Vietnamese Cinnamon, Signature Secrets, and a White 9″ Deep Dish Pie Plate.
SILPAT Non-Stick Baking Mat – I've been baking with SILPAT for the past 2 years. Can't imagine baking without one–nothing sticks to a Silpat!

Silpat® Non-Stick Baking Mats are designed for every type of oven. It is reusable for thousands of uses and provides even heat transfer to baked goods. Use your Silpat® everytime you bake!

Chardonnay Lover's Gift Set – The perfect pairing for the Chardonnay lover of you list. Everything you need to enjoy a glass of La Crema. Set of 2 (two) Stemless Reidel "O" Chardonnay glasses. Corkscrew – a "two-step" waiter's friend French wood and metal corkscrew. La Crema Appellation Series Russian River Chardonnay. This classic style Russian River Chardonnay has fresh aromas of yellow apple and stone fruits, highlighted by baking spice and vanilla tones. Its rich mouthfeel is beautifully balanced by juicy acidity and a lush, lingering finish. (Price: $75.00 / Wine Club $60.00)
Ultimate Professional Cake Decorating Set by Wilton – This is the set to have if you are an avid cake decorator. I would LOVE to own one of these. With the Ultimate Professional Decorating Set, you'll have easy-to-use cake decorating tools, conveniently organized, in a sturdy caddy at your fingertips. It's our most extensive collection of the essential tools for every decorating need from buttercream and royal icing to gum paste and fondant decorating. The Ultimate Tool Caddy features sectioned drawers, spatula slots, pegs for keeping decorating tips organized, an oversized drawer for larger items and more. Each drawer features a secure snap lid so all your tools stay secure when you're on the go. 177 total pieces make this truly the Ultimate Decorating Set.
Stainless Steel Mixing Bowls by OXO – I have these mixing bowls and love them. I love that they have a non-skid bottom that stabilizes the Bowls while mixing. The Bowls have a brushed stainless steel interior that retains temperature for chilling and marinating and a white plastic exterior that shields your hands from extreme temperatures. The curved interior surface allows for easy mixing and cleaning. All sizes nest for compact storage and all are dishwasher safe. Set includes 1.5, 3 and 5 quart Bowls.
Layer Cake Slicer by Frieling – I love a good layered cake, but hate cutting the layers. Not any more. Makes slicing up to eight uniform layers a "piece of cake"! 3-piece kit includes adjustable, grooved slicing mold, 12″ serrated baker's knife and 11″ cake lifter. Pair it with one of the extra-deep springforms for up to eight layers or a standard one for up to four layers.
Cake Pops Nonstick Baking Pans from World Market
KitchenAid Pro Line Stand Mixer – no baking guide with complete without a KitchenAid Stand Mixer. I've owned one for 7 years now and use it almost daily. It's truly a work horse. Serious bakers are looking for power, performance, and stamina. The ProLine delivers all three, while looking drop-dead gorgeous. Its high-efficiency motor runs longer with less heat buildup.
Master Tip Set by Wilton – I have this decorating container and most of the tips. This is perfect for the experienced baker or even the beginner baker who wants to start taking cake decorating classes! The ultimate decorating tip set includes 55 decorating tips, standard couplers and flower nails.
Large Cookie Scoop by OXO – I own all three sizes. Seriously, I didn't realize how important it is to have cookie scoops until I finally got them! You will always consistently achieve perfectly round cookies with the scoop. The Small, Medium and Large Scoops all have soft grips that absorb pressure while you squeeze to easily release your cookie dough. Dishwasher safe.
Perfect Pairings Gift Set – Unlock the secrets of wine pairings with this book and bottle combination. Perfect Pairings by Ryland, Peters & Small – Take wine appreciation to the next level by learning how to match wine with the perfect food. A resource of 100 delicious recipes along with pairing guides and tips for serving wine at home. La Crema 2012 Monterey Pinot Noir – Vivid and complex, with both savory and sweet aromas. Ripe plum and forest floor aromas are highlighted by notes of violet and cocoa powder. On the palate, pomegranate and blackberry take center stage. Bright acidity and fine -grained tannins create an elegantly structured wine. (Price: $47.95/ Wine Club $38.36)
11″ Silicone Balloon Whisk by OXO – I love a good whisk and love that this one is silicone! It won't ding up your pots, pans, and bowls! The silicone is heat resistant (up to 600oF) and a teardrop shaped handle that fits comfortably in the palm of your hand. The soft handle won't slip out of your hand, even when wet. Beat eggs, stir batter, whip cream and stir sauces in comfort. The Silicone will not discolor, warp or melt and is safe for non-stick, ceramic and metal cookware.
Bite-Size Brownie Squares 24-Cavity Silicone Mold by Wilton – Love the idea of making mini brownies without having to cut them into bite-size pieces. Little brownie bites—just the right size for parties and snacks. One 8 x 8 in. size brownie mix makes 40 to 42 brownies.
Brownie Fun! by Wilton – cookies aren't the only ones that can be the star of a party. Learn how to decorate fun and festive brownies with this cookbook. Brownie Fun! is packed with over 140 easy-to-make designs and recipes for brownies and mini treats. You'll find fun shapes like flowers, footballs, burgers, volcanos and space aliens that are perfect for kids' birthday parties. Create perfect brownies for every holiday, too, dressed up in festive seasonal colors. From stand-up Easter eggs and Halloween witches' brooms to candy-topped Christmas ornaments and shaped snowflakes, you can enjoy Brownie Fun all year long. You'll even find brownies elegant enough to serve at weddings, showers and other special occasions, with candy monograms, fondant flowers and more.
4 Piece Mini Measuring Beaker Set by OXO – I have these and love measuring small amounts of liquid like extracts and juices! The Beakers stand on their own, with fill lines below the very top, making it easy to set out ingredients before you start cooking or baking. The funnel shape and spout on the top of the Beakers make filling and pouring simple. When you're done, all four sizes are dishwasher safe and nest for compact storage. Set includes 2 oz, 1 oz, 1 T and 1 teaspoon beakers with colorful, easy-to-read measurement markings.
Keep Calm & Bake On Apron from World Market – every baker needs a cute apron and what better way to confirm they are the baker in the family than by this cute slogan.
Keep Calm & Bake On Pot Holders from World Market – pair the cute apron with matching pot holders. Every baker can never have too many pot holders in the kitchen.
Cookie Press with Disk Storage Case from OXO – Every baker needs a cookie press! Make batches of fun, consistent cookies for any occasion with the OXO Good Grips Cookie Press. The large, comfortable lever won't strain your hand through dozens of cookies and the non-slip base keeps the Press steady while dispensing dough. The top of the Press is contoured to provide a comfortable grip and the clear cylindrical barrel shows how much dough is left. With 12 stainless steel cookie disks in different patterns included, you'll be prepared for any occasion! The Cookie Press disassembles for easy loading and cleaning.
Pinot Noir Lover's Gift Set – The perfect pairing for the Chardonnay lover of you list. Everything you need to enjoy a glass of your favorite La Crema wine. Set of 2 (two) Stemless Reidel "O" Pinot Noir glasses. Corkscrew – a "two-step" waiter's friend French wood and metal corkscrew. La Crema Appellation Series 2012 Russian River Pinot Noir. Fresh aromas of boysenberry are supported by deeper tones of anise, espresso bean and earth. Well-structured and decidedly velvety, the supple tannins and spice linger on a long satisfying finish. (Price: $80.00 / Wine Club $64.00)
Welcome Home Brands Paper Bakeware – Holiday – Whether your baking for the holidays or your child's next bake sale these decorative and disposable paper bakeware are ideal. They are oven safe up to 400°F and freezer safe. You can place these directly on an oven rack or cookie sheet and they are free-standing. That means no need for metal molds!
Decorating Bag Holder by Wilton – if you've ever decorated a cake you know it's nice to have some where to hold the icing decorating bags. Keep icing bags organized and in easy reach of your decorating workspace. Openings hold up to six decorating bags from 8 in. to 16 in. (sold separately). The built-in, snug flower nail grips grasp nails for easy one-handed use. Stable legs smoothly lock into place and fold to maximize storage space. Silicone feet prevent the holder from sliding on the work surface.
Macaron Gifting Kit from World Market – for the macaron baking lover this gifting kit will surely make the homemade macarons that much sweeter! The kit includes decorative boxes with see-through lids, parchment paper, stickers and ribbons to add a sweet finishing touch and gift tags to personalize each special box of treats.
3 Piece Silicone Spatula Set by OXO – The baker in your life can never own enough silicone spatulas. I probably own over 10 easily (ok maybe 20). Silicone is heat resistant and safe to use for coated or non-stick cookware. The soft, non-slip handles are cushioned and keep your hand comfortable as you cook, stir or scrape.
Wood Bark Pedestal Stand from World Market – Ever baker needs a cute cake stand and this rustic chic wood bark one is just that! Perfect for all occasions.
Enter to win one of SIX $350 Visa Gift Cards! Just fill out the widget below and follow all of the Pinterest accounts for a chance to win!
Looking for other holiday gift ideas? Check out these guides from some of my fellow blogging friends:
Gifts for Men
Gifts for Hostesses
La Crema Gift Guide and Wine Picks
For more holiday entertaining and gift guide ideas head over to the La Crema Winery blog, follow on Facebook, and Twitter!
Disclaimer: There are affiliate links in this post. If you purchase from my links I will receive a small percentage of the sale.