Don't have breakfast syrup on hand? Don't fear–make your own Homemade Breakfast Syrup in minutes!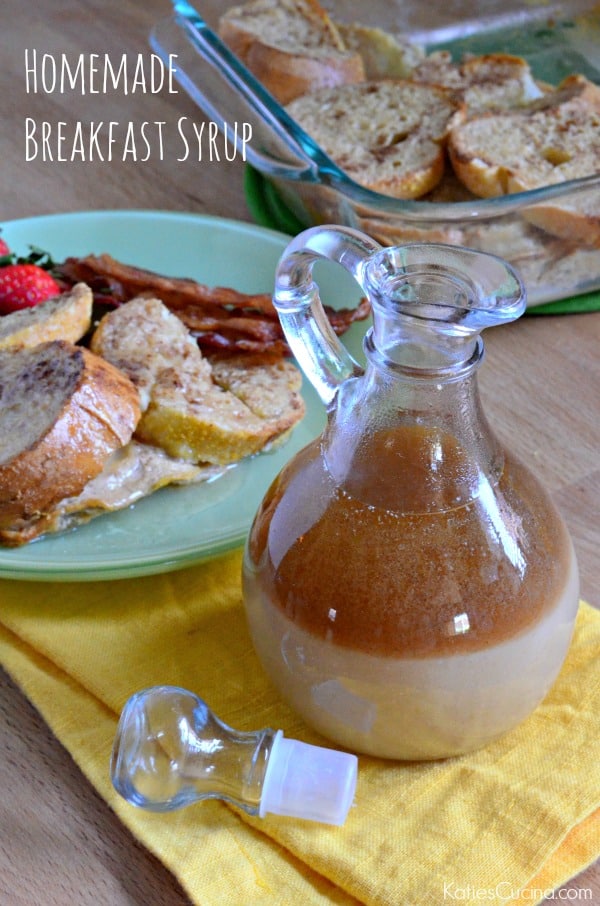 What happens when you have a french toast casserole baking in the oven at 7:30 am on a Sunday morning, a fussy baby, a sleeping husband, and you all of a sudden realize that you don't have any syrup to serve with the casserole? You search the internet — because clearly you can make your own homemade breakfast syrup. I read through a few recipes while my french toast casserole baked in the oven, and found one that I knew I could make with basic pantry/refrigerator items I had on hand.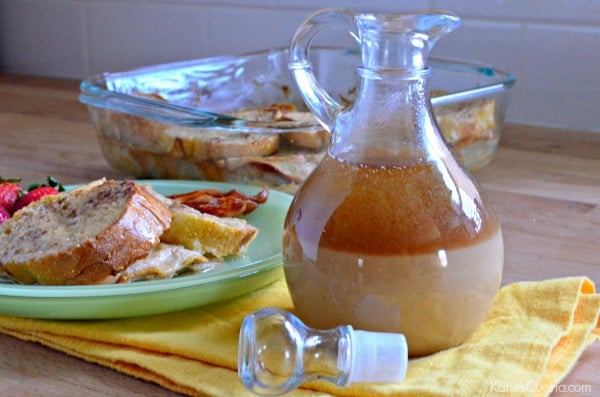 The week prior, while grocery shopping I picked up a container of buttermilk. I love to have buttermilk on hand. It's pretty versatile and I love to make buttermilk pancakes and waffles. I decided to use it in my french toast casserole which worked out beautifully! And then when I was reading through the recipe for this homemade breakfast syrup recipe and saw that it required one cup of buttermilk syrup I knew I was destine to make this recipe. I will say that this recipe calls for one tablespoon of corn syrup. I used it but if you don't feel comfortable using it–don't. You don't have to have it and if its something you stay away from that's ok too. Since it was only one tablespoon I felt ok using it. It's not like we eat many products with corn syrup in it and the fact that it was one tablespoon I felt ok adding it to the recipe.
Adapted from All Recipes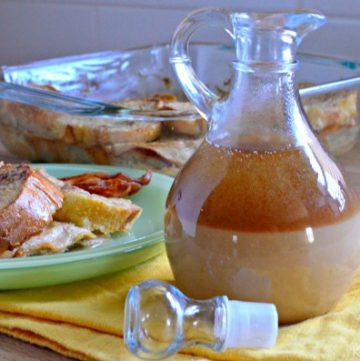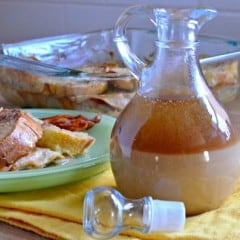 Homemade Breakfast Syrup
Don't have breakfast syrup on hand? Don't fear–make your own Homemade Breakfast Syrup in minutes.
Print
Pin
Rate
Ingredients
1

stick butter

1

cup

white granulated sugar

¼

cup

brown sugar

1

cup

buttermilk

1

tablespoon

vanilla extract

1

tablespoon

corn syrup

¼

teaspoon

ground cinnamon
Instructions
Melt butter in saucepan on high heat, then add in the white granulated sugar, brown sugar, buttermilk, vanilla extract corn syrup and ground cinnamon. Whisk until well incorporated. Reduce heat to medium and continue to whisk on occasion. Cook for 5 minutes. Remove from heat and carefully pour into a glass container. Use warm and serve with your favorite breakfast items.
Nutrition
Calories:
620
kcal
|
Carbohydrates:
142
g
|
Protein:
4
g
|
Fat:
4
g
|
Saturated Fat:
2
g
|
Cholesterol:
13
mg
|
Sodium:
145
mg
|
Potassium:
199
mg
|
Fiber:
1
g
|
Sugar:
142
g
|
Vitamin A:
198
IU
|
Calcium:
161
mg
|
Iron:
1
mg