Making your own Homemade Cranberry Sauce is extremely easy and requires only a few ingredients. It can also be done in advance to your holiday meal.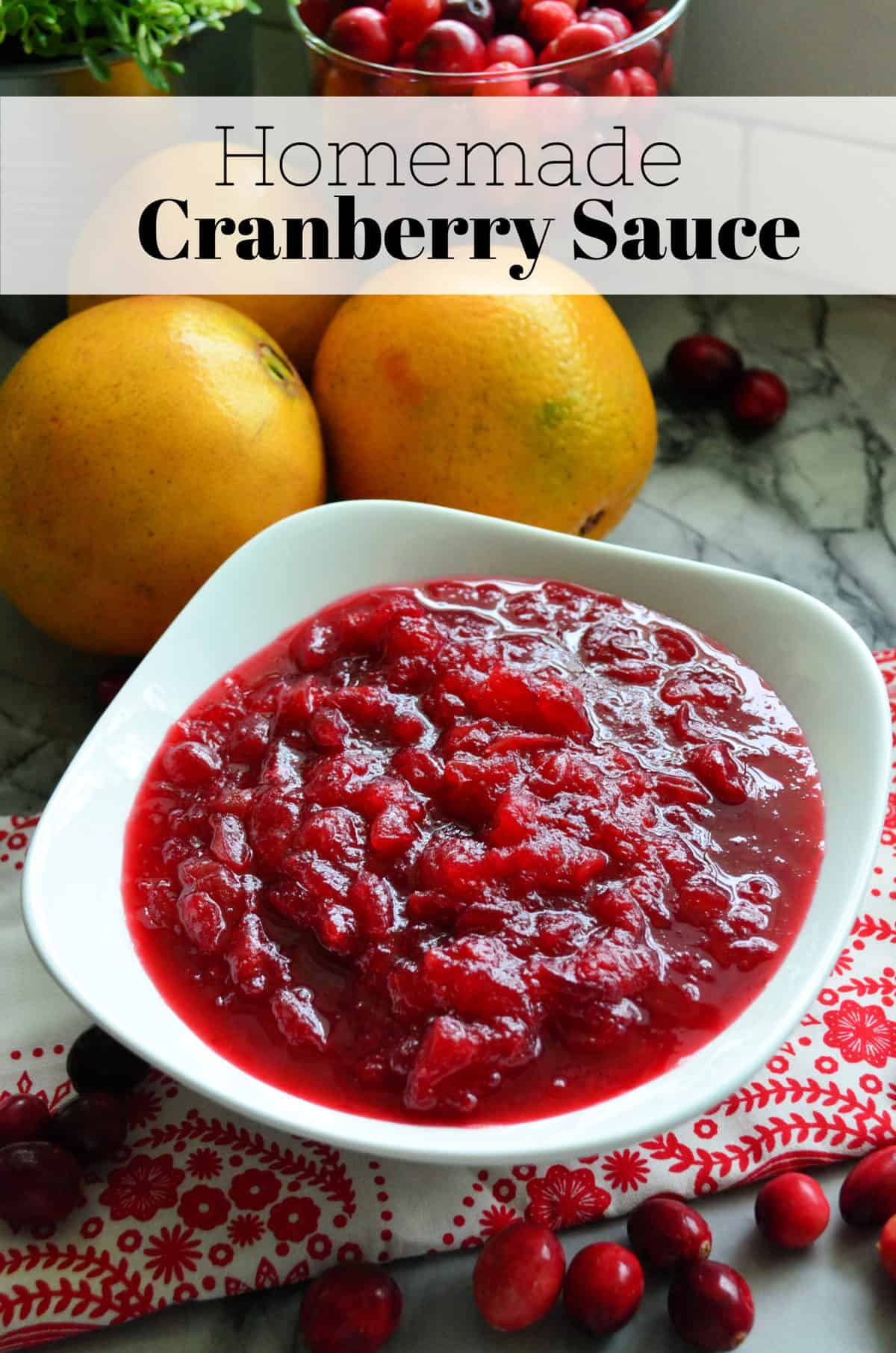 If you're like me, you like to make as much of your holiday food from scratch. I started making homemade cranberry sauce years ago, and I've never looked back for a can again! It dawned on me recently, that I've never shared my go-to cranberry sauce recipe on Katie's Cucina before. I knew that I had to change that. So today, I'm excited to share with you all sorts of information to make you feel confident and comfortable with making your own cranberry sauce for your next holiday dinner.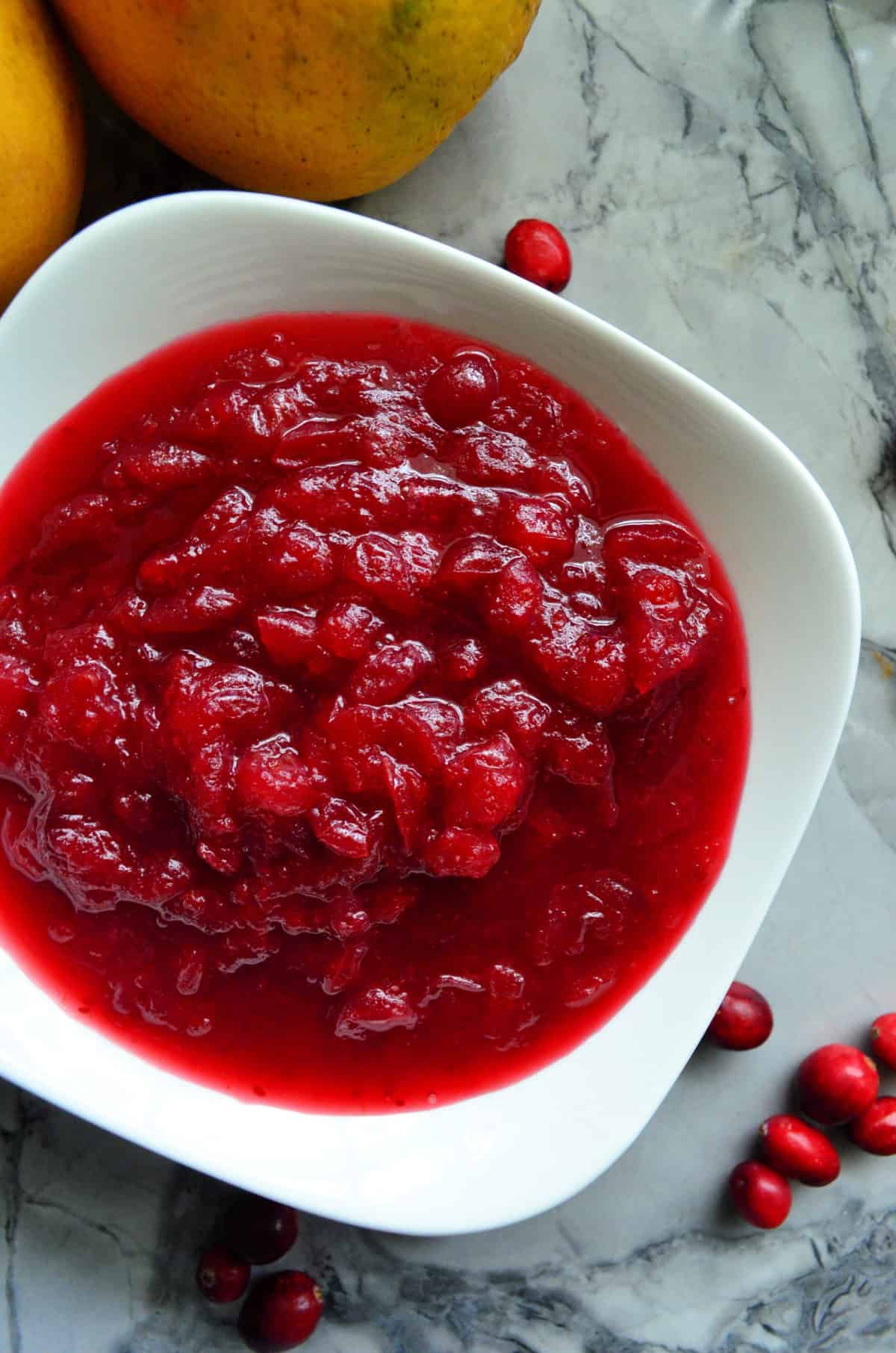 What can I add to cranberry sauce?
If you want to spruce up your cranberry sauce you can add a wide-variety of ingredients to your sauce.
Fresh Fruit: think of fresh fruit like mango, raspberries, apples, pineapples, and even grapes to your cranberry sauce. Make sure you dice into bite size pieces if you decide to add fruit.
Dried Fruit: dried fruit also works well if you want more texture to your sauce. Think of dried fruits like dried cranberries, cherries, figs, dates, and dried apricots.
Nuts! Yes, you can add nuts to your cranberry sauce if you want texture. Chopped walnuts, pecans, or even cashews can work in cranberry sauce.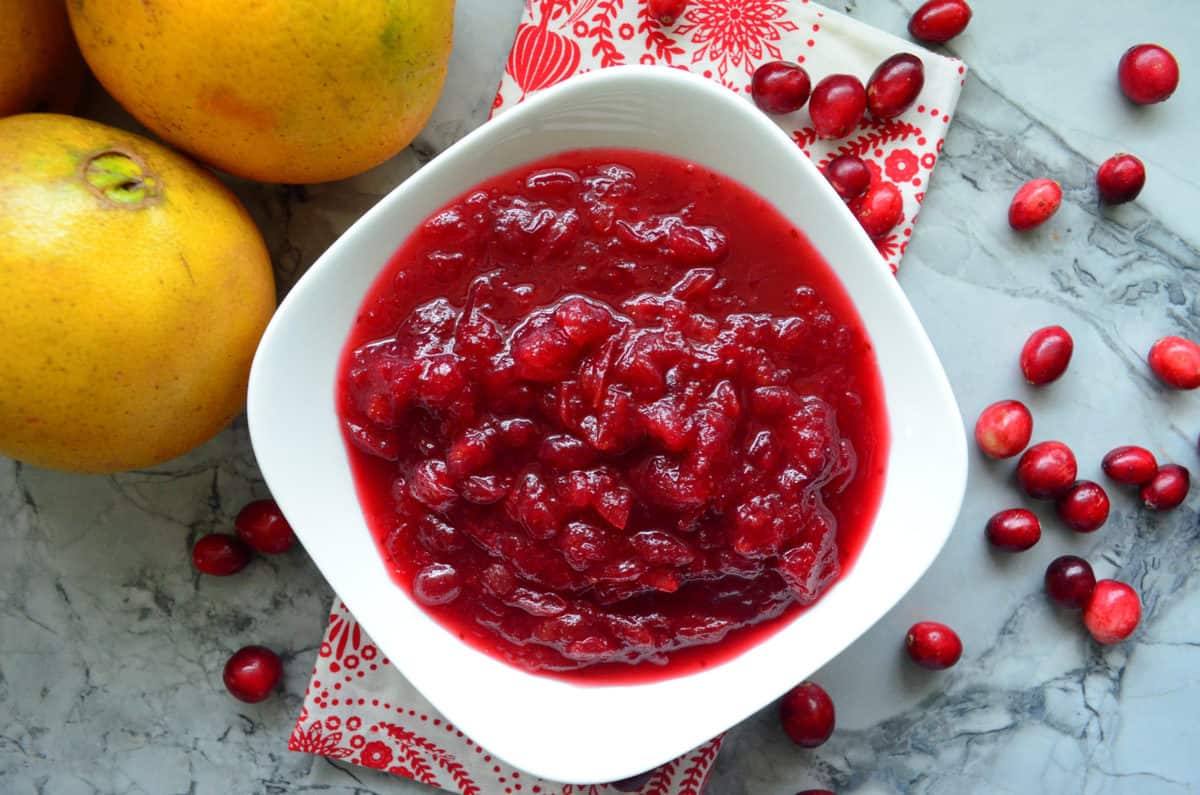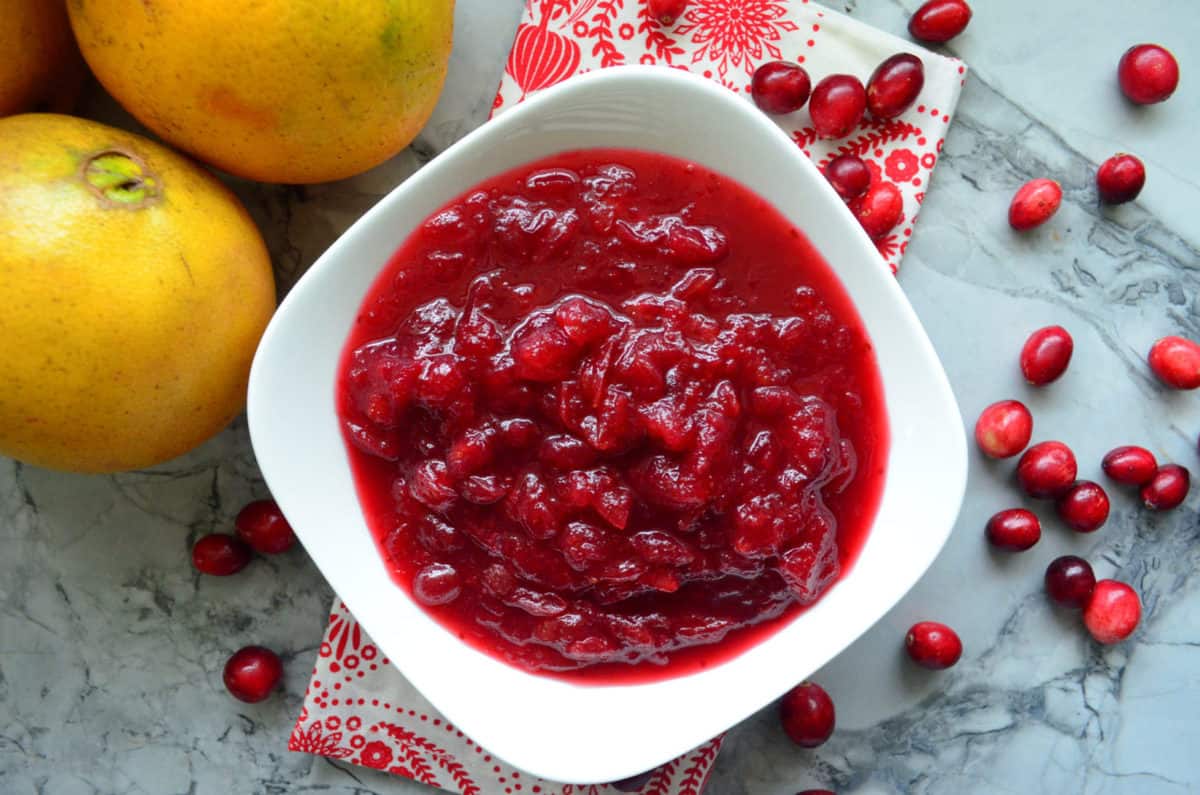 How do you make cranberry sauce less tart?
If you want a less tart more sweet cranberry sauce you need to add more sugar to your sauce when cooking. I like to add 1 cup of white granulated sugar per 12 ounce bag of fresh whole cranberries. I like the balance of sweet and tart and find it's perfect to my palate. You can always add less and taste it as it cooks. If you find it's still too tart after 1 cup of white granulated sugar you can add additional sugar while the cranberries reduce down.
How do you sweeten cranberry sauce?
Like I mentioned above, I use white granulated sugar to sweeten my cranberry sauce. However, there are other ingredient options to sweeten your sauce.
Maple Syrup
Raw Honey
Coconut Sugar
Stevia
Granulated White Sugar
Whatever option you choose is completely up to you and your taste buds. I've never tested any of the ways other then using good old fashion white granulated sugar!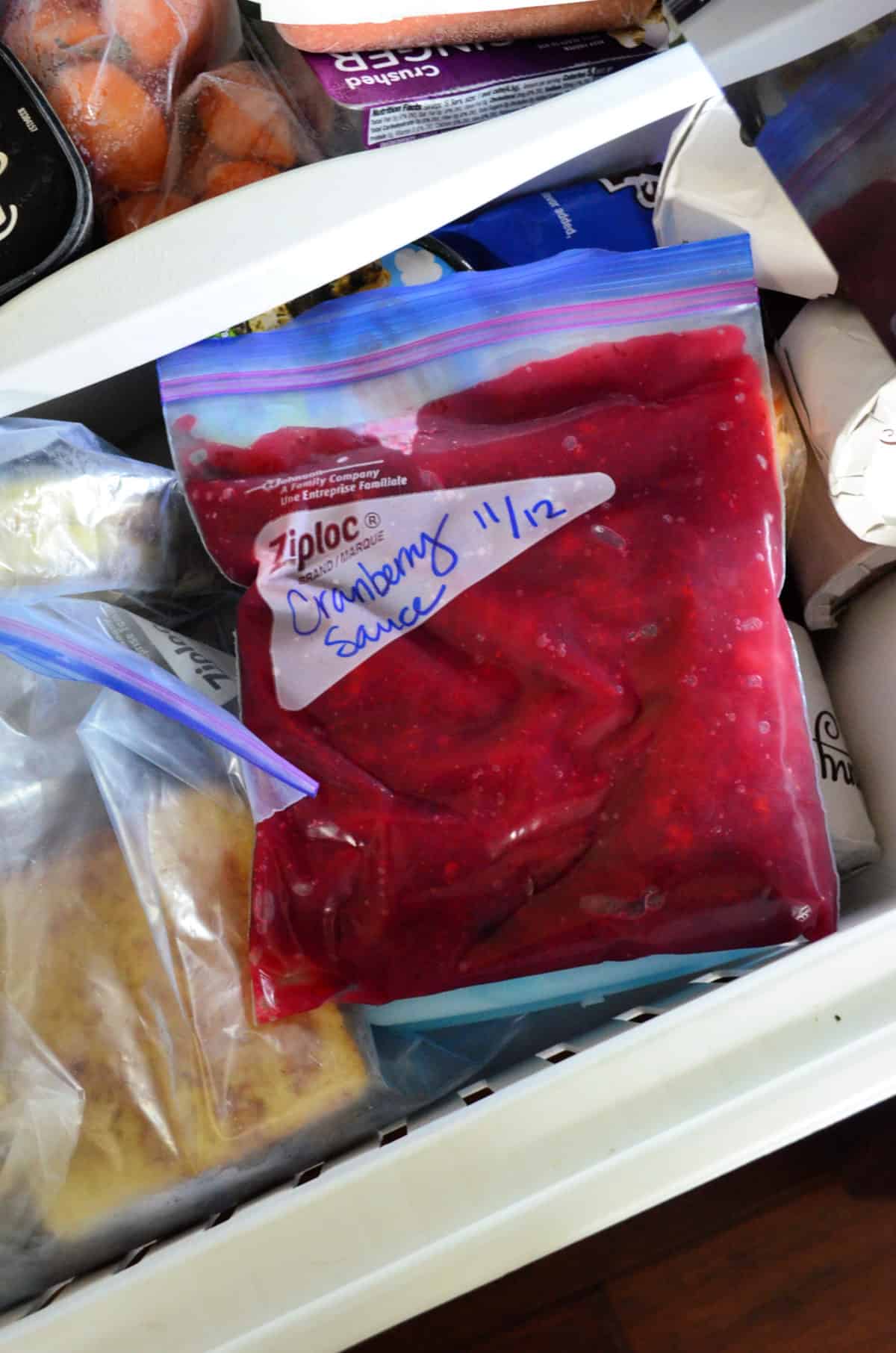 Can you freeze cranberry sauce?
The answer is yes! You can freeze cranberry sauce. If you want to make this turkey side dish staple ahead of time for the holidays, freezing is a great option to preserve it's freshness. Place in a freezer baggy or container in the refrigerator to get to room temperature. Then transfer to the freezer to be frozen up to 3 months!
This also works if you make it fresh the day before or day of your feast and find that you have a lot leftover. You can freeze the leftovers for your next holiday meal.
I host 12-15 people each year and never use the full amount of cranberry sauce I make. So freezing leftovers just works better for me! It gives me cranberry sauce to use later in the holiday season.
Pro tip: Make sure you lay your cranberry sauce flat in the freezer so it doesn't take up much room!
How do you thaw frozen cranberry sauce?
Thawing frozen cranberry sauce is easy. You have three options for defrosting. The first option is to place the frozen bag/container in the refrigerator a day before you plan to eat. By the time you're ready to serve it will be thawed. You can just scoop it out of the bag and set it on the table!
The second option is to place it in a cold water bath. Changing out the water every 30 minutes. The key is COLD water bath. If you use warm or hot water you could spoil the cranberry sauce. By using this method it could be thawed in as little as an hour, depending on how often you change out the water.
A third option–if you like cranberry sauce warm you could always reheat in the microwave or on the stove top. However, I prefer my cranberry sauce cold or at least at room temperature. So this is one thawing option I personally would never do. But it is a viable option.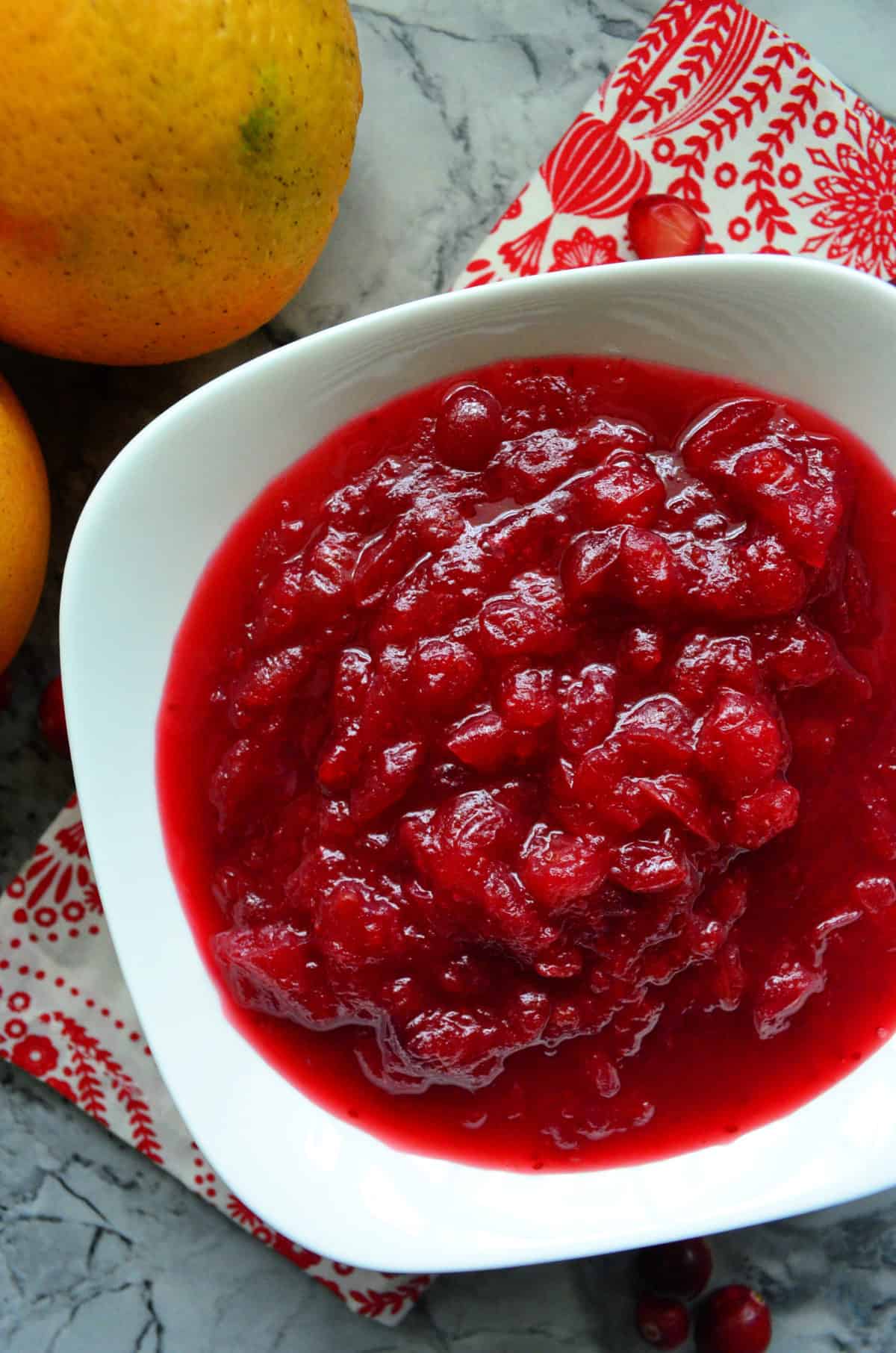 What can you do with leftover cranberry sauce?
If you don't want to freeze your cranberry sauce you might want to figure out creative ways to use it up. Here are just a few recipes and ideas of my own that I wanted to share with you.
Warm the sauce and top on cheesecake
Cranberry Sauce used in layers in a Yogurt Parfaits
Whether you've made homemade cranberry sauce before or this will be your first time making it. I hope that I've equipped you with enough knowledge to be able to execute this recipe with ease!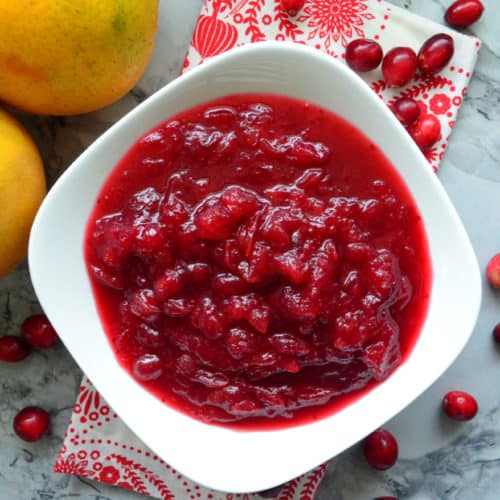 Homemade Cranberry Sauce
Making your own Homemade Cranberry Sauce is extremely easy and requires only a few ingredients. It can also be done in advance to your holiday meal.
Print
Pin
Rate
Ingredients
12

oz.

bag fresh cranberries

1

cup

orange juice

1

cup

White Granulated Sugar

1

teaspoon

zest of orange

optional
Instructions
1. Rinse and drain the fresh cranberries. Pick off any stems or any bad berries. Then place them in a large sauce pan. Pour in 1 cup of orange juice, granulated sugar, and orange zest.

2. Mix well and then cook on medium-high heat for 5 minutes until the cranberries come to a boil. (As the liquid starts to heat the cranberries will begin to make a "popping" noise. This is totally normal!) Reduce the heat to medium-low and cook for an additional 15-20 minutes, stirring often until the berries are cooked down and the liquid has thickened.

3. Once the cranberries are done cooking. Remove from the heat, mix well and let sit un-covered for 30 minutes. The sauce will naturally thicken. Enjoy immediately or transfer to an airtight container and store in the refrigerator for up to 5 days.
Nutrition
Calories:
104
kcal
|
Carbohydrates:
27
g
|
Protein:
1
g
|
Fat:
1
g
|
Saturated Fat:
1
g
|
Sodium:
1
mg
|
Potassium:
79
mg
|
Fiber:
2
g
|
Sugar:
23
g
|
Vitamin A:
70
IU
|
Vitamin C:
17
mg
|
Calcium:
5
mg
|
Iron:
1
mg