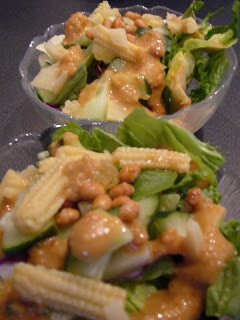 This salad is WAY better than any ginger salad you will ever get in a Japanese restaurant, and packed full of veggies. This simple salad is great for entertaining, a simple lunch, or you can spice it up and add a little protein to it for dinner.
Prep: 5 minute
Serves: 4
Ingredients:
1 bag of lettuce (10oz)
Makoto Honey Ginger dressing,

enough to cover the salad

1/4 cucumber, diced
1/2 cup fresh bean sprouts
1/2 jar of baby corn, chopped
1/2 can of bamboo shoots, drained
2 tbsp. dried pineapple slices, diced
1/4 cup soy nuts
Directions:
1. In a large salad bowl combine lettuce, diced cucumber, bean sprouts, baby corn, bamboo shoots, dried pineapple, and soy nuts. Add at least a 1/4-1/2 cup of dressing to the bowl, and toss well. If you need more dressing feel free to add it. Separate into four individual bowls or place on the table for everyone to dish there own portion out.
*You can turn this simple salad into an amazing meal by adding some grilled chicken breast or shrimp on top! Marinate the protein of choice in a little Makoto Honey Ginger dressing.
Side suggestions: miso soup, Orange Beef & Broccoli OR Sesame Noodles with Chicken & Veggies