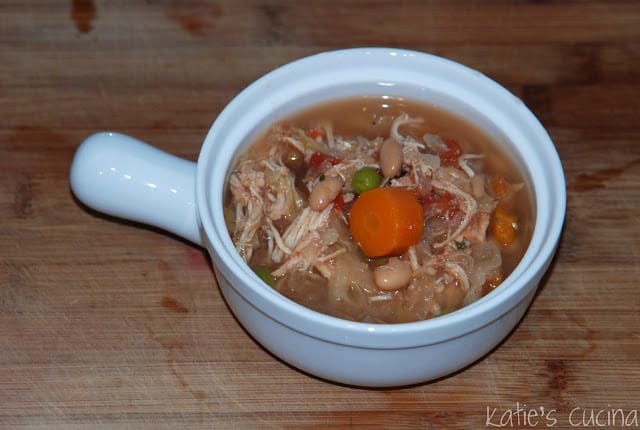 I'm always looking for a good soup. While on a business trip earlier this year I was introduced to the Cooking Channel. I know to most this is not a new channel, but to me it is. I don't have that channel at home. For the 4 days I was away on business every minute I spent in my room the Cooking Channel was on. I happened to finally see an episode of Hungry Girl and she just so happened to be cooking this chicken soup. It looked and sounded amazing and I knew I needed to make it. Any time I can make a delicious and healthy meal in my crock pot I'm a happy girl. This will make a lot of soup. Don't worry though, freeze the extra servings in individual servings. When your hankering for chicken soup (or worse sick and don't feel like cooking) you can pull out the soup, defrost, and then place in a large pot. Add 1 cup chicken broth and begin simmering. In no time your home will smell like chicken soup has been cooking all day and you will be enjoying a nice home-cooked meal without any of the crazy canned-soup preservatives! If you want to beef up this already hearty version of chicken soup you can add a few tablespoons of cooked rice to each bowl. Don't add it to the soup directly or the rice will absorb all of the broth. Always add individually!


Source: Hungry Girl
Prep Time: 20 minutes
Cook Time: 7 to 8 hours
Servings: 6-8


Ingredients:
1-1/2 lbs boneless skinless chicken breast
1/2 tsp salt
1/8 tsp black pepper
1 small onion, diced
2 carrots, chopped
2 cups coleslaw mix
3-1/2 cups fat-free chicken broth
1 can cannellini beans, drained and rinsed
1 can stewed tomatoes (not drained)
1 cup frozen peas
1/2 tsp fresh thyme
1 bay leaf


Directions:
1. Season the chicken with 1/4 tsp salt and pepper. Place all ingredients in the crock pot and stir. Cover and cook on low for 7 to 8 hours (until chicken is fully cooked and is falling a part).


2. Remove and discard the bay leaf. Remove the chicken and place in a bowl. Shred each piece using two forks. Return the shredded chicken to the crock pot and stir into the soup. Season with remaining 1/4 tsp salt and enjoy!


Tip: Freeze leftovers in individual containers for up to 3 months.