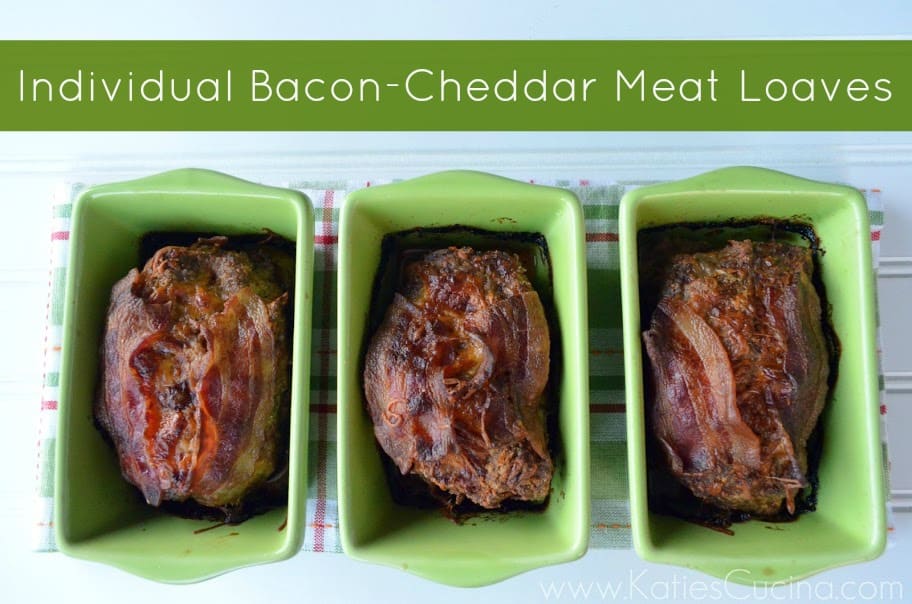 I love meatloaf! If you asked me that when I was growing up I would have told you differently, but now that I'm older (and wiser) I can now tell you that I'm a big fan of meatloaf. Let me preface though… there is to be no ketchup slathered on my meatloaf. I think I've written about it before, but I hate ketchup. Like I can smell it from a mile away and it gives me the heebee-jeebees. I can't deal with it. I was traumatized as a kid and still refuse to eat it as an adult. Except for last year when I tried homemade ketchup at Food Blog Forum.
So back to this meatloaf. Its divine. The crispy slices of bacon on top really bring all the flavor to this meat loaf. I never cook meat loaf in individual servings, but for some reason the idea was calling my name. I've had these mini loaf pans for almost a year now. My dear friend, Jaclyn, from Food plus Words gave them to me when she was moving away last year. I felt like it was time to give them a whirl. Plus for some reason why my husband doesn't see me using certain kitchen items he is more prone to want them to be donated ASAP. So, in an effort to save these beauties from the dreaded donation bin… I needed to use them.
I only had three loaf pans, but this definitely will feed a family of four no problem. Just remove them from the pans and cut them into four slices. Plate up 3 hearty slices per person. Given that I'm a brown gravy girl and love to drench my meatloaf with it–it pairs well although even a salt-aholic like me thought at times it might be a tad too salty. My husband was craving ketchup with this one but since we don't have that offering in my house he went the brown gravy boat as well.
Yesterday, I shared my Baked Cheddar & Chive Mashed Potatoes. My Individual Bacon-Cheddar Meat Loaves paired beautifully with them. I love when a great idea comes to life and proves to really be a good idea. Whether you're entertaining or just looking for comfort food on a Sunday–this recipe duo is one not to be missed. Of course, I'm not sure if your waste line will be happy with you after this hearty meal, but remember; everything in moderation.
Katie Original Recipe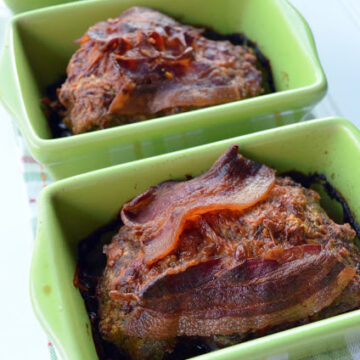 Individual Bacon-Cheddar Meat Loaves
Yearning a moist and flavorful meatloaf? Give these Individual Bacon-Cheddar Meat Loaves a try. If you love it really cheesy then double up on your cheese both in the meatloaf and on top. The fat renderings from the bacon make this meatloaf magical.
Print
Pin
Rate
Ingredients
1

lb.

lean organic ground beef

½

cup

bread crumbs

¼

teaspoon

pepper

¼

teaspoon

salt

1

egg

beaten

1

teaspoon

dried minced onions

1

teaspoon

dried parsley

½

cup

shredded cheddar + 3 tbsp

cooking spray

3

bacon slices
Instructions
Preheat the oven to 350 degrees (Fahrenheit).

In a large bowl add ground beef, bread crumbs, salt, pepper, beaten egg, minced onion, parsley, and ½ cup of shredded cheddar cheese. Mix it well until just combined. Then using your hands divide into 3 equal parts.

Wash hands well then spray three individual loaf pans with cooking spray. Add the divide meat mixture into each loaf pan, and press down to fill gaps. Sprinkle the tops of the loaves with 1 tablespoon shredded cheddar cheese then cut the bacon slices in half. Lay two mini slices on top of each loaf. Place the mini loaf pans on a larger baking sheet. Bake uncovered for 45 minutes or until the internal temperature reads 165 degrees and the bacon is crispy on top.
Notes
I form this into three loaves and slice it up between four people. You can shape it however you want, depending on your pans. Just keep in mind if you adjust the size you will need to adjust the cooking time.
Nutrition
Calories:
400
kcal
|
Carbohydrates:
11
g
|
Protein:
31
g
|
Fat:
24
g
|
Saturated Fat:
10
g
|
Polyunsaturated Fat:
2
g
|
Monounsaturated Fat:
9
g
|
Trans Fat:
1
g
|
Cholesterol:
140
mg
|
Sodium:
537
mg
|
Potassium:
472
mg
|
Fiber:
1
g
|
Sugar:
1
g
|
Vitamin A:
208
IU
|
Vitamin C:
1
mg
|
Calcium:
149
mg
|
Iron:
4
mg