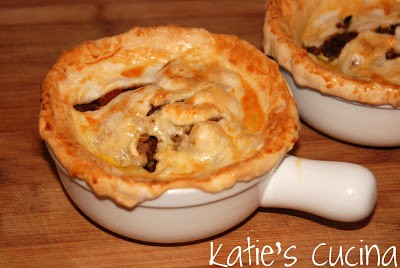 I had some leftover's from our taco night the other day, and instead of making my infamous taco soup (which I just realized I've yet to blog about) I decided to try something different. My husband loves pot-pies, so I figured I would take my taco leftovers and make individual taco pie's! This was super delish and easy to make on a busy week night after work!
1 egg, scrambled (for wash)

1 pre-made pie crust

1 tbsp vegetable oil

1-2 cups leftover ground beef or turkey

1 cup black or kidney beans

1/2 cup frozen corn

1/2 medium onion, diced

1/2 cup fresh tomatoes, diced

1/2 cup water

1-2 green onions, thinly sliced

1 cup shredded cheddar cheese

1 tbsp taco seasoning (*if desired)
1.
Pre-heat oven to 350 degree's. While oven is preheating thaw out pre-made pie crust.

2. While the pie crust is thawing and oven is heating up in a medium sized pan add 1 tablespoon vegetable oil. Followed by the diced onion, tomatoes, and green onions. Saute on medium heat for 2-3 minutes. Then add beans, corn, leftover meat, taco seasoning, and a 1/2 cup of water. Mix well and cook for another 2-3 minutes. Turn the heat off, and let the mixture sit.
3. Roll out the pie crust, turn your ramekin or crock upside down on top of the crust, and trim 1/2 inch around it. Repeat so that you have 2 circles for your pies.
4. Add cheese to skillet, mix well, and then divide the mixture into both crock's. Place the pie crust on top and lightly pinch the ends to the crock. With a pastry brush paint egg wash around the crust, then cut a few slits in the pie so that it can breathe.
5. Bake at 350 degree's for 20 minutes or until pie crust is golden brown. Remember, to be careful when you first start to eat your pie since it will be extremely hot!!!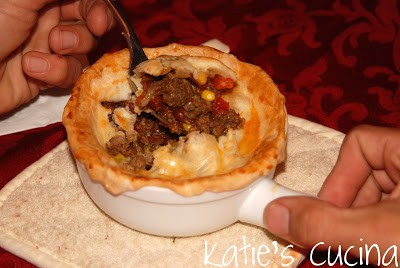 *I forgot to add the cheese! Just after I took this picture he asked where the cheese was and I dumped a generous amount of shredded cheese into his pie where he mixed it up and ate the whole thing and then asked for another one! 🙂