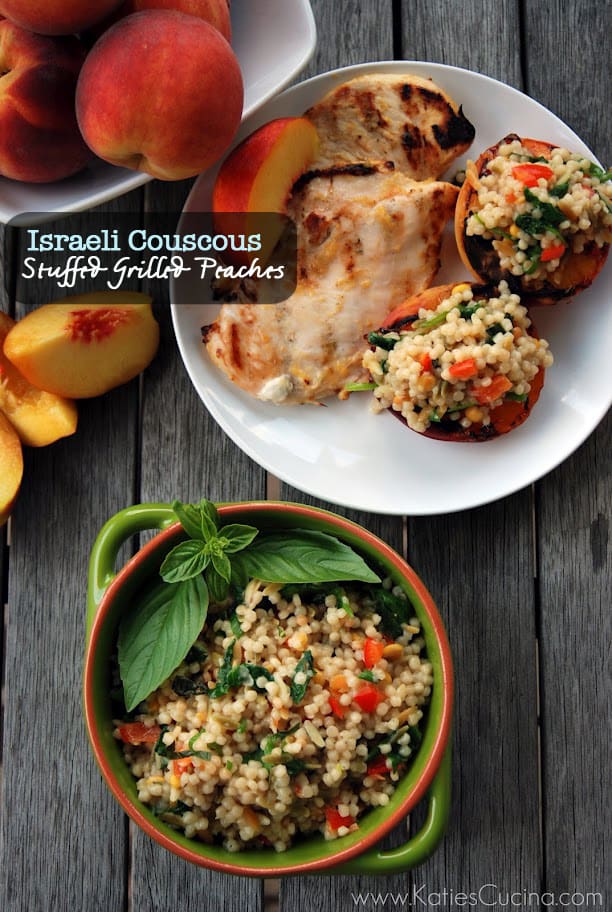 I love me some couscous. Just this year I finally tried Israeli style couscous which is a more pearl like pasta unlike the very grainy (and as my husband would say, sand like) pasta. I've been cooking with it more and more and thankfully, my husband loves the thicker version. During one of my trips to World Market I stumbled across a couscous medley. This medley has Israeli-style couscous, orzo, peas and lentils. A little more extra jazz than your traditional couscous. How I thought of making this recipe is still beyond me. I knew I wanted couscous the night I was planning to do some recipe developing, and I knew I wanted to have peaches in it.
As I grilled chicken that had been marinated in peach purée, I added a few peaches to the grill. In my mind I was going to chop the grilled peaches and toss them into the couscous. However, once I started making this couscous medley I soon realized that tossing was out of the question! That's when I thought to stuff them or in this case place them on top of the peach. The flavors married together so well; the sweet and savory mix was out of this world delicious! This hot side dish could even be served cold for a picnic!
Source: Katie Original Recipe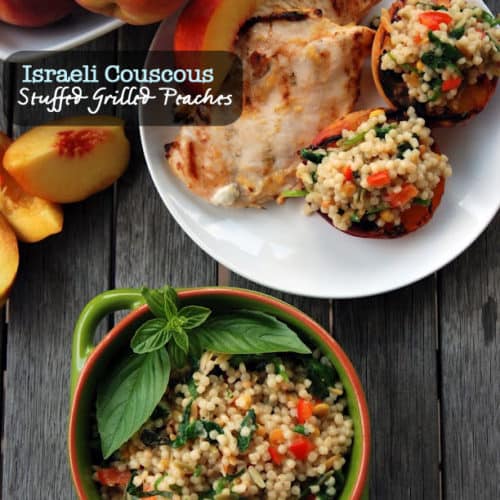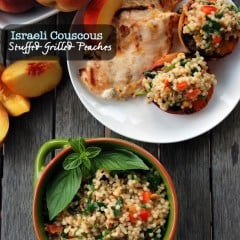 Ingredients
4

peaches

halved and pitted

1-¾

cups

chicken broth

1

tablespoon

extra virgin olive oil

1-¼

cup

Coucous Medley

¼

cup

diced red bell pepper

¼

cup

chopped spinach

8

basil leaves

chopped

3

tablespoon

green onion diced
Instructions
Preheat grill to high. Place halved peaches on hot grill flesh side down. Cook for 5-10 minutes or until grill marks appear on peaches.

Using a large pot bring 1-¾ cups chicken broth to a boil.Then add olive oil and couscous medley. Stir well and cook on low for 10 minutes. Remove from heat and stir. Add diced red bell pepper, chopped spinach, green onions, and basil. Place lid on pot and set aside off the heat for another 5 minutes.

When couscous medley is done begin to plate your side dish. Place a large scoop of couscous medley on top of the flesh of one peach. Repeat until all of your peaches have been "filled".