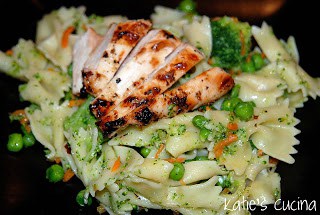 My mother in-law introduced me to this dish a few years back, and I've been cooking it ever since except tweaking it to make it my own. I make this delicious pasta dish often, and knew I needed to share it with my readers. You can easily stretch 2 chicken breast into 4 portions since you cut thin diagonal strips and place on top of the pasta (as picture above). I hope that this recipe becomes a staple in your house hold like it has in mine!


Prep:

10 minutes




Total:

25

minutes
Serves:

4
Ingredients:
2 boneless skinless chicken breast

1/2 cup Italian Dressing

1 box bow tie pasta

2 cups chopped broccoli

1 cup matchstick carrots

1 cup frozen peas

2 tbsp olive oil

2 tbsp butter

2 garlic cloves, minced

2 tbsp grated Parmesan

1/4 tsp red pepper flakes

1/2 tsp Italian seasoning

salt & pepper to taste
Directions:
1.
Marinate boneless skinless chicken breast in Italian dressing for as little as 30 minutes or as much as 24 hours. I typically like to let it start marinating the night before I decide to cook (OR when cleaning my chicken breast after purchasing from the meat market 1-2 of my frozen pre-portioned bags of chicken will already have the dressing in it, so it marinates going into the freeze and coming out of the freeze)!
2. The next day (or 30 minutes later), pre-heat grill, clean, and place chicken on grill. Cook until internal temperature reads 165 degrees Fahrenheit.
3. In a large pot boil water for pasta. Make sure to salt the water well, and cook pasta according to package. 5 minutes after pasta is cooking add the chopped broccoli, matchstick carrots, and peas. Cook until pasta is al dente.
4. Drain the large pot of pasta and veggies. Using the same pot you just cooked in add the olive oil and butter. Let it melt then add garlic, red pepper flakes, and Italian seasoning. Once garlic becomes fragrant add the pasta and veggies back to the pot. Mix well and salt and pepper to taste. Right before serving add grated Parmesan and stir well.
5. Cut grilled chicken breast in thin strips on a diagonal. Place a nice large portion of pasta and veggies on plate followed by half a chicken breast thinly sliced. Enjoy!