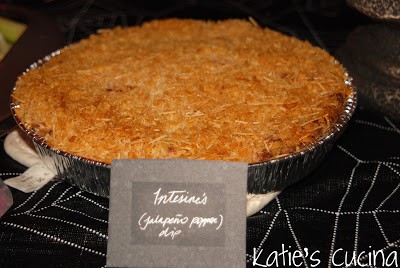 This dip was the hit of the party (minus the
Tombstone Pizzas
)! I'm so glad I found it on
Annie's Eats
! I had to give it a gruesome name since I made it for the Halloween Party, and named it Intestines (minus the mis-spelling on the name card everyone got it). What can I say I was in a rush… see what happens when your in a rush… never a good thing! The next day with only a cup of dip left I used this as a filling for my baked stuffed mushrooms! I don't eat mushroom's but everyone who ate the mushroom's thoroughly enjoyed them! So make sure you don't throw away any of the leftover dip and transform them into something totally different if you can!
2 (8 oz.) packages cream cheese, softened

1 cup mayonnaise

1 (4 oz.) can chopped green chiles, drained

1 (4 oz.) can diced jalapeño peppers, drained

½ cup shredded Mexican style cheese

½ cup shredded mozzarella cheese

1 cup Panko breadcrumbs

½ cup grated Parmesan cheese

Cooking spray
1.
Preheat the oven to 375? F. In a medium bowl, combine the cream cheese, mayonnaise, green chiles, jalapeños, and shredded cheeses. Mix thoroughly with a spoon or spatula until smooth and evenly combined. Spread the mixture into a baking dish (approximately 9 x 9-inches).
2. In a second bowl, combine the Panko and Parmesan and stir with a fork until combined. Sprinkle over the cream cheese mixture in the baking dish. Spray lightly with cooking spray. Bake for 25-30 minutes or until the mixture is hot and the topping is golden. Serve warm with baguette slices, vegetables, etc. as desired.