This is a sponsored post on behalf of Stonyfield Organics and prAna. As always all opinions are my own.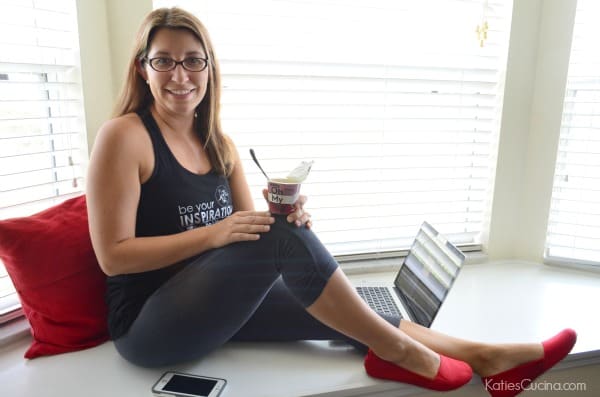 My friends at Stonyfield have challenged me to "just be you" by sharing what Oh My Yog! flavor and prAna clothing item best fits my style. The old me pre-kids would have picked something totally different, but the new me, the new mom, that loves to work out, and is active all the time chose a pair of the Freya Knickers from prAna. I live a very active lifestyle with a rambunctious toddler and owning my own business. I need pants and clothes in general that are versatile and that allow me to play with ease with my son and run my business during nap time!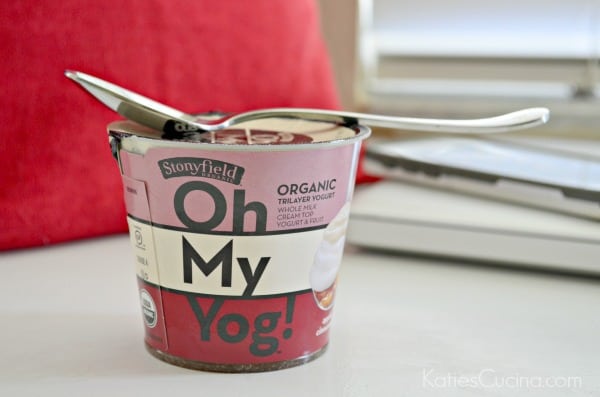 I first tried Oh My Yog! for the first time earlier this year. From the first bite, I was hooked. A layer of cream followed by yogurt and a fruit filling is simply heaven sent. I had a difficult time just picking one flavor that really shows my personality. But after a lot of taste testing I can honestly say that the Apple Cinnamon Oh My Yog! definitely represents my personality best. I typically enjoy an Oh My Yog! during nap time when I'm working. It's my afternoon pick-me up and helps me get my work done before Ryder wakes up from nap!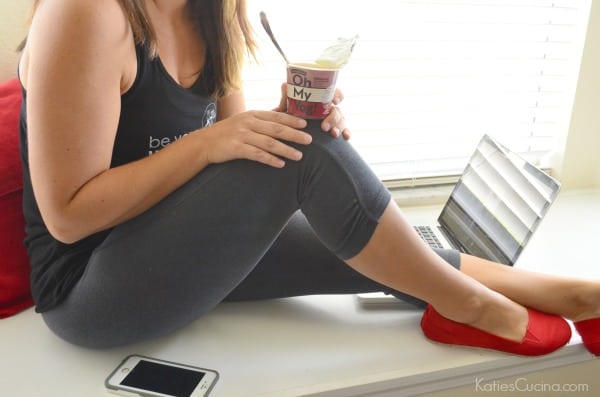 Let's talk about my daily schedule… it's a bit crazy. I'm gonna run through a typical Monday since it's Monday today.
6am – wake up, get dressed and ready for the day
6:15 am – help pack my husbands lunch/make him breakfast and hopefully get in a few sips of coffee as well as briefly scan over my email
6:30 am – Ryder normally wakes up around this time. I'm finding that I like to have a half hour to myself to mentally prepare me for the day.
7 am – breakfast
7-9 am – get ready for the day, play time for Ryder while I answer emails, finish up on a post, cook a recipe and/or photograph it… you get the point.
9 am – off to Baby Boot Camp (that's Monday, Wednesday, Fridays).
10:30 am – play at the park after boot camp
11 am – grocery shop (and pray that Ryder doesn't fall asleep during our 15 minute drive to the grocery store from boot camp).
12 pm – unload groceries and make lunch
12:30 pm – Ryder goes in the pack in play in my room while I take a very very very quick shower (this only happens some days other days I don't shower until almost 8:00 at night).
1 pm – nap time for Ryder (if he didn't fall asleep in the car) and time for me to work. I typically have The Chew on for background noise, cozy up in bed, eat an Oh My Yog! and edit/write.
2:30/3pm – Ryder's up and it's play time / snack time.
4:00 pm – go on a long walk to walk the dog and everyone gets fresh air
4:30 pm – dinner prep begins
5:30 pm – everyone eats dinner as a family
6-7 pm – family play time. We will either stay in and play inside or go on a bike ride, run around outside, during the warmer months go swimming…
7:30 pm – Ryder goes to bed and I start working for another hour or two plus do house chores.
9/10 pm – I'm in bed and asleep.
So yeah… this is an average day for me. I do tend to write a lot of blog post on my phone, and then I'll send it to myself and edit it on the computer. I've found this is one of the only ways to get a lot accomplished during my day. I try to designate "play times" where I will play without any work interruptions. I truly try to unplug and give Ryder my undivided attention. I work around the clock and this is something I'm working very hard on balancing better and giving myself a little more "me" time.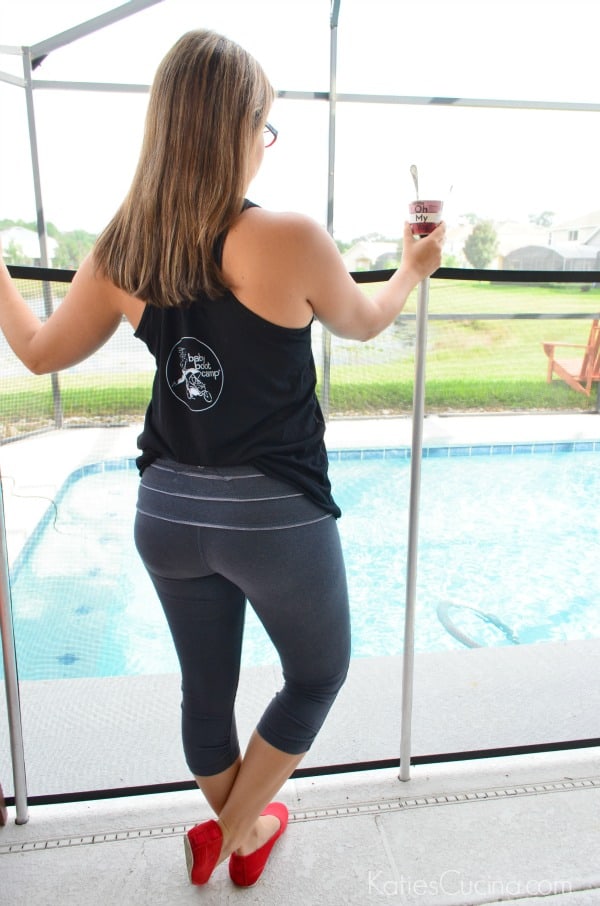 Let's also talk a minute about how I lost ALL my baby weight plus got back to wedding weight all in the first year after Ryder was born. The old me (pre pregnancy) would never wear a pair of tight fitting pants. Now I feel confident enough to do so all thanks to Baby Boot Camp. I started when Ryder was just 8 weeks old and haven't stopped since. I've lost 65lbs! I'm still working on toning and possibly loosing a little more if I can ever get over my plateau that I've hit (and maybe cut out a few foods)! But at the end of the day I feel great about myself and know that I'm living a much healthier lifestyle!
I'm kind of in love with my new pants from prAna and have already started making a Christmas wish list! prAna has given Katie's Cucina readers a 15% discount on your next prAna order if you use my code: JBYF15KC (discount valid November 1- December 15, 2015). I'm pretty sure I'll be asking hubby to place an order for me for Christmas ASAP!
And one lucky winner will receive a $99 store credit to prAna's organic line. Just fill out the rafflecopter or click on the link below to enter to win! Giveaway closes November 16, 2015, valid for United States residents only.