King Ranch Chicken Casserole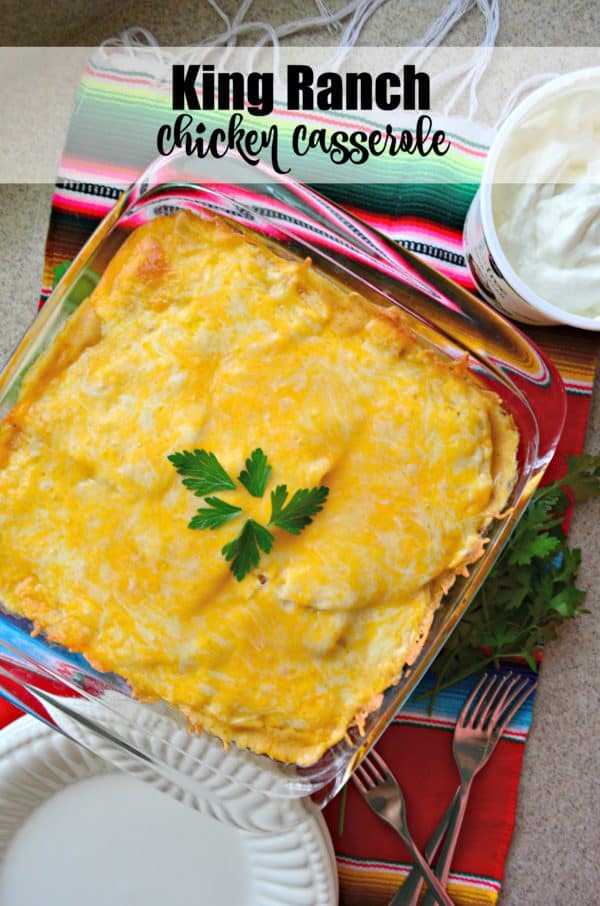 Today, I'm sharing a classic casserole dish for King Ranch Chicken Casserole. Growing up, I can't remember eating a lot of casserole's. Then again, I was one of those kids who couldn't have her food touch and a casserole is the exact opposite of that. This is definitely not a low fat meal by any stretch of the imagination.  My friends at OXO sent me a 14 Piece Glass Bake, Serve & Store Set and asked me to create a recipe using one of the new glass bakeware dishes. The first thing that came to mind was my King Ranch Chicken Casserole. I first learned of this recipe over 8 years ago when I worked at a place called Super Suppers. It was a meal prep place that busy working professionals or people that just didn't know how to cook would come in and assemble their dinners. We prepped everything and all they had to do was put the food together via instructions and then go home and cook it. The best part was that all of the recipes could go in the freezer and be cooked later whether it was you had to thaw it out or put it directly in the oven.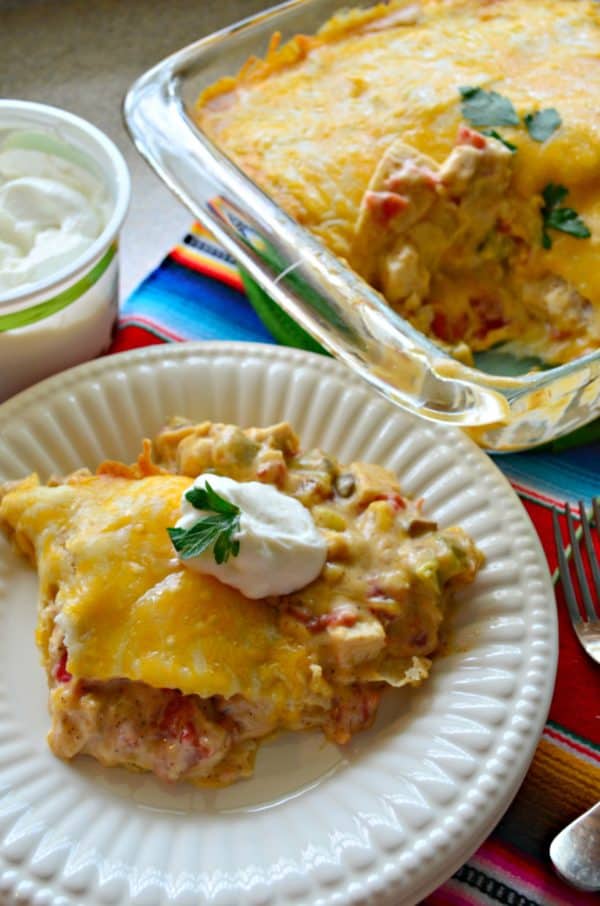 King Ranch Chicken Casserole is the perfect meal to prep ahead of time (maybe the night before) and then stick it in the oven the next day. Or prep and freeze and thaw and bake another day! That's what is great about the new OXO Glass Bake, Serve & Store set! The dishes are made with Borosilicate glass so it can withstand extreme temperature changes. This means your dish can go directly from the freezer to the oven, enabling you to skip the full thaw and save time in getting dinner on the table. If you go this route you'll want to double the cooking time because it's going to take a lot longer for it cook! Just place a little aluminum foil on top and your good to go! And then once dinner is complete–you don't have to place this in another container for storing just place the sloshproof lid right on top! I love that it's raised so it doesn't squish or touch the top of your food! And the lid is a good one–it's nice and sturdy! I've been trying out these containers for the past month and they are awesome!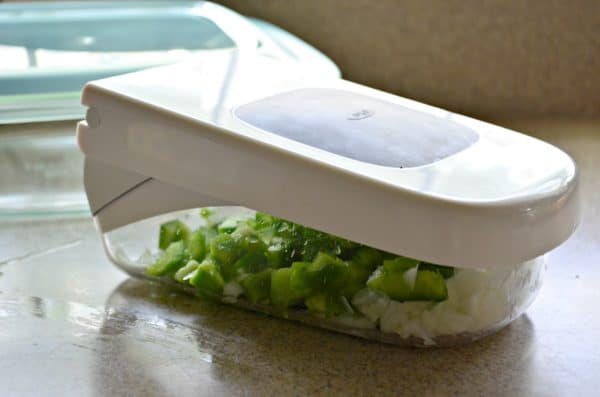 King Ranch Chicken Casserole is a big old dish of comfort food and best of all it's so easy to put together. I'm going to preface right up front that if you don't like canned soups then this recipe might not be for you. I totally kept it classic in the sense of using both cream of chicken and cream of mushroom canned soup. I also used a can of ro*tel. Lots of cans going in this casserole but that's what partially makes it quick and easy. I also used my OXO Vegetable Chopper with Easy-Pour Opening to chop the onions and green bell pepper for this dish. Helps make this meal even quicker.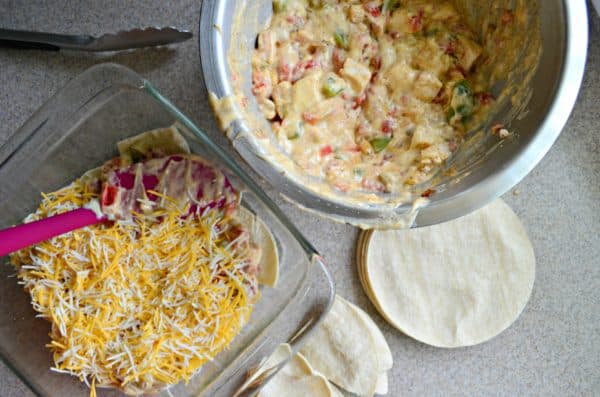 I like to saute the vegetables so they blend in better to the casserole verse being raw and on the crispier side. While the vegetables saute I combined the canned soups, rotel, chili powder, and chopped chicken in a stainless steel mixing bowl. My kitchen is seriously stocked with OXO products–I've used them for years! Then once the veggies are cooked I add those to the bowl, give a good mix with my silicone spatula and then started the process of layering.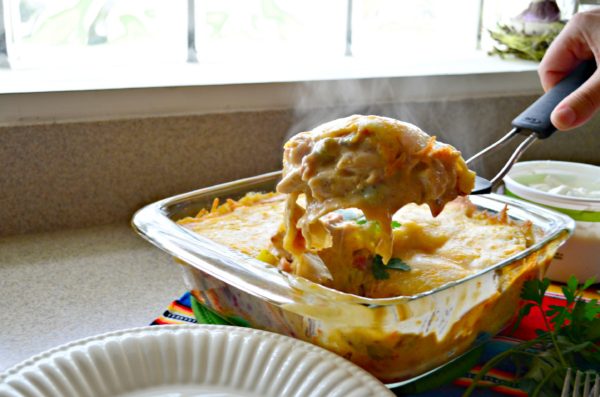 You'll spray the glass bakeware with non-stick cooking spray then put down a layer of corn tortillas, followed by a layer of creamy chicken mixture, and then a nice thick layer of shredded cheese. Repeat this layer one more time, place aluminum foil on top and place it in the oven!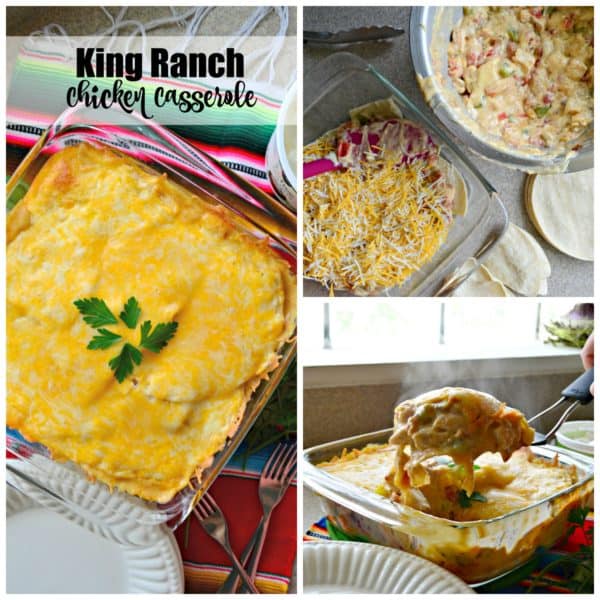 The OXO 14 Piece Glass Bake, Serve & Store Set is the perfect partner for all of your baking adventures. It retails for $69.99 (super affordable for a glass set)! The Set includes a Glass 3 Qt Baking Dish with Lid, Glass 2 Qt Baking Dish with Lid, Glass Loaf Pan, Glass Pie Plate, 1 Cup Round SNAP Container, 2 Cup Round SNAP Container, and 4 Cup Round SNAP Container.
If your looking for comfort food in a casserole definitely give my King Ranch Chicken Casserole recipe a try!

King Ranch Chicken Casserole
Yield: 6
Prep Time: 5 minutes
Cook Time: 35 minutes
Total Time: 40 minutes
Ingredients:
1 tablespoon unsalted butter
1 green bell pepper, chopped
1 small yellow onion, chopped
1 10-3/4 oz. condensed cream of chicken soup
1 10-3/4 oz. condensed cream of mushroom soup
1 10 oz. Ro*Tel Mild Diced Tomatoes & Green Chilies, undrained
1 tablespoon chili powder
2 cups cooked chicken breast, chopped
10 corn tortillas, cut into quarters
No-Stick Cooking Spray
3 cups shredded Cheddar cheese
1/2 cup Sour cream, for topping, divided
Directions:
Preheat the oven to 400 degrees Fahrenheit.
In a sauce pan, melt the butter on medium heat. Then, saute the peppers and onions for 5 minutes mixing occasionally.
While the peppers and onions cook, mix together in a large bowl the cream of chicken and mushroom soups, Ro*Tel, chili powder, and diced chicken breast. Once the onion and peppers are done cooking mix those in too.
Spray a 2 quart glass baking dish with non-stick cooking spray. Then, layer one-third of the corn tortillas, half of the chicken mixture and 1 cup cheese evenly in dish. Repeat by layering once more. Then add the remaining corn tortillas to the top followed by a thick layer of (1 cup) shredded cheese (make sure the cheese covers all the corn tortilla. Cover with aluminum foil and bake for 25 minutes.
Remove the foil and bake 5 minutes longer. Remove from the oven, cut into 6 slices and top with a dollop of sour cream. Enjoy immediately.
*You can prepare this casserole ahead of time and freeze for a later date. Let it completely thaw and bake or place directly into the oven frozen and bake for 1 hour or until hot and bubbly.
Disclosure: I was provided a 14 Piece Glass Bake, Serve & Store Set from OXO. I was not compensated to post about the product. As always, all opinions are my own.
Warning
: Use of undefined constant rand - assumed 'rand' (this will throw an Error in a future version of PHP) in
/home/kjasiewicz21/webapps/katiescucina/wp-content/themes/katiescucina/single.php
on line
74
2 Responses to "King Ranch Chicken Casserole"
Leave a Comment