Land O'Lakes® Kitchen Conversations + Giveaway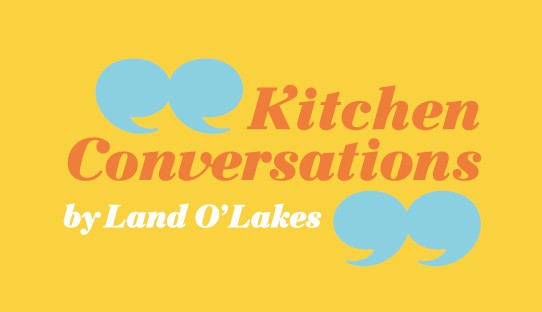 A few weeks ago I had the opportunity to sit in on a live webinar with Land O'Lakes® Butter. Hosted by Becky Wahlund, Director of the Land O'Lakes Test Kitchen, Ree Drummond from The Pioneer Woman. These lovely ladies also had the help from the Kitchen Conversations blogger panel:
The live webinar was to talk about 2013 food trends! First off, I have to say that Ree was just the sweetest person ever and I hope to one day meet her. So humble and genuine and quite the comedian–who knew?
So back to food trends… a fun topic that I wouldn't normally spend a lot of time thinking about until this webinar. I mean we all see what the current food trends are thanks to Pinterest. I see quinoa in every other post, cauliflower seems like the current "it" vegetable, and all things ethnic.
Here is what everyone picked for the 2013 food trends:
Becky – Quick and Easy Meals
Ree – Meatballs!
Julie – Asian Cooking
Brenda – Ancient Grains
Maria – Popcorn!
Sommer –  Comfort Food Gone Global
If your on Twitter, Pinterest, or Instagram you can follow the conversation and recipe ideas by searching for the hashtag #KtchnConvo. One thing that came up often during the chat was the Land O'Lakes® Butter Half Sticks. If you use butter often you've been in this place before… you have 5 sticks of half used butter. Some with just one tablespoon and others with 2-3 tablespoons left. Why not get the half sticks instead. Makes sense, right? It will keep your butter fresher longer! Brilliant, right?
So I'm sure by now everyone is intrigued to learn about this fantastic giveaway. Not only do you get to sample the new  Sauté Express® Sauté Starter and you'll receive a coupon to stock up on Land O'Lakes® Butter Half Sticks. Your also entering for a chance to win a few beautiful pieces of kitchenware from Anthropology and a Le Creuset Cast Iron Skillet!
Giveaway Includes:
One coupon for Land O'Lakes® Butter Half Sticks
One coupon for Sauté Express® Sauté Starter
Anthropology Serving Bowl
Anthropology Half Stick Butter Dish
Anthropology Measuring Spoons
Le Creuset Cast Iron Skillet
Please wait for the rafflecopter widget to load. If it does not load please click on the link. One winner will be chosen at random. Giveaway open to USA residents 18 years of age or older. Giveaway ends on 3/24/2013 at 12:00 pm
a Rafflecopter giveaway


Disclosure: The author received product samples and a gift package from Land O'Lakes, including a serving bowl, measuring spoons, butter dish and skillet, for recipe development and review purposes. All opinions are my own. 
Warning
: Use of undefined constant rand - assumed 'rand' (this will throw an Error in a future version of PHP) in
/home/kjasiewicz21/webapps/katiescucina/wp-content/themes/katiescucina/single.php
on line
74
121 Responses to "Land O'Lakes® Kitchen Conversations + Giveaway"
Leave a Comment