Learn to Cook Perfect Bacon in the Oven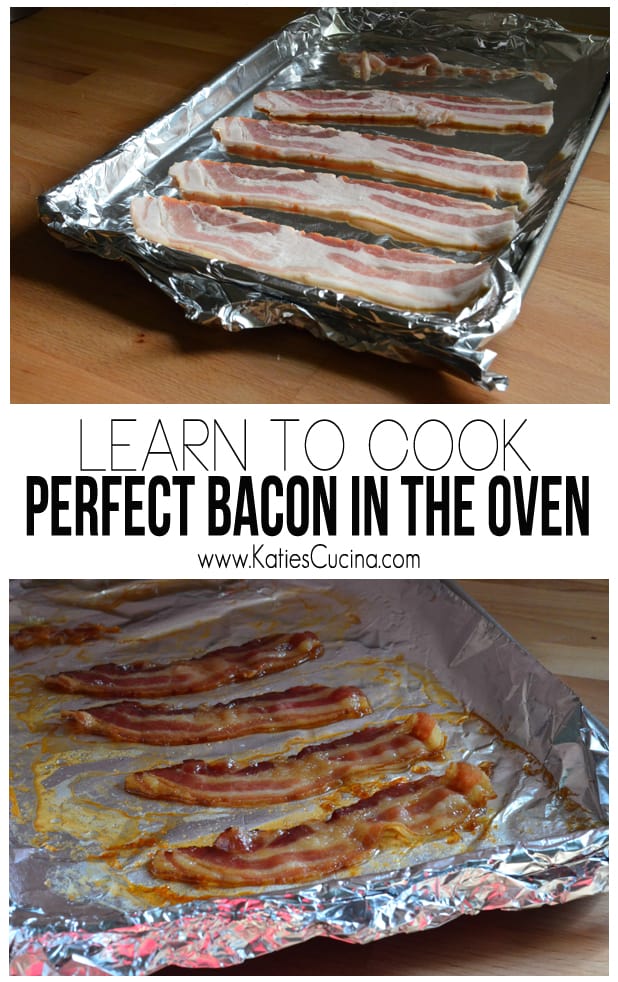 I've been baking bacon in my oven for years now. I learned this trick or some may call it a tip from a good friend years ago and have not stopped since. Today's post is more of a "how to" than a recipe. Their is a secret about cooking perfect bacon and I want to share it with you today. Baking bacon is really the only way I'll make bacon now, and when my friends and I start talking about bacon I preach about why baking bacon is better than frying it on the stove top.
No greasy mess!

The bacon doesn't shrink.
Crispy bacon every time!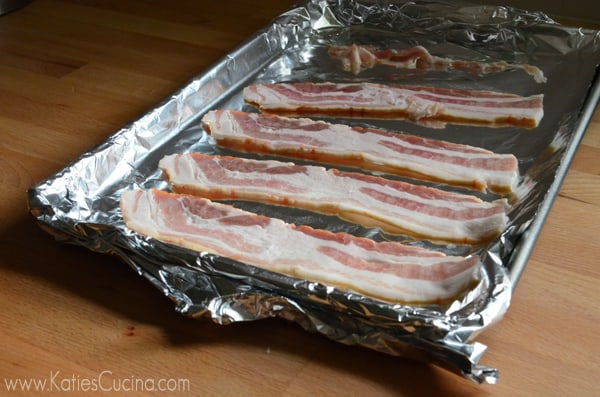 First tip, line a shallow rimmed baking sheet with tinfoil. This will help guarantee the "no mess". Then place your bacon on the tin foil, slice by slice. Depending on the size of your baking sheet will depend on how much bacon you can bake at once. When I photographed this sheet of bacon I only had a few slices that I needed to bake at the time.
Don't be afraid to let the bacon touch. I will put the bacon in every which way to ensure I can bake the most amount at one time. I also put foil over the baking sheet (not pictured). This helps prevent grease splatter in the oven. Trust me for the greater good of your oven you want to cover the bacon. Plus, who wants to fan smoke alarms or worse cause a grease fire? Not me!!! So, I've warned you–wrap that bacon up in more tin foil. I know it sounds like a lot, but trust me at the end of the cooking time its worth it!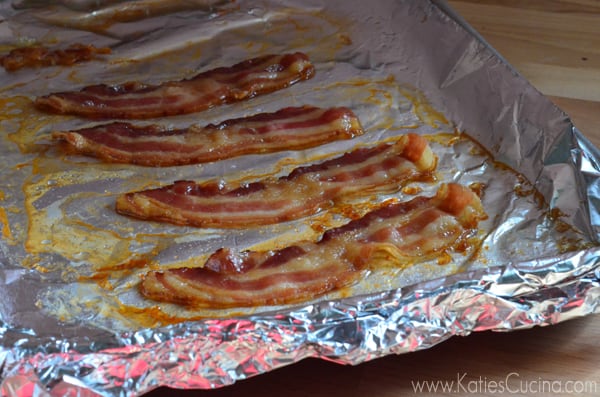 Pre-heat your oven. I know some people say that's not needed, but I do it every time and it reduces cooking time! You will also want to move your baking rack to the middle position in your oven. I've found if I put the bacon to high or to low in the oven it burns. The first few times you bake bacon in the oven, you'll want to check on it half way through. I've gotten to the point now where I can smell when its done. If you cook bacon enough, you too will get to this point!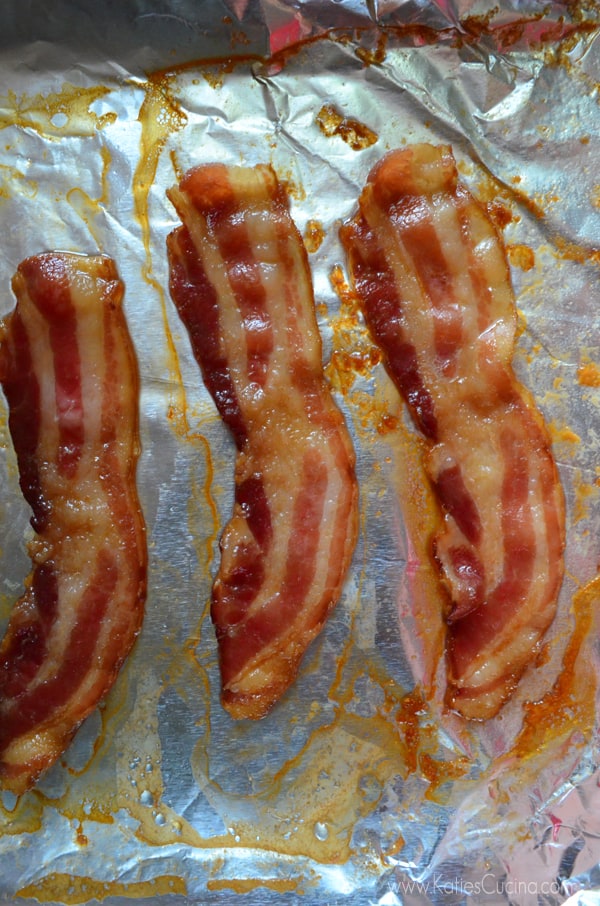 Katie Original Recipe
Learn to Cook Perfect Bacon in the Oven
Ingredients
1 package of bacon
Aluminum Foil
Directions
Preheat oven to 350 degrees Fahrenheit, and move oven rack to middle position.
While oven is preheating, line a shallow rimmed baking sheet with tin foil. Place bacon (slice-by-slice) on the baking sheet. Edges of bacon can touch, but do not overlap. Wash your hands, and then place another piece of foil on top of the baking sheet. Bake in the oven for 20-25 minutes or until crispy and golden brown (or however, you like to eat your bacon). You should be able to smell the bacon toward the end of the cooking time.
Remove the baking sheet from the oven, transfer bacon to a paper towel lined plate to remove excess grease, and enjoy!
Notes
*You can use this method for as little or as much bacon as you want. The first few times you bake bacon in your oven check it half-way through to ensure you don't burn the bacon. DO NOT place the bacon on the lowest rack or the highest rack in the oven. Middle rack is best.
https://www.katiescucina.com/learn-cook-perfect-bacon-oven/
This recipe is brought to you by Katie Jasiewicz of Katies Cucina
Warning
: Use of undefined constant rand - assumed 'rand' (this will throw an Error in a future version of PHP) in
/home/kjasiewicz21/webapps/katiescucina/wp-content/themes/katiescucina/single.php
on line
74
11 Responses to "Learn to Cook Perfect Bacon in the Oven"
Leave a Comment