Lemon & Herb Grilled Chicken
Looking for a healthy and easy-to-make dinner. Try my recipe for Lemon & Herb Grilled Chicken.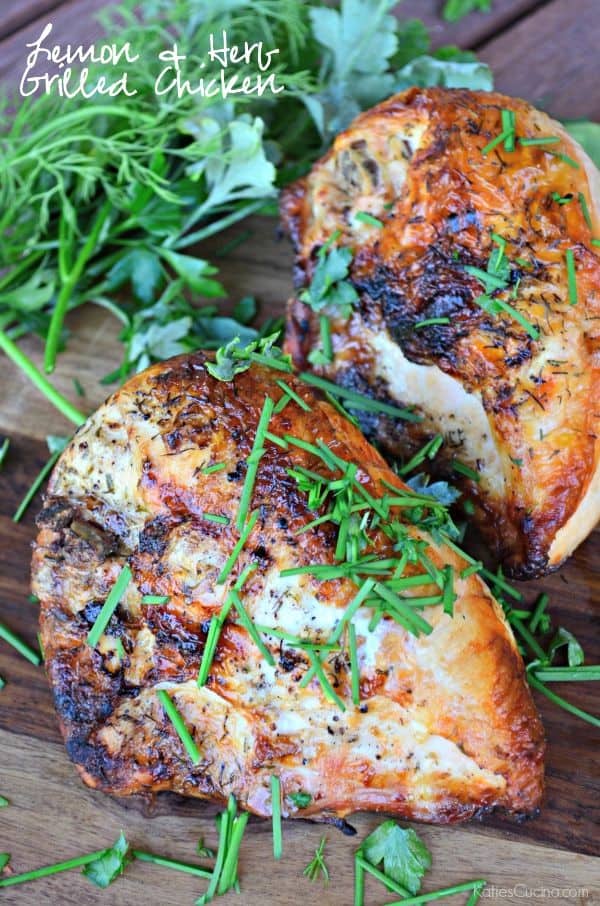 Fire up the grill and let's make some grilled chicken breast! I love to grill and I'm lucky enough to grill all year round. But in the summer months like most American's I refuse to put the oven on so I'm constantly coming up with new grilling recipes. This recipe for lemon and herb grilled chicken is delicious. Full of flavor and easy to make! Perfect a quick weeknight meal or easy summer entertaining.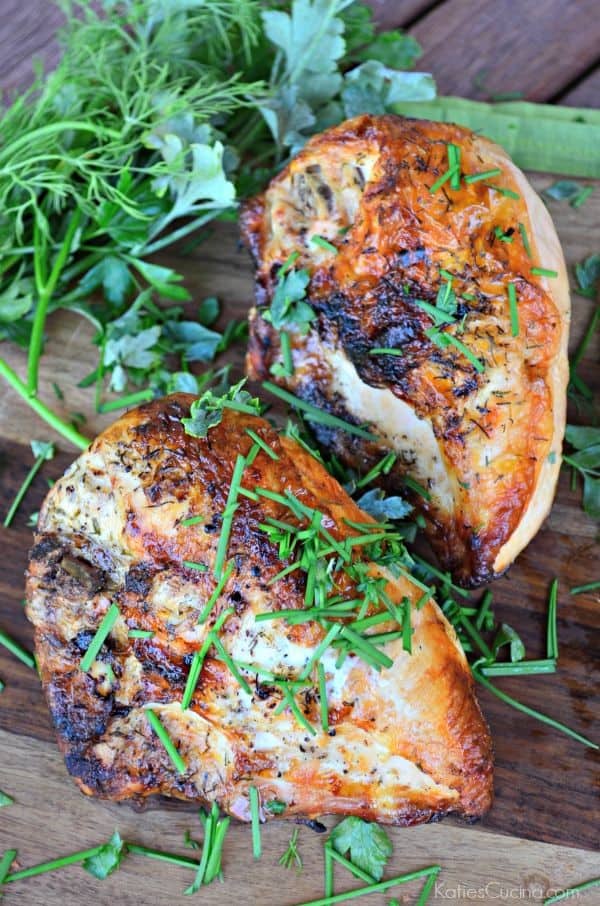 I made this recipe before we moved out of our first home. My garden had an abundance of herbs this year so I utilized them and a fresh lemon to give this chicken the perfect garden flavor. The one thing I hate about marinating is that normally it takes a lot of planning in advance. This chicken though, does not. You never want to marinate anything in citrus for too long or else the citric acid will begin to cook the protein. And that's the last thing we want. So a quick 10-15 minute marinade will give you just enough zing without it cooking the chicken before it reaches the grill! Season the chicken breast with a generous amount of salt and pepper and set them on the grill. Let them cook for about 30 minutes. I like to let my chicken rest and cook for as long as possible before flipping. I started grilling these rib side down on the grill, then only flipped the breast two more times before I used a meat thermometer to check the internal temperature. One thing that is a must when grilling is a meat thermometer (That's my affiliate link to one of the 4 meat thermometers I own.)! If you don't have one. I highly suggest you get one ASAP.

Lemon & Herb Grilled Chicken
Yield: 2
Prep Time: 15 minutes
Cook Time: 30 minutes
Total Time: 45 minutes
Ingredients:
2 bone-in chicken breast
2 tablespoons lemon juice
salt and pepper to taste
1 tablespoon fresh parsley, chopped
1 tablespoon fresh dill, chopped
1 tablespoon fresh chives, chopped
Directions:
Marinade the chicken breast with the lemon juice. Let stand for 10 minutes in the refrigerator.
Preheat the grill to 400 degrees Fahrenheit.
Place the chicken breast bone-side down on the grill. Sprinkle with a salt and pepper to taste. Cook for 30 minutes on medium heat, flipping only 3 times. Grill temperature should be around 350 degrees. Remove from the grill once the internal temperature reaches 165 degrees Fahrenheit.
Remove the chicken from the grill. Sprinkle with fresh chopped herbs and enjoy.
Disclaimer: There are affiliate links in this post. If you click on it I will make a percentage from the purchase. 
Warning
: Use of undefined constant rand - assumed 'rand' (this will throw an Error in a future version of PHP) in
/home/kjasiewicz21/webapps/katiescucina/wp-content/themes/katiescucina/single.php
on line
74
Leave a Comment