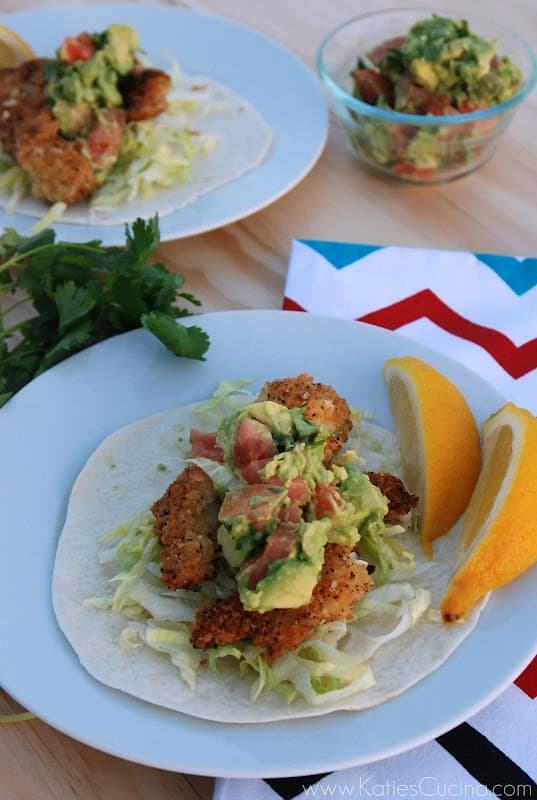 I love to eat fish, and typically try to make at least one seafood dish each week. I've talked about before how I'm blessed to have an abundance of fish at my disposal thanks to my husband and brother in-law for their love of fishing. I'm always looking for new fish recipes, and this recipe just so happens to take one of the top ranks for awesome fish recipes! I found this recipe at the Best Meals Happen at Home website. I would have never though to use Lemon Pepper Panko bread crumbs on my fish for fish tacos. The flavors are robust and require very little ingredients to prepare.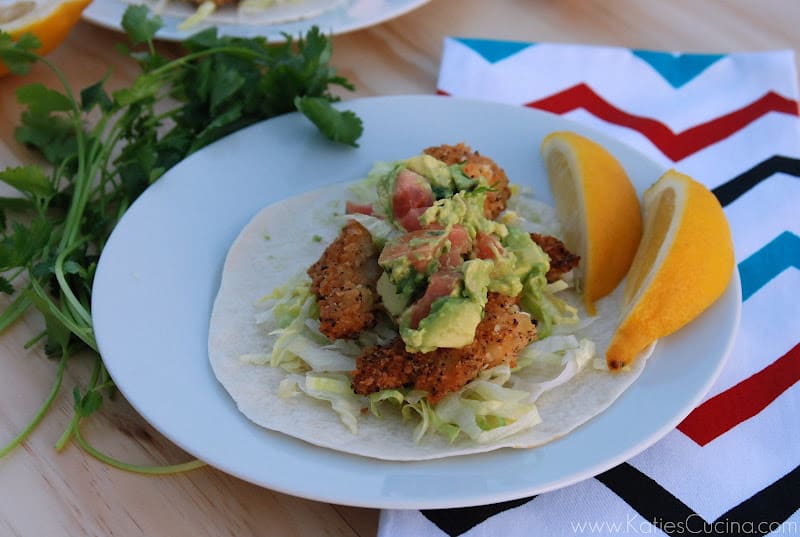 Publix Supermarkets is currently hosting the Best Meals Happen at Home event from now until March 28th. If you live in the south or shop at Publix, you'll notice a wide variety of coupons available this month on products you love in store. You'll also want to visit BestMealsatHome.com and register to receive coupons and recipes, which can be cooked in 30 minutes or less. Like these delicious Lemon Pepper Fish Tacos. I loved the simplicity of this dinner and on a busy work night their is nothing better than knowing I can cook a flavorful dish quickly.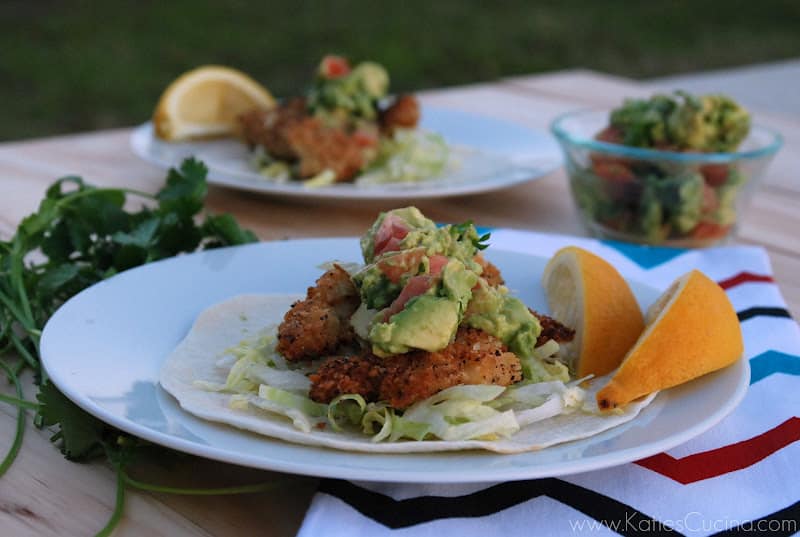 General Mills is offering one lucky reader a $25 Publix Gift Card!
Author:
Ingredients
2 tablespoons all purpose flour
1 egg
1 tablespoon water
1 cup Progresso® Lemon Pepper Panko Crispy Bread Crumbs
1 lb white fish fillets (such as tilapia or catfish)
2 tablespoons vegetable oil
10 Old El Paso® Flour Tortillas for soft tacos & fajitas (6 inch; from 8.2-oz package)
1 medium avocado, pitted, peeled, and chopped
1 medium tomato, seeded, diced
2 teaspoons lemon juice
2 tablespoons chopped fresh cilantro
1 small jalapeño chile, seeded, finely chopped, if desired
2 cups shredded lettuce
1 small lemon, cut into wedges
Instructions
In 3 shallow dishes place flour, beat egg and water in one, and bread crumbs in the last dish. Coat the fish with flour, then dip into egg mixture, lastly coating well with bread crumbs.
In a nonstick skillet, heat oil over medium heat. Add fish; cook 6-8 minutes, turning once, until fish flakes easily with fork. Cut into 30 bite-size pieces. Repeat this step until all of your fish is cooked.
While the fish is cooking mix in a medium bowl; avocado, tomato, lemon juice, and salt and pepper. Stir in cilantro and jalapeño chile.
Heat tortillas as directed on package. Fill tortillas with fish, avocado mixture, and lettuce. Serve with lemon wedges.
Notes
If you don't want to fry the fish you can easily bake the fish. To bake: Heat oven to 375°F. Spray 13×9-inch (3-quart) glass baking dish with cooking spray. Follow step 1 above. Place fish in baking dish; drizzle with 2 tablespoons melted butter. Bake uncovered 15 to 20 minutes or until fish flakes easily with fork. Continue as directed in recipe above.
Disclosure: The Publix gift card, information, and giveaway have been provided by General Mills through MyBlogSpark.