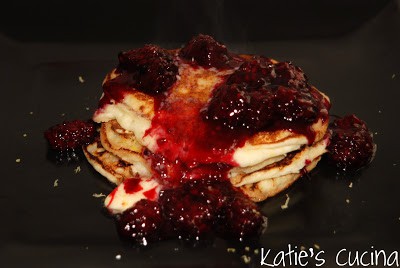 I saw these pancakes a few weeks ago and instantly knew I wanted to give this recipe a try. The only pancakes I ever make our buttermilk pancakes, and to be honest I've never branched out from that! (It's hard to believe that I blogged about that recipe 51 weeks ago!) I found blackberries on sale for $1 per 6oz container and instantly knew it was destiny. I had to make these pancakes! I read the directions a few times and off I went… however, I didn't think they'd be too time consuming. I was multi-tasking that morning (like most Saturday mornings), and unfortunately had a blackberry sauce explosion in the kitchen.
*
Take a look at all the blackberry sauce around the rim of the pot. The pot actually stuck to the stove, and it was a bit difficult to get off the stove top!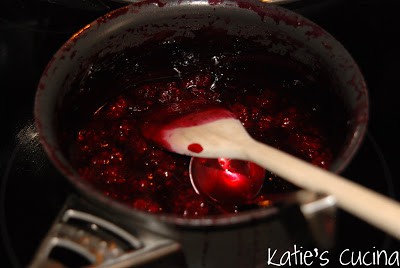 Thankfully I have the an amazing "sous chef" who typically does the dishes (we trade off from time to time). It took him about 2 hours to clean our kitchen after breakfast… it was that bad. It honestly, looked like someone was murdered with blackberry sauce in our kitchen! Was the mess worth it? Yes, I think so–if you ask my husband he might say otherwise. So, my tip is… don't leave your blackberry sauce unattended, and plan accordingly, so you aren't rushed when making this amazing sauce! Also, you will want to use a wooden spoon that you don't mind being permanently stained OR one that you can throw away after the sauce is made.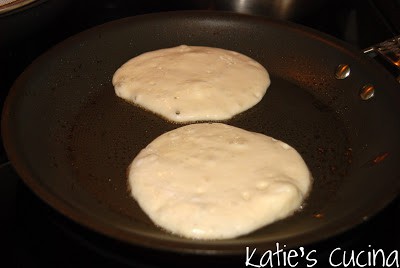 Here is a picture of the pancakes cooking in the pan. I have a griddle, but because I have a glass top stove it's a bit difficult to use and get all parts of the griddle hot enough. Tip: When cooking pancakes you want your heat on lower setting to avoid burning your pancakes.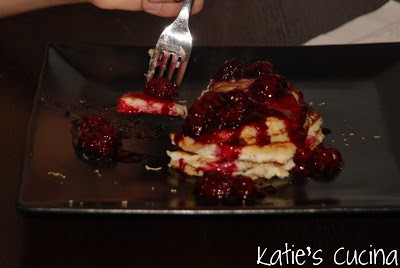 Here is my husband enjoying his pancakes (before he realized that he had a massive mess to clean up)!
*I guess my brain was a bit frazzled that morning because I did not take the best pictures! *Oh, and why my formatting is wacky–beats me. Sorry!
Cook:
I
ngredients for the Blackberry Sauce:
12 oz blackberries, rinsed and drained

¼ cup sugar

1 tablespoon cornstarch

1 tablespoon cold water
I
ngredients for the Pancakes:
1 cup ricotta cheese

1 cup milk

3 large eggs, separated

zest and juice of 1 lemon

1-½ cups cake flour

1 tablespoon baking powder

¼ teaspoon salt

¼ cup sugar
1. To make the blackberry sauce, combine the blackberries and sugar in a medium saucepan set over medium-high heat. Cook, stirring occasionally, until the berries begin to release some of their juices and the mixture is simmering. Combine the cornstarch and water in a small bowl; whisk until smooth. Add the cornstarch mixture to the blackberries and mix well. Reduce the heat to medium and let cook, stirring occasionally, until the mixture comes to a low boil and thickens slightly. Remove from the heat and keep warm if desired. The sauce will thicken slightly as it cools.
2. To make the pancakes, combine the ricotta, milk, egg yolks, lemon zest and lemon juice in a large mixing bowl. Whisk to combine. Add in the cake flour, baking powder and salt and mix just until incorporated. In another clean, dry mixing bowl, beat the egg whites on medium-low speed until foamy. Increase the mixer speed to medium-high and continue to beat, adding the sugar gradually, until medium-soft peaks form.
3. Fold one-third of the egg white mixture into the ricotta mixture with a spatula until completely incorporated. Add in the remaining egg whites and fold in gently until the mixture is smooth and light.
4. Heat a griddle or skillet over medium heat. Grease as needed. Ladle a scant ½ cup of batter onto the cooking surface for each pancake. Allow to cook until bubbles begin to form on the top surface. Use a large spatula to carefully flip the pancake and cook the other side until light golden and cooked through. Repeat with the remaining batter. If desired, keep finished pancakes warm in a 200? F oven until all the batter is cooked. Serve warm with fresh blackberry sauce.
Tip: I had 6 pancakes leftover. I froze them and reheated them in the microwave the following week for breakfast! They still tasted fabulous!