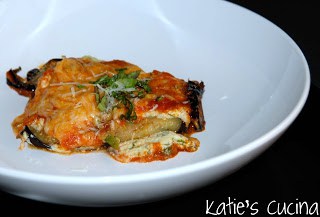 In an effort to try to eat a smidge healthier I started browsing around some blogs, and found a great blog;

Skinny Taste

! Its basically a blog of all weight watchers recipe. I remember my mom making this version of eggplant parmesan for us a while back and we all loved it, so I figured I would give it a try. My husband LOVES all things "parmesan" and I was a little hesitant about serving this "healthier" non-fried version to him, but he LOVED it! So this is a winner and probably the only way I'll be cooking this dish for now on! Best part is that it's only 265 calories a serving (6ww points), and if you serve it with some whole wheat pasta for the rest of the family it's plenty filling!

*I'll note that I didn't have the full amount of ingredients so I scaled down the recipe (this is not the scaled down version of the recipe).
Prep:

15

minutes
Cook

:

60 minutes
Serves:

8
Ingredients:
1 large eggplant (2 lbs)

1 tablespoon olive oil

12 oz fat free ricotta

¼ cup + 2 tablespoon Pecorino Romano

¼ cup fresh parsley, chopped

1 medium egg

2 cups reduced fat mozzarella (I used Sargento)

3 cups homemade

sauce

salt
Directions:

1. Start by making the sauce if you don't have any already made. While the sauce simmers, slice the eggplant into ¼ inch thick slices. Lightly salt the slices and put in a colander to release excess moisture for about ½ hour. Lay on paper towels to soak up any extra moisture.
2. Preheat oven to 450°. Brush eggplant lightly with olive oil on both sides and place on cookie sheets. Bake for 20-25 minutes, turning half way through until eggplant is golden brown.
3. In a medium bowl combine ricotta, egg, parsley and ¼ cup of grated cheese.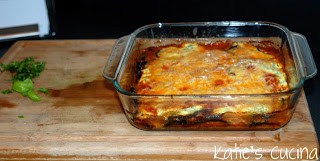 4. In a 9×12 baking dish, put a little sauce on the bottom of the dish and put a layer of eggplant to cover the bottom of the dish. Top with ⅓ of the ricotta cheese mixture, mozzarella cheese and sauce. Add another layer of eggplant and repeat the ricotta cheese, mozzarella cheese and sauce until everything is used up. Top with sauce and the mozzarella cheese and the remaining grated cheese.
5. Cover with foil and bake until cheese is melted and everything is bubbling, about 30 minutes at 400°. Remove foil and bake an additional 8-10 minutes. Take it out of the oven and let it sit about 10 minutes before cutting. Enjoy!
Side suggestions:
whole wheat pasta w/ sauce, garlic bread, fresh garden salad