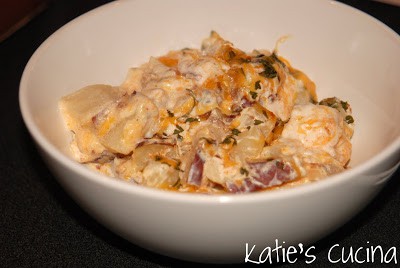 If I have time on the weekend I love to make breakfast potatoes and a rather large drawn out breakfast. Most of the time I'll make double the amount of diced boiled potatoes to use throughout the week or make an extra batch of breakfast potatoes with. I happened to have a container of potatoes from the weekend and wanted to use them for dinner… I racked my brain on what to do and this is what I came up with; a loaded baked potato casserole of sorts. This casserole (like most casserole's) was creamy and rich and gave me all the flavors that I would get if I was eating a loaded baked potato.
3 cups potatoes, diced and cooked

1 cup sour cream

1 cup shredded cheddar cheese plus more for topping

½ cup bacon, cooked, and diced

¼ cup green onions, diced

2 tablespoon parsley (dried or freshly minced)

Salt and pepper to taste

Non-stick cooking spray
1. Pre-heat your oven to 350 degrees. While oven preheats spray a large casserole dish with non-stick cooking spray.
2. In a large mixing bowl, combine sour cream, cheese, bacon, green onions, and parsley. Mix well then add potatoes and gently mix. Add salt and pepper to taste. Place the mixture into the casserole dish and top with additional cheddar cheese.
3. Bake for 25-30 minutes or until golden. Remove from the oven and serve immediately.