Malaysian Chicken Curry
This post brought to you by Malaysia Kitchen for the World. The content and opinions expressed below are that of Katie's Cucina.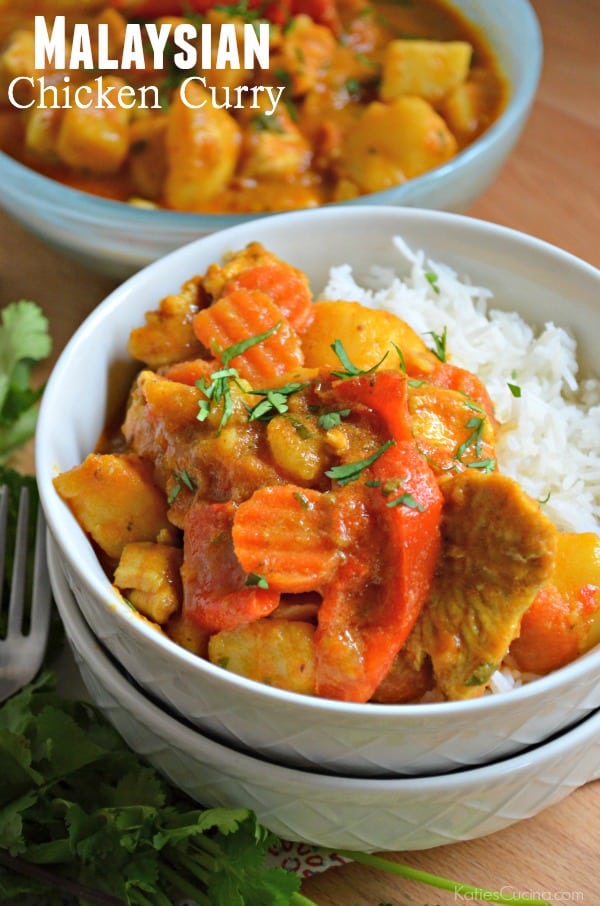 I love curry! It's definitely something that I have learned to love over the years. To be exact I didn't start eating curry until I started working at my first corporate job. Everyone at the office loved curry and introduced me in to the wonderful world of curry (that was almost 10 years ago). Since then I've been experimenting with different types of curry. This Malaysian Chicken Curry is out of this world. If your not familiar with Malaysian cuisine they like to combine complex flavors like curry, turmeric, cardamom, lemongrass, ginger and tamarind, to name a few, to create dishes that have multiple layers of flavors. This chicken curry has complex flavors alright. Even my husband who isn't a big fan of curry LOVED this recipe.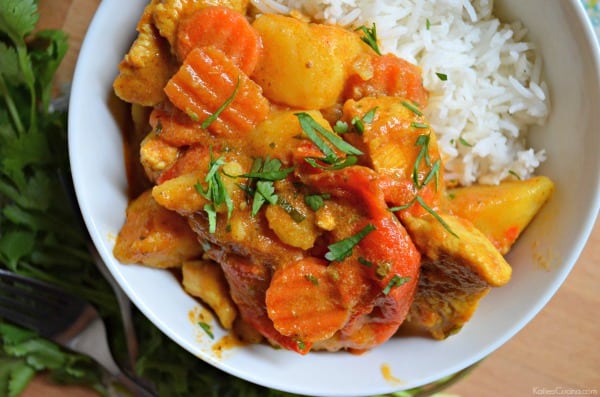 Don't be intimidated by making curry at home. I started by using a 7 oz package of Malaysian Traditional Curry Laksa Paste
. I let the paste toast in a large skillet for a minute then I added in the vegetables and a little bit of water. I let it cook for 5 minutes and then it was time to add in the chicken, potatoes, and coconut milk (along with more water). I mixed it really well and placed a lid on my skillet and let the curry cook for 20 minutes. Once the potatoes were done I added in some fresh herbs one more mix and then it was time to spoon the curry over hot basmati rice. While the curry cook's you'll want to make the rice. I also made a simple salad that consisted of lettuce, shredded carrots, and cucumber and served it with an orange ginger dressing. The salad was refreshing and helped cool off our mouths from the heat of the curry. This curry is on the medium to hot side. We typically like our curry on the mild to medium side. So this is definitely hot but so incredibly worth it! And the fresh herbs really help bring out the flavors!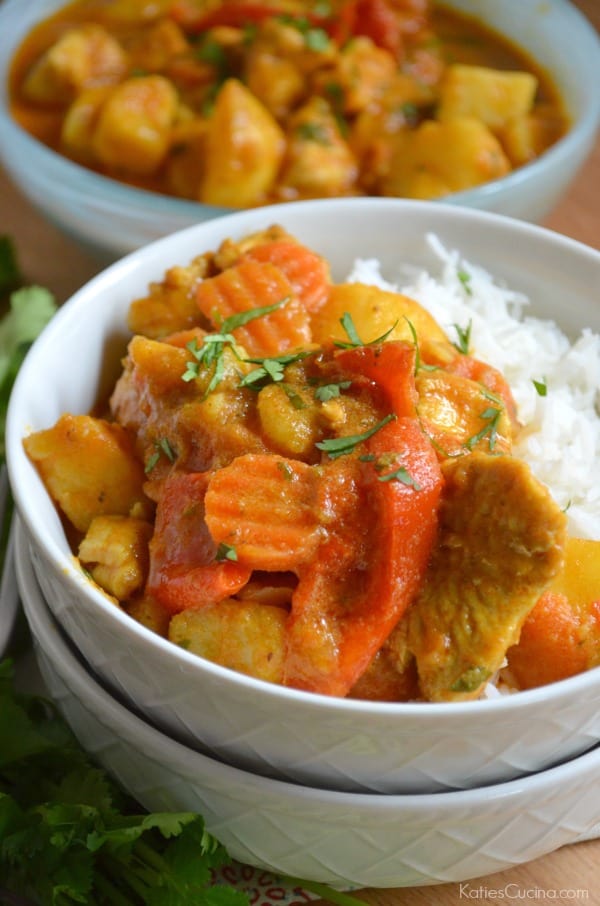 Malaysia Kitchen for the World is a national initiative of the Malaysian Government that aims to educate and inform consumers about Malaysian cuisine and Malaysian restaurants worldwide. Malaysia is located in the South China Sea and their cuisine is a fascinating blend of Malay, Chinese, and Indian food traditions, with Indonesian, Thai, Portuguese and Middle Eastern influences. Did you know that the tastes of Malaysian cuisine have been rated the number three top-trending flavors by the National Restaurant Association!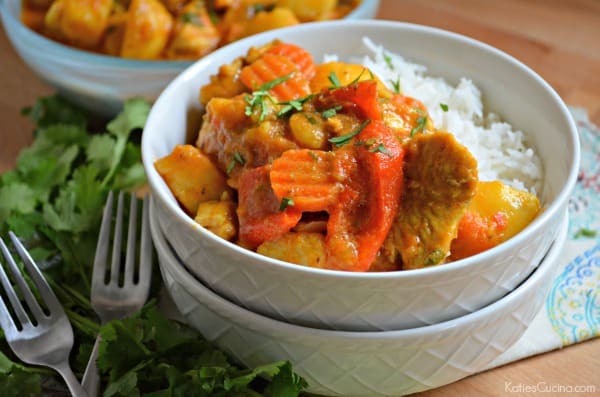 Get social with Malaysia Kitchen for the World

Malaysian Chicken Curry
Yield: 6
Prep Time: 10 minutes
Cook Time: 25 minutes
Total Time: 35 minutes
Ingredients:
1 cup crinkle cut carrot coins

1

 

medium onion, sliced in 2-inch pieces

1

 

red bell pepper, cut into 1-inch pieces lengthwise

3 

Yukon Gold potatoes, cut into ½-inch pieces

1

 

pound

 

skinless, boneless chicken breast, cut into 1-inch pieces

1

 

13.5-oz. can unsweetened coconut milk

1-1/2 cups water, divided

Chopped fresh basil and cilantro for garnish
Directions:
Heat curry paste in a large skillet over medium heat and cook, stirring, until fragrant, about 1 minute. Add carrots, onion, red bell pepper, and 1/2 cup of water. Mix well and cook for 5 minutes, occasionally stirring.

Add potatoes, chicken, coconut milk, and 1 cup water and bring to a boil. Reduce heat to a simmer and cook, stirring occasionally, until chicken is cooked through and potatoes are tender, about 20 minutes. Sprinkle chopped fresh basil and cilantro over the curry and divide evenly among bowls.
*Serve curry over basmati rice.
Warning
: Use of undefined constant rand - assumed 'rand' (this will throw an Error in a future version of PHP) in
/home/kjasiewicz21/webapps/katiescucina/wp-content/themes/katiescucina/single.php
on line
74
12 Responses to "Malaysian Chicken Curry"
Leave a Comment