Mediterranean Couscous Salad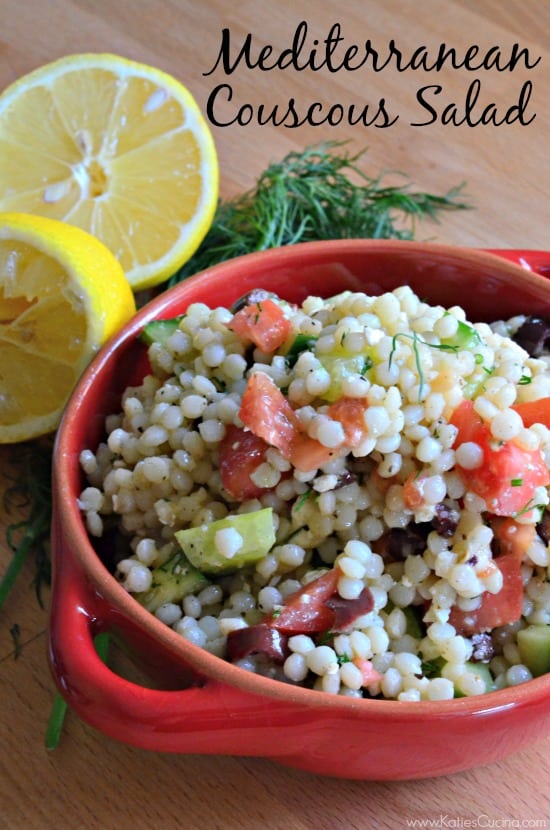 The other week I had a hankering for couscous. But since my husband doesn't like the traditional variety I went with the pearled couscous (larger than the normal). I'm still digging all things Greek and wanted to make a Mediterranean Couscous Salad that we could pack with our lunches during the week to eat with a sandwich or just as a snack. I mainly consumed it as option 2 since I find myself grazing the refrigerator every hour on the hour. And I also find that when I have a craving for something I need it right away. Not tomorrow or a week from now, no, I need it asap. Thankfully this urge came on a weekend when I had a little time to spend in the kitchen.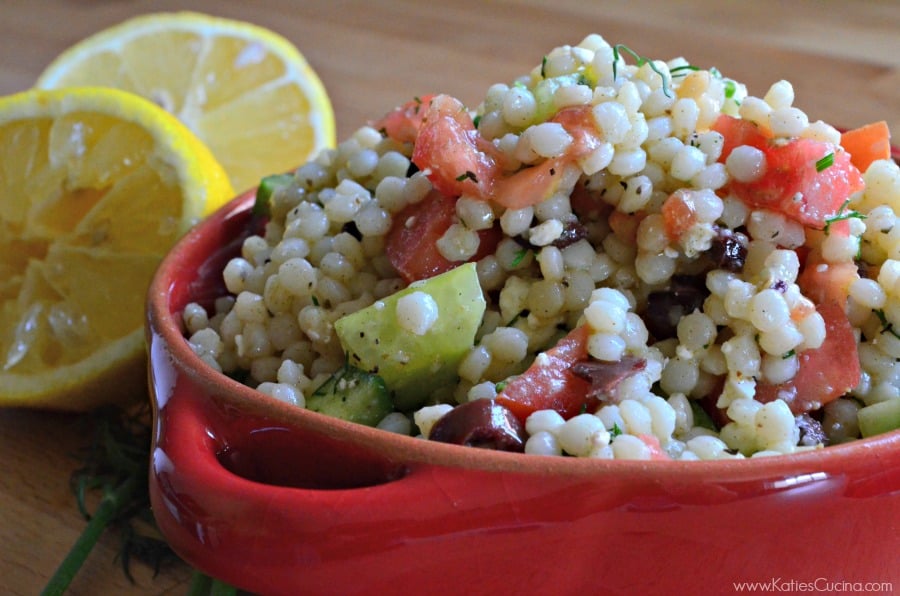 This Mediterranean Couscous Salad is packed full of veggies and full of flavor and even better it doesn't take that long to make! It refrigerates well and the flavors only intensify as the days progress. Whether you want to eat the Mediterranean Couscous Salad as a snack, an easy lunch, or packed as a side for lunch or dinner–this is the recipe for you.
Katie Original Recipe
Mediterranean Couscous Salad
Ingredients
6oz. box of Pearled Couscous
1 cup cucumber, diced
1 roma tomato, diced
3 tbsp kalamata olives, chopped
3 tbsp feta
1/2 lemon, juiced
1 tbsp olive oil
1 tbsp greek seasoning
1 tbsp fresh dill, minced
Directions
Cook pearled couscous according to instructions. Drain couscous and place in large bowl.
Add diced cucumber, tomato, kalamata olives, feta, lemon juice, olive oil, greek seasoning, and fresh dill to the bowl. Mix well. Refrigerate for at least 1 hour before serving.
https://www.katiescucina.com/mediterranean-couscous-salad/
This recipe is brought to you by Katie Jasiewicz of Katies Cucina
Warning
: Use of undefined constant rand - assumed 'rand' (this will throw an Error in a future version of PHP) in
/home/kjasiewicz21/webapps/katiescucina/wp-content/themes/katiescucina/single.php
on line
74
6 Responses to "Mediterranean Couscous Salad"
Leave a Comment