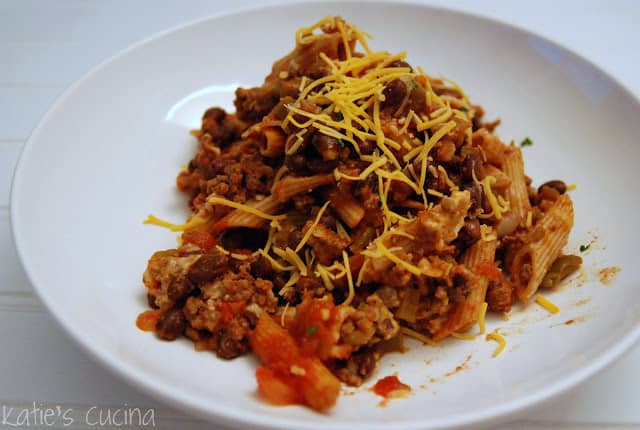 When I first spotted this recipe on my friend Aggie's blog-I knew I needed to make it. We love both pasta and Mexican and food and knew that it would be something different to jazz up the nightly dinner. Boy did it ever. My husband went bonkers over this meal. He had declared it one of the best meals I've cooked in a while (thanks Aggie!). I recognize that some of the best meals are simple and full of flavor. That is what this meal is. It's unique. Best of all… I was able to hide the whole grain penne pasta that I used. I love whole grain pasta's, but my husband not-so-much. He had no clue that he was eating whole grain pasta until after he was done and I asked him how he liked it. He wasn't shocked (because he know's I'm sneaky), and he definitely didn't complain about it. All-in-all this is a wonderful week night meal. If you have kids who love Mexican food this just might be the dish for you. You can sneak in some veggies and whole grains while still making it taste good.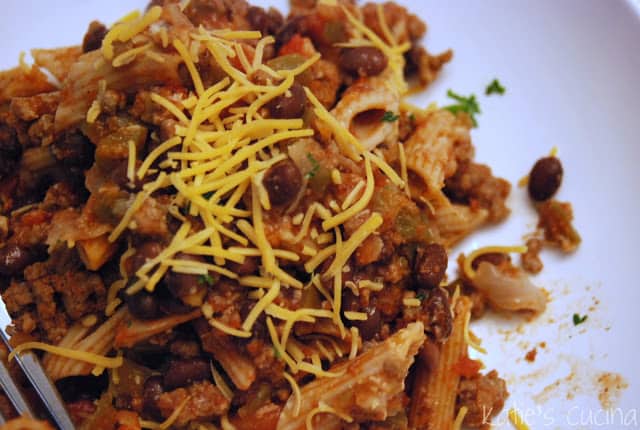 Source: Aggie's Kitchen
Prep Time: 10 minutes
Cook Time:
Servings: 6-8


Ingredients:

Half box of Whole Wheat Penne
1 lb lean ground beef
1 tablespoon olive oil
2 cloves garlic, minced
1 bell pepper, chopped
½ onion, chopped
1 teaspoon each cumin and chili powder
4 cups homemade salsa
1 can black beans, drained and rinsed
salt and pepper
2 cups of Mexican blend cheese
*top with sour cream or guacamole and additional shredded cheese if desired
Directions:
1. Preheat oven to 350 degrees. Bring a pot of water to a boil for the pasta. Cook the pasta according to the directions on the package.
2. In a large non-stick skillet, add oil, garlic, peppers, and onions. Saute until softened (10 minutes). Add ground beef and brown. Add cumin, chili powder, salt and pepper. Add the drained black beans and 1 jar of salsa. Mix well. Then add the cooked pasta. Toss well.
3. In a large casserole dish spread half the jar of salsa on the bottom of the pan, then add half the mixture to the pan. Spread 1 cup shredded cheese on top of pasta. Add the remaining pasta, salsa, and top with cheese.
4. Bake (covered with tin foil) for 25 minutes. Remove the tin foil and cook for an additional 5-10 minutes until the pasta is bubbling and cheese has melted. Serve with additional shredded cheese (and sour cream if desired).