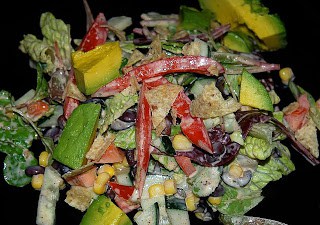 I wanted a salad that would compliment my
Chicken Tortilla Soup
, so I created this salad–so good and extra filling since it's packed full of veggies! If for some reason you don't have some of these veggies on hand you can substitute for whatever you'd like or have on hand. I've never transformed an every day refrigerated dressing before making this salad. I'm so glad I did–it made it into something totally new and fresh.
Prep:
15 minutes

Serves:
4
Ingredients:
1 package of romaine lettuce, washed
1 plum tomato, chopped
½ avocado, sliced
¼ cup of cucumber, diced
¼ cup of corn
¼ cup of black olives, sliced
¼ cup of black beans, drained and rinsed
¼ cup tortilla chips, smashed
½ cup of ranch dressing
¼ cup cilantro, minced
1 tbsp chili powder
½ tsp cumin
1 tbsp lime juice
Directions:
In a large bowl combine romaine lettuce, chopped tomato, cucumber, red bell pepper, black olives, corn, and black beans.
In a small bowl combine ranch dressing, cilantro, chili powder, cumin, and lime juice. Mix well until all the ingredients have married well together.
Before your ready to serve toss the salad with the dressing, and then top with slices of avocado and crumbled tortilla chips.
Side Suggestions: Chicken Tortilla Soup & Green Chili Cornbread