Mini Cheesy Chicken, Black Bean, and Corn Fillo Cups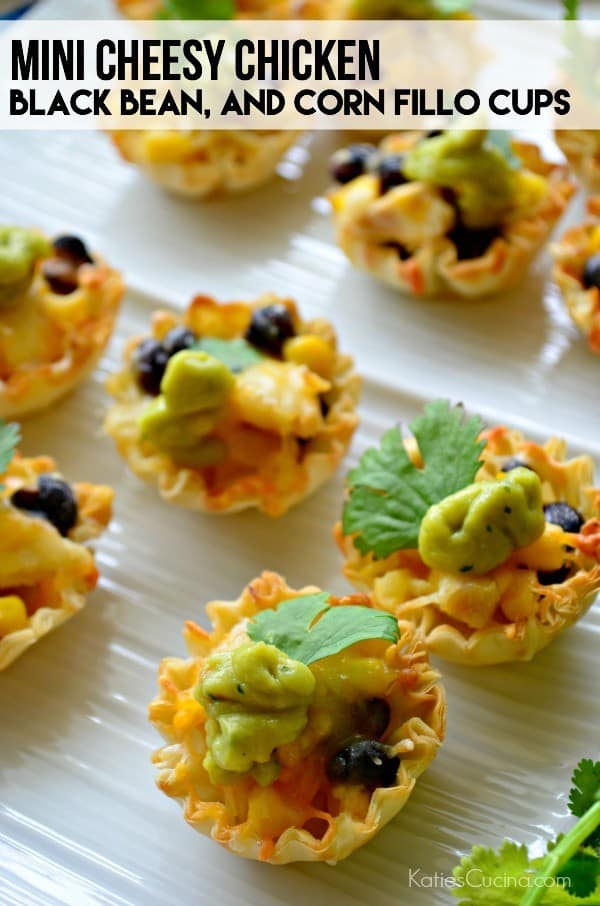 I'm excited to be partnering with Sabra, and sharing this recipe with my readers. As always all opinions are my own.
How is it that we are rapidly approaching Super Bowl already? Playoff games are this weekend and if your like me and your team is officially out of the running you'll be paying attention to the food more than the game. These mini cheesy chicken, black bean, and corn fillo cups will do the trick. My secret ingredient to this recipe that brings these little bite-size gems to the next level is Sabra Classic Guacamole!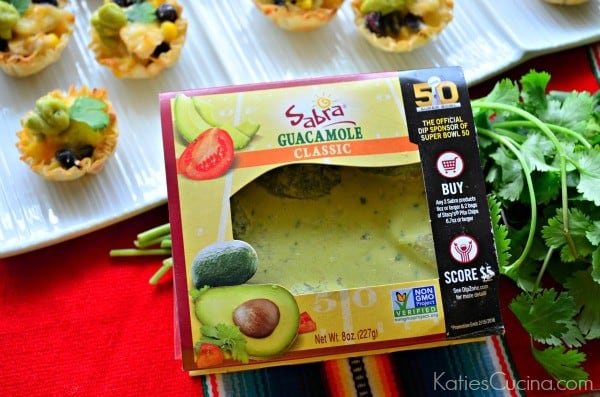 Sabra Classic Guacamole contains only the freshest of ingredients. It's gluten free and GMO free! A very important factor when feeding my family these days. I served these bites and guacamole to friends last weekend and everyone thought I made the guacamole.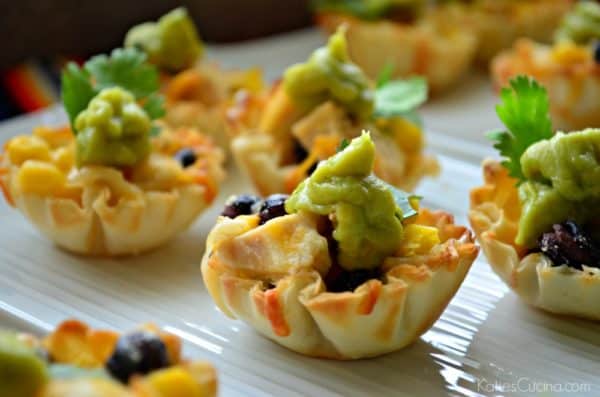 They were shocked it came from a package. And I was even happier when the comments came from my friends who are the king and queen of making the best homemade guacamole. Seriously–I beg them to make their guac when we go to see them! Now that they have a second baby in the house there days, hours, and minutes are all limited so they were happy to taste a guac that revivals their awesome homemade version. And now they can keep a few packages on hand so they can enjoy guacamole at any time of the day (or night)!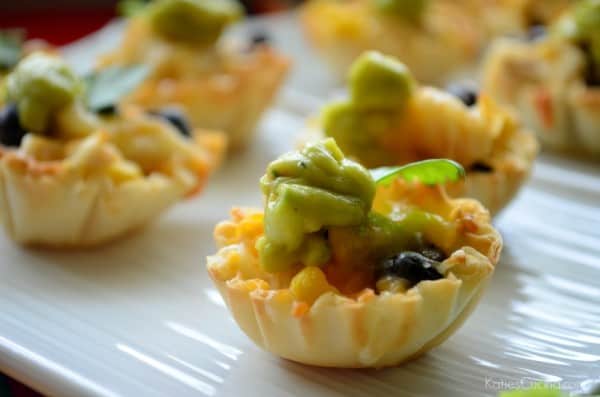 These Mini Cheesy Chicken, Black Bean, and Corn Fillo Cups are super easy to make. I always have fillo cup packages in my freezer and Sabra Classic Guacamole in my refrigerator. They are both perfect for quick entertaining! The rest of the ingredients I almost always have on hand too.
If you love Sabra like my family does they currently have a promotion going on it's called the Sabra's Buy, Snap, Score promotion! Buy Sabra and Stacy's together before 2/15/16 and score a $5 gift card! My son snacks on Sabra and Stacy's Pita Chips every afternoon, so I'll definitely be cashing in on this fantastic offer! And when your planning your menu for this weekend and the big game make sure you add my Mini Cheesy Chicken, Black Bean, and Corn Fillo Cups to your menu!

Mini Cheesy Chicken, Black Bean, and Corn Fillo Cups
Yield: 12
Prep Time: 10 minutes
Cook Time: 12 minutes
Total Time: 22 minutes
Ingredients:
1/4 cup cooked rotisserie chicken, chopped
2 tablespoons canned black beans, rinsed and drained
2 tablespoons frozen corn, thawed and drained
3 tablespoons shredded Mexican Cheese
12 mini fillo cups
Sabra Classic Guacamole for topping
Fresh Cilantro for garnish
Directions:
Preheat the oven to 350 degrees Farenheit.
In a bowl, mix together the chopped rotisserie chicken, black beans, corn, and cheese. Spoon mixture into fillo cups.
Bake for 12-15 minutes or until golden brown.
Remove from the oven, place a dab of Sabra Classic Guacamole on the top of each of the fillo cups and garnish with fresh cilantro. Enjoy immediately.
Warning
: Use of undefined constant rand - assumed 'rand' (this will throw an Error in a future version of PHP) in
/home/kjasiewicz21/webapps/katiescucina/wp-content/themes/katiescucina/single.php
on line
74
Trackbacks/Pingbacks

Leave a Comment